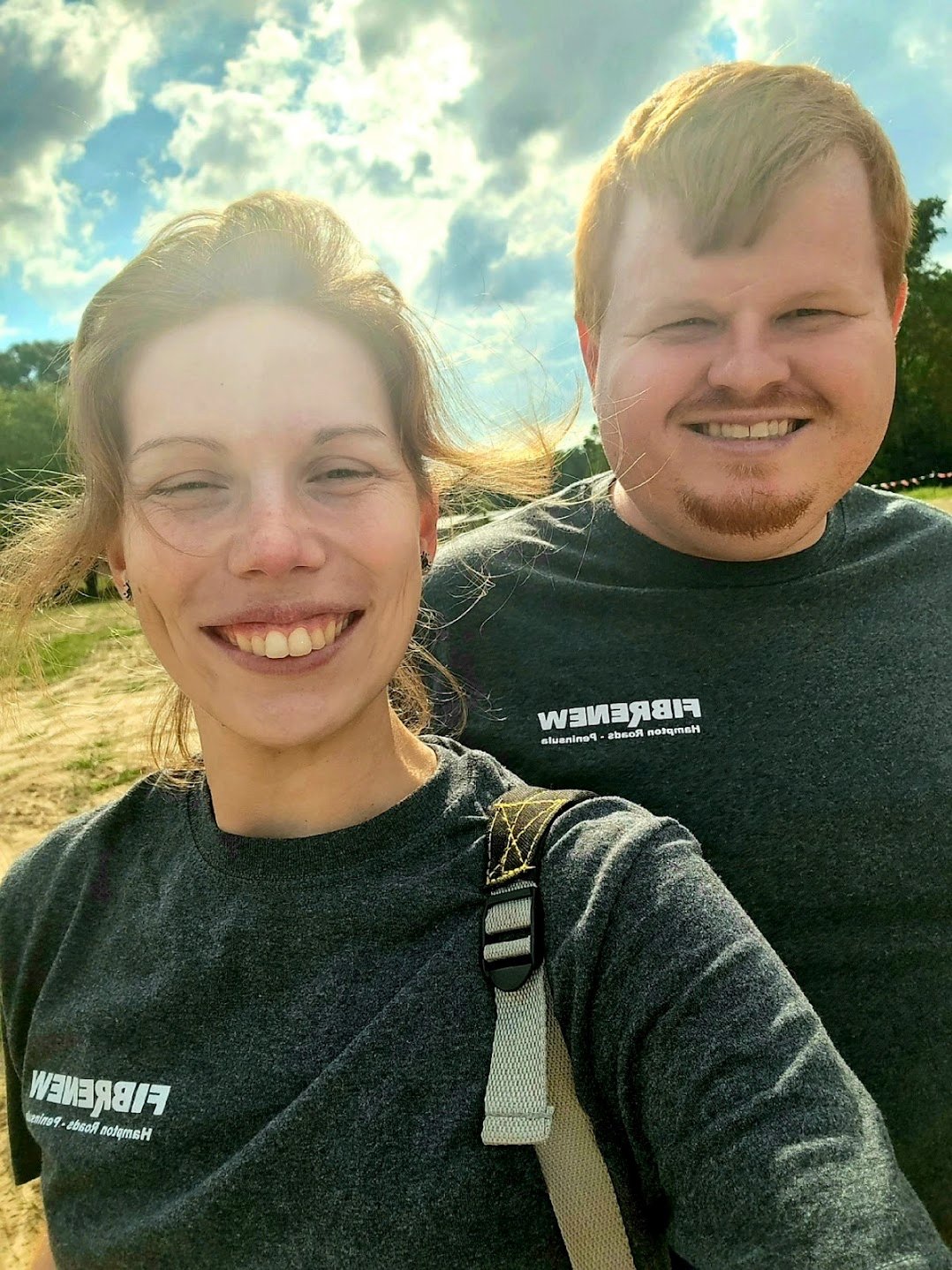 While a new franchise, this business is independently owned and operated by locals Robert and Chelsey Pegram. Former high school sweethearts, these two have grown into partners in business and life. They are highly involved in their community and make a point to teach their four children the importance of giving back to the community that supports you and your business. The Pegram crew can be spotted every Sunday at their local church, Waters Edge Church in Yorktown, where they volunteer regularly backstage on the production team. The entire Pegram crew is big on swimming and can be seen at some body of water during the summer months. The kids swim on the local swim team where Robert and Chelsey volunteer their time to help support and raise up the swim team and community pool in Newport News. Robert has a passion for business and has run some sort of endeavor since the age of 12, he hopes to be able to build a legacy his children will want to be a part of for years to come. Chelsey has previously owned one business prior to Fibrenew, and fell in love with being able to work with Robert as a team. With their previous business Robert and Chelsey realized that they were working for the business, not on it, and were not spending time together as a family. Fibrenew offered a way to work together, with flexibility to be a family, as well as fill a need within the community. With Fibrenew Robert and Chelsey can work as a team and reflect both their strengths in the business; Robert is an expert with tools and expert creative problem solving skills, while Chelsey has an eye for details and enjoys the creative work and artistic side of the business. Both are excited to build this business with the help of their customers and community and look forward to the years ahead!
Meet the Owners
Robert Pegram
A York County native, Robert grew up in the Grafton area of Yorktown, only moving away to downtown Newport News for elementary and middle school and then later in life over to Stoneybrook for a short while. A lifelong entrepreneur Robert has dedicated his life to learning and studying all aspects of business, specifically in marketing. Robert is the Unabashful Business Owner, and greatly enjoys taking other leaders and business owners on the journey of business and life. Robert greatly prides himself on transparency and education when communicating with our customers, so that everyone can make the best and most informed choices for all their projects and restorations. If anyone ever wants to talk business or talk about a future project Robert is your go to guy, and will talk with you for as long as you want!
Chelsey Pegram
As a transplant to the Peninsula Chelsey loves Hampton Roads and the people within it. After going to school in Newport News at Christopher Newport University and getting her degree in Business Management, Chelsey fell in love with running a business. She is so proud to be able to be a part of the Fibrenew family and build something that she and her family can be proud of. Like Robert, Chelsey greatly values educating and being transparent with her clients on all projects. A lifelong artist, Chelsey is the color expert and can talk for hours about the artistic side of the business from furniture to automotive; she finds it all interesting and fun! While not near as outgoing as her partner, Chelsey is quick to help and will talk about all your projects and endeavors with you!
SAVING TIME, MONEY & MOTHER NATURE
Our restoration services save our customers both time and money by offering an alternative to replacing their damaged couches and chairs, car and marine components, commercial furniture and more. Our on-site services also make it more convenient and faster in getting their items back into great looking and working shape again. As an added benefit, we help prevent thousands of items from ending up in landfills each year which helps preserve Mother Nature and reduce our carbon footprint.
TRUSTED PROFESSIONALS SINCE 1987
Fibrenew specializes in the repair, restoration, and renewal of leather, plastic, vinyl, fabric, and upholstery. We manufacture a highly-specialized proprietary product line and have pioneered the repair techniques and exclusive color matching technology that we use every day to help our clients. Whether it's damaged leather furniture, car interior components, restaurant or medical vinyl, boat or plane interiors or vinyl siding and plastic window frames, we're here to help!
WE TAKE THE FOLLOWING FORMS OF PAYMENT
Fibrenew Hampton Roads – Peninsula is proud to provide mobile service for leather repair, plastic, vinyl, fabric and upholstery restoration in and around the following areas:
WE SERVICE THESE CITIES & TOWNS (AND SURROUNDING AREAS)
Acree Acres, VA
Beaconsdale, Newport News, VA
Bellview Terrace, Hampton, VA
Bethel Manor, VA
Big Bethel, Hampton, VA
Bloxoms Corner, Hampton, VA
Brandon Heights, Newport News, VA
Briarfield, Newport News, VA
Buckroe Gardens, Hampton, VA
Buckroe, Hampton, VA
Central Newport News, Newport News, VA
Chesapeake Heights, Hampton, VA
City Center, Newport News, VA
Clarkdale, Hampton, VA
Denbigh, Newport News, VA
Earness, Poquoson, VA
East End, Newport News, VA
East Hampton, Hampton, VA
Elizabeth Lake Estates, Hampton, VA
Fairview Farms, Hampton, VA
Fordham, Hampton, VA
Fort Monroe, VA
Fox Hill, Hampton, VA
Glendale, Newport News, VA
Goodwin Islands, VA

Grafton, VA
Grandview Shores, Hampton, VA
Grandview, Hampton, VA
Hallwood, Hampton, VA
Hampton, VA
Harpersville, Newport News, VA
Hidenwood, Newport News, VA
Hilton Village, Newport News, VA
Holiday Park, Hampton, VA
Holly Homes, Hampton, VA
Ivy Farms, Newport News, VA
Kecoughtan, Hampton, VA
Kiln Creek, Newport News, VA
Langley AFB, Hampton, VA
Langley View, Hampton, VA
Lynnhaven, Hampton, VA
Malo Beach, Hampton, VA
Maxwell Garden, Newport News, VA
Menchville, Newport News, VA
Moores, Poquoson, VA
Morrison, Newport News, VA
Newport News, VA
Newsome Park, Newport News, VA
Odd, Poquoson, VA
Oyster Point, Newport News, VA

Pleasant Manor, Hampton, VA
Poquoson River Estates, Poquoson, VA
Poquoson Shores, Poquoson, VA
Poquoson, VA
Powhatan Place, Poquoson, VA
Raleigh Terrace, Hampton, VA
Richneck, Newport News, VA
River Terrace, Hampton, VA
Rivergate, Poquoson, VA
Riverside, Newport News, VA
Seaford, VA
Shore Park, Newport News, VA
Silver Isles, Hampton, VA
Stuart Gardens, Newport News, VA
Tabb, VA
Village Green, Newport News, VA
Warwick, Newport News, VA
West Hampton, Hampton, VA
Windsor Great Park, Newport News, VA
Windsor Terrace, Hampton, VA
Wythe Creek, Poquoson, VA
Wythe, Hampton, VA
York Haven Anchorage, Poquoson, VA
Yorkville, VA


WE SERVICE THESE ZIP / POST CODES (AND SURROUNDING AREAS)
23601
23602
23605
23606
23607
23608
23651
23661
23662
23663
23664
23665
23666
23669
23692
23693
23696