Fibrenew Rockstar and U.S. Veteran, Jorge Figueroa
It's been well-documented that former military service members share many of the qualities that lead to becoming successful franchise owners. The ability to follow a proven business model, discipline, and a single-minded focus on completing the mission are all qualities that lend themselves to establishing and nurturing a thriving entrepreneurial operation. Jorge Figueroa of Osceola, Florida, is another in a long line of successful franchise owners and veterans whose performance has earned them well-deserved recognition. Figueroa, owner of a Fibrenew franchise operation, was recently nominated by his brand for "Rockstar" status. In this one-on-one profile, we explore the many reasons why.
In the Service of Our Country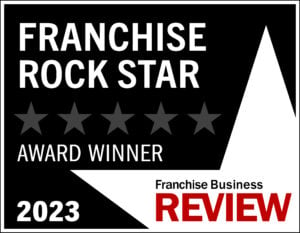 Jorge Figueroa attended the University of Central Florida on an ROTC scholarship and, upon graduation, embarked upon a 20+ year career in U.S. military service. Commissioned as a Second Lieutenant Armor Officer, Figueroa's tour of duty would take him around the world for multiple overseas deployments. But one of the hardest missions for any U.S. servicemember comes when enlistment ends. The transition from military to civilian life can be a challenging time, full of obstacles that need to be overcome. For Figueroa, that began – and ended – with his disenchantment with Corporate America. But it wasn't long before he crossed paths with a different kind of opportunity – franchising. And the concept that caught his eye was Fibrenew, a mobile-based business that involves the turnkey restoration of leather, plastic, and vinyl consumer goods.
As Figueroa began his Fibrenew education, he was attracted to the entrepreneurial nature of this opportunity for three specific reasons. "First and most important was the support I received from Fibrenew's HQ and staff. Second, the family environment that other franchisees made me feel during my assessment phase. Third, the overall cost of the franchise along with a considerable Military Veteran discount – especially the flat rate royalty fee."
Training for a Fibrenew Franchise Mission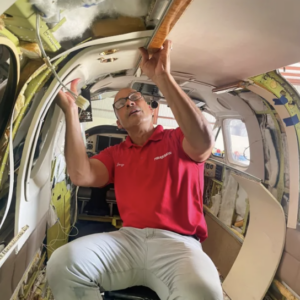 Figueroa began his training as a Fibrenew franchise owner in Canada under the tutelage of Chad Henry and Bruce Nurse. After two weeks of intensive, onsite training, Figueroa began working with the brand's franchise development team to launch his own operation. "The support provided by the entire staff from developing the territory, communications, insurance, and financing was first class. Fibrenew directs each new prospective franchisee to do a ride-day, which in turn becomes a mentorship program in building relationships with fellow franchisees. Fibrenew has a top-rated team dedicated to supporting our marketing strategy and our state-of-the-art website. The technology available to Fibrenew franchisees is great, specifically the 'Color Eye,' as well as all the other products that support our operations."
"I Get to Be a 'People' Person"
Running the day-to-day operations of his own Fibrenew franchise is reminiscent of Figueroa's days as a U.S. servicemember. He gets to meet lots of new people and engage with all sorts of personalities – something his military service left him well-suited to handle. To that end, he's wasted little time hitting the bricks and drumming up vital business among the consumers in his protected territory. "Getting out the door, understanding the purpose and "the why" of the business gives me great joy. I love to knock on doors and talk to people about Fibrenew and what I can do to support them."
Serving Others Through Discipline and Determination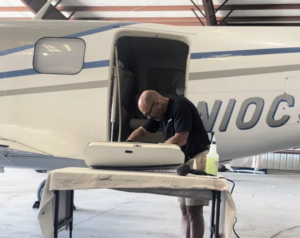 Figueroa has big plans for his Fibrenew operation. He wants nothing less than to become Florida's No. 1 leader in the repair and restoration of leather, plastics, and vinyl for his consumers. One of the most transferable skills in achieving his new civilian-based mission is a quality he learned well in the military – discipline. "It takes both the discipline and determination to get out there every day and engage with people. But it's the foundation of a routine needed to establish an operating environment that leads to success. That, and the resiliency to see through the difficult days, knowing that tomorrow is another day filled with opportunity, is what keeps me going."
Fibrenew is a business that has afforded Jorge Figueroa a different kind of mission, but it's one where he can easily fall back on his military training. He's begun an entrepreneurial life that's affording him benefits one can't find in Corporate America. Being a veteran-owned business is a badge of honor, and he appreciates the opportunity to set a schedule of his own, spend quality time with his family, and honor his commitments as he sees fit. He has some advice for other would-be entrepreneurs – get to know your surroundings. It's something of extreme importance in military life, but it clearly extends to his Fibrenew business ownership as well. "This is a process is known as IPB, or the Intelligence Preparation of the Battlefield. You have to know the terrain, know the enemy, and know the impact it will have on your operation. Due diligence to me is about understanding the environment in which you want to operate – especially as it relates to the demographics."
To learn more about franchising with Fibrenew: 
Visit: fibrenew.com/franchising
Download info: fibrenew.com/franchising/request-franchise-information
Register for the next live webinar: fibrenew.com/franchising/research/webcasts