Fibrenew Ranked a Recession-Proof Franchise Again for 2023
Franchise Business Review's Recession-Proof Franchise List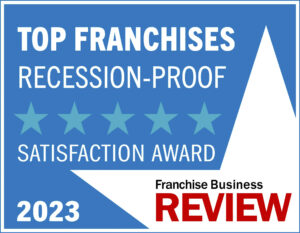 Every business owner knows that the economy has its ups and downs. Especially now, as the world continues to come out of the pandemic, businesses are returning to new structures and shifting economic terrain. For this reason, it's important for anyone interested in owning their own business to consider how well their chosen field can endure the inevitable rises and falls of the marketplace.
We're proud to say the Franchise Business Review ranked Fibrenew as one of the top Recession-Proof Franchises for another, consecutive year! The ranking combines both owner satisfaction ratings and the greatest ability to perform well – and outperform their competition – under unstable market conditions. The Franchise Business Review conducted a survey of thousands of franchise partners to help determine their rankings, and we're thrilled to be included in their results with a score of 93 out of a possible 100.
Fibrenew Offers a Needed Service
We are a multi-national franchise in the furniture repair and upholstery industry, now with over 300 locations in six countries. Our team of highly-trained craftsmen are experts in leather, vinyl, and plastic restoration, and we provide a much-needed and valuable service to communities and businesses wherever we go.
One of the reasons our business has seen so much growth is that our customer base is practically everywhere. Think about it – everywhere you go there's bound to be leather, vinyl or plastic surfaces that eventually will need some level of restoration. Our services range from residential furniture and window siding repairs, to upholstery on commercial airliners, hospital and dental furniture, private or commercial boats, and the list goes on. As a Fibrenew franchise partner, you get to reap the benefits of our established brand name and our pre-existing customer base. It's all there from the moment you join the team.
Our broad range of clients and services offered have allowed us to grow no matter the state of the economy. With financial security in mind, we've also designed our business model to be as mobile as possible, cutting back on overhead costs and allowing for much greater freedom for every franchise owner. There's no storefront necessary. A franchise location can be run from a van if desired – some Fibrenew partners even travel to their clients by bicycle! As a Fibrenew partner, you'll provide a much-needed service to your community and marketplace, all while helping realize your entrepreneurial dreams.
Learn More about Franchising with Fibrenew
For over three decades, Fibrenew has been providing an essential and quality service to communities around the world. Our business has stood the test of time, and we've continued to expand through all the ups and downs in the marketplace. For the entrepreneur that's driven, values independence, and understands the importance of fiscal stability, Fibrenew could be the business opportunity you've been looking for. If you're interested in learning more about partnering with Fibrenew, you can begin your franchise journey today by visiting our research pages here or filling out an inquiry form here.
Comments: