We really, really enjoy what we do and love nothing more than seeing a smile on our customer's face after the job is done. Below is what some customers have shared about their experience with Fibrenew (complete with spelling and grammar mistakes 🙂 )
Have your own FIBRENEW TESTIMONIAL to submit?
Tell us on

or let us know here
The service Frank did for my 2004 Lexus sc430, hardtop convertible look like A 2018. The damage I had on my leather seats were revitalized with a single treatment. I recommend Frank for your car and mine. FYI. The last 430sc was 2010.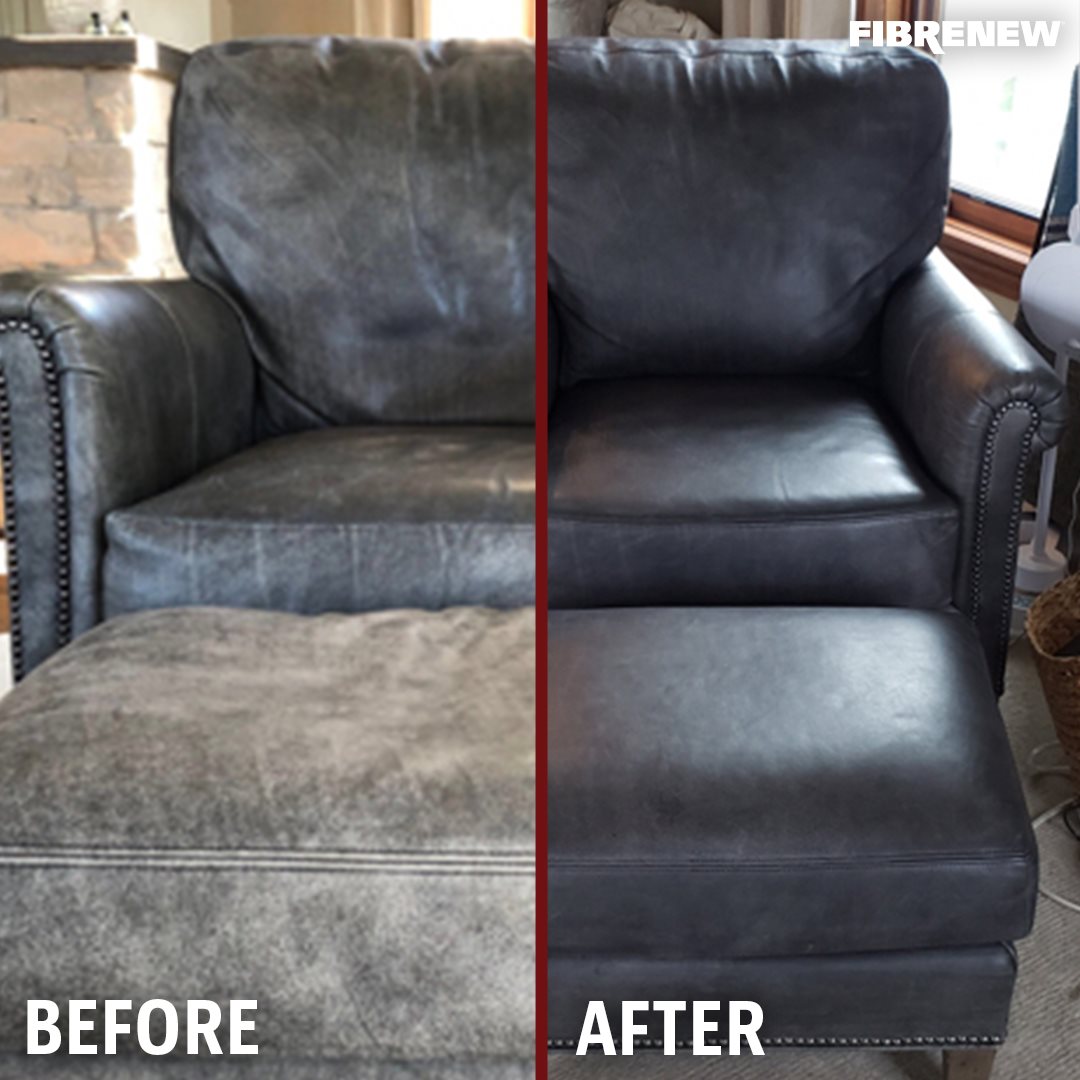 Fantastic service asked mike for a rush job at 11:30pm he had the job done by noon the next day and it literally looks like new. Thanks Mike! I will be recommending you to all my friends.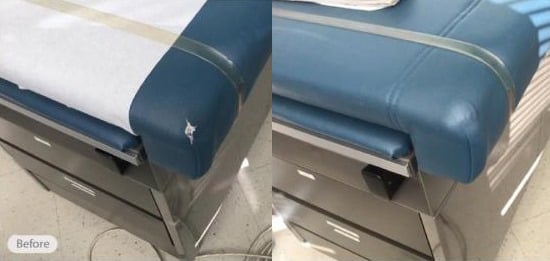 Lloyd came highly recommended and showed up on time and friendly. He not only repaired my treatment table but saved me money and time. I have several treatment tables for patients and cannot afford to be without. I highly recommend him for any and all repairs necessary. GREAT JOB AND THANK YOU!
I got my sofa and loveseat back and I'm very happy with them. The once faded leather now looks new again! Eric was easy to work with and kept me informed about the process. I would certainly recommend him and Fibrenew Foothills to anyone who has a problem with their leather furniture.

Thanks Mike for coming to our home and refurbishing our leather recliners. They are now just like new and we are so glad to have your contact information for future use. Great job!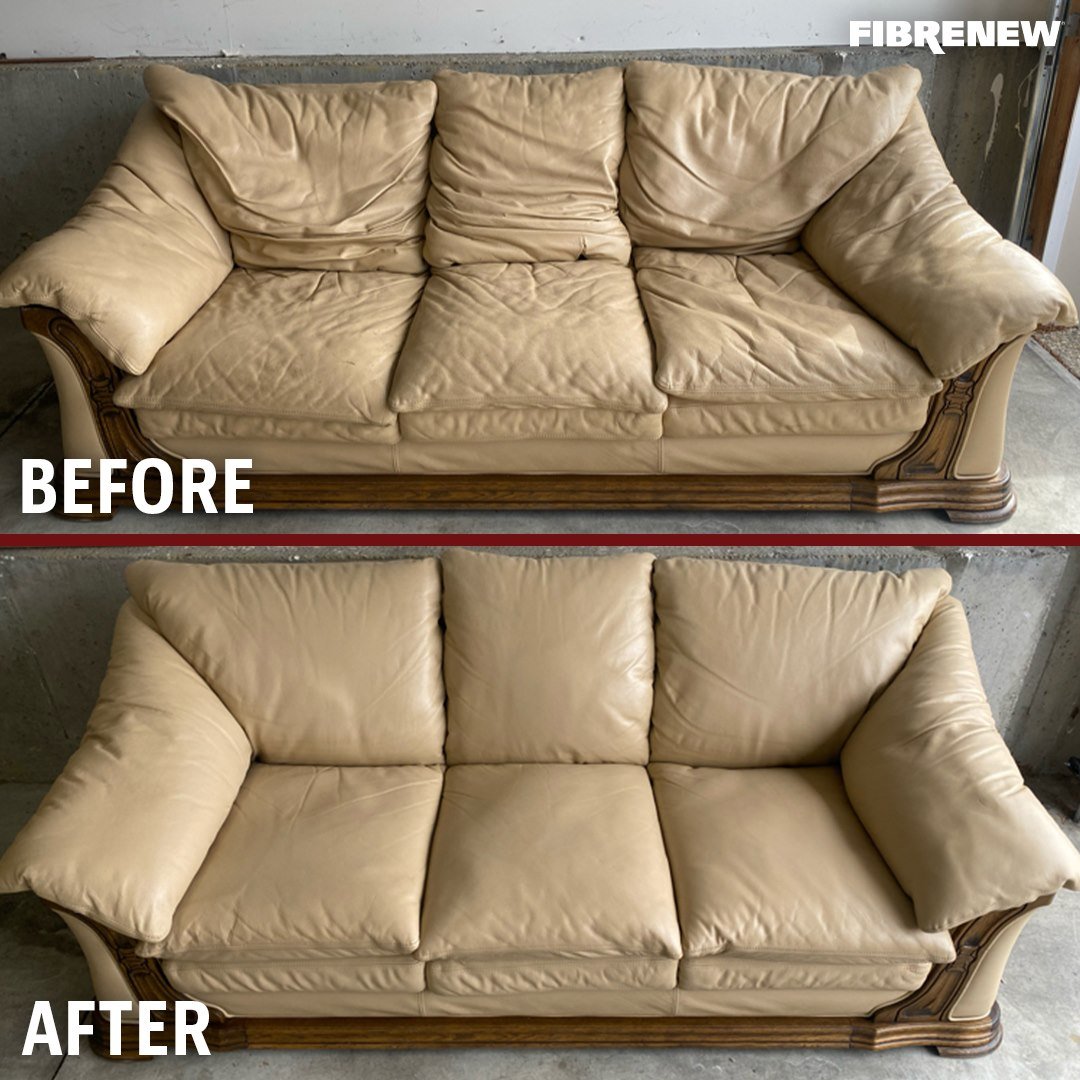 I am so pleased with the results of the leather refinishing on my couch and loveseat. My furniture was older (>12 years Flex steel) but certainly worth a try at rejuvenation. (Particularly after pricing new furniture.) Matt was prompt to answer my inquiry by phone, at coming to my home to give me a quotation for his service, professional in disassembly and reassembly of my furniture, and truthfully advised me about the service he could provide to me. Well worth the price for the end result! Color and finish is wonderful! The leather has a good feel and I was prepared for the potential of an odor the new finish. There was NO ODOR! A very pleasant surprise! I truly feel as if I have a new couch and loveseat! Looking forward to enjoying it for a few more years. I would recommend Matt of Fibrenew East Louisville and his team without reservation.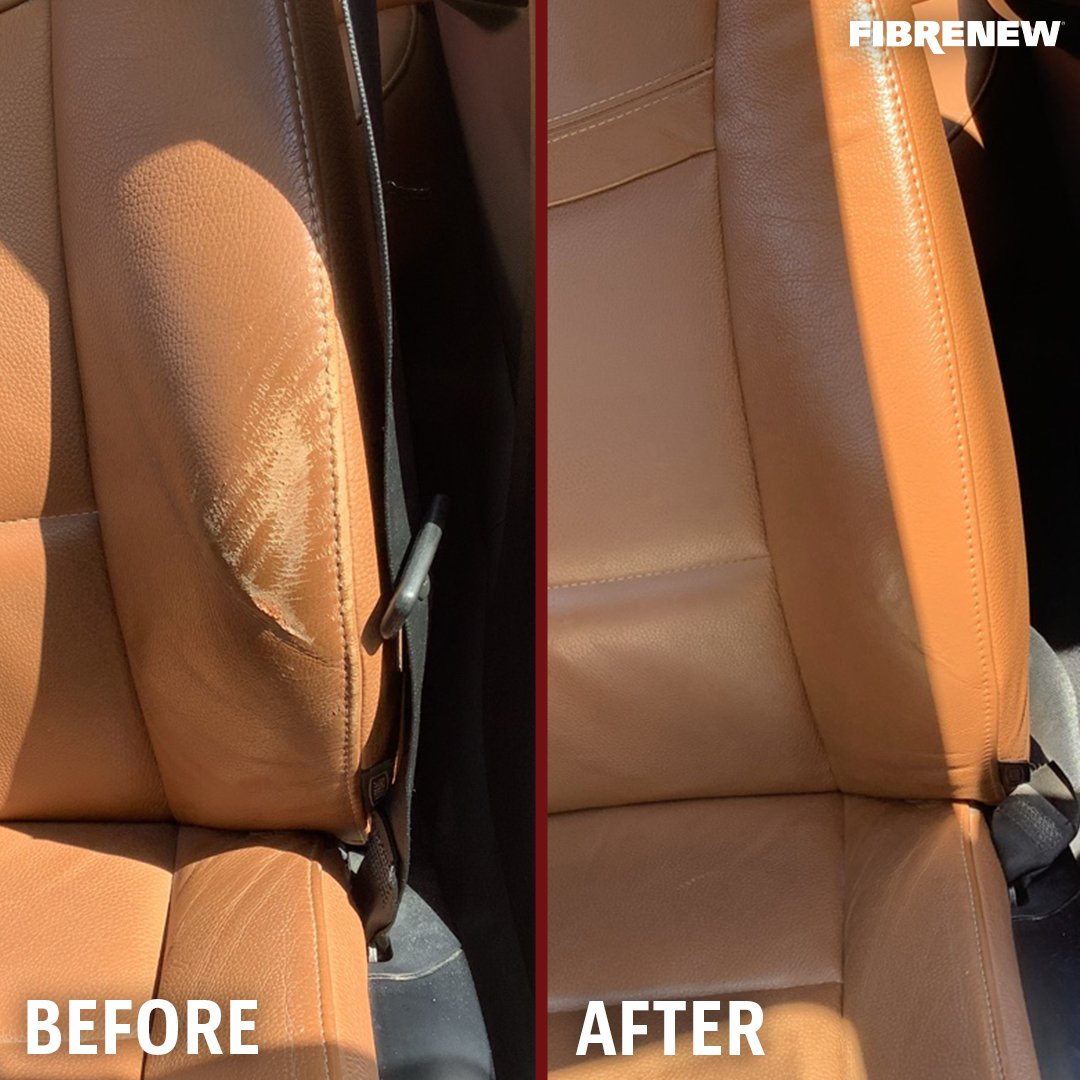 Our 2011 BMW looks prob better than it did new! Amazing. This guy spent a lot of time at our house. Good thing he doesn't charge hourly labor! Beyond perfect color match. We are so happy with it. We made a mistake that proved this guy's honesty to us. A rare thing in business these days. Highly recommend.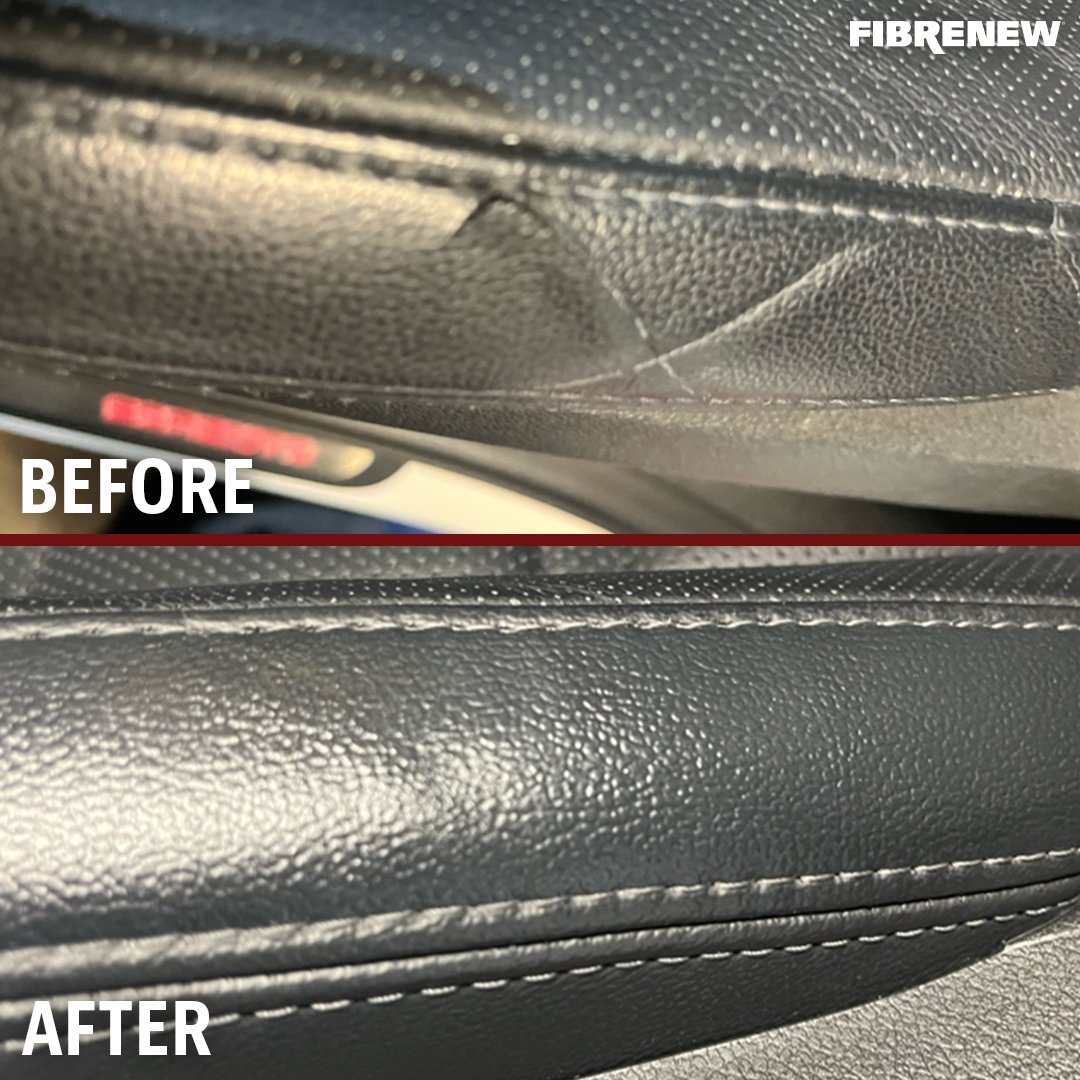 Awesome job, had two cuts in the driver's seat and I cannot even tell they were there. Highly recommend.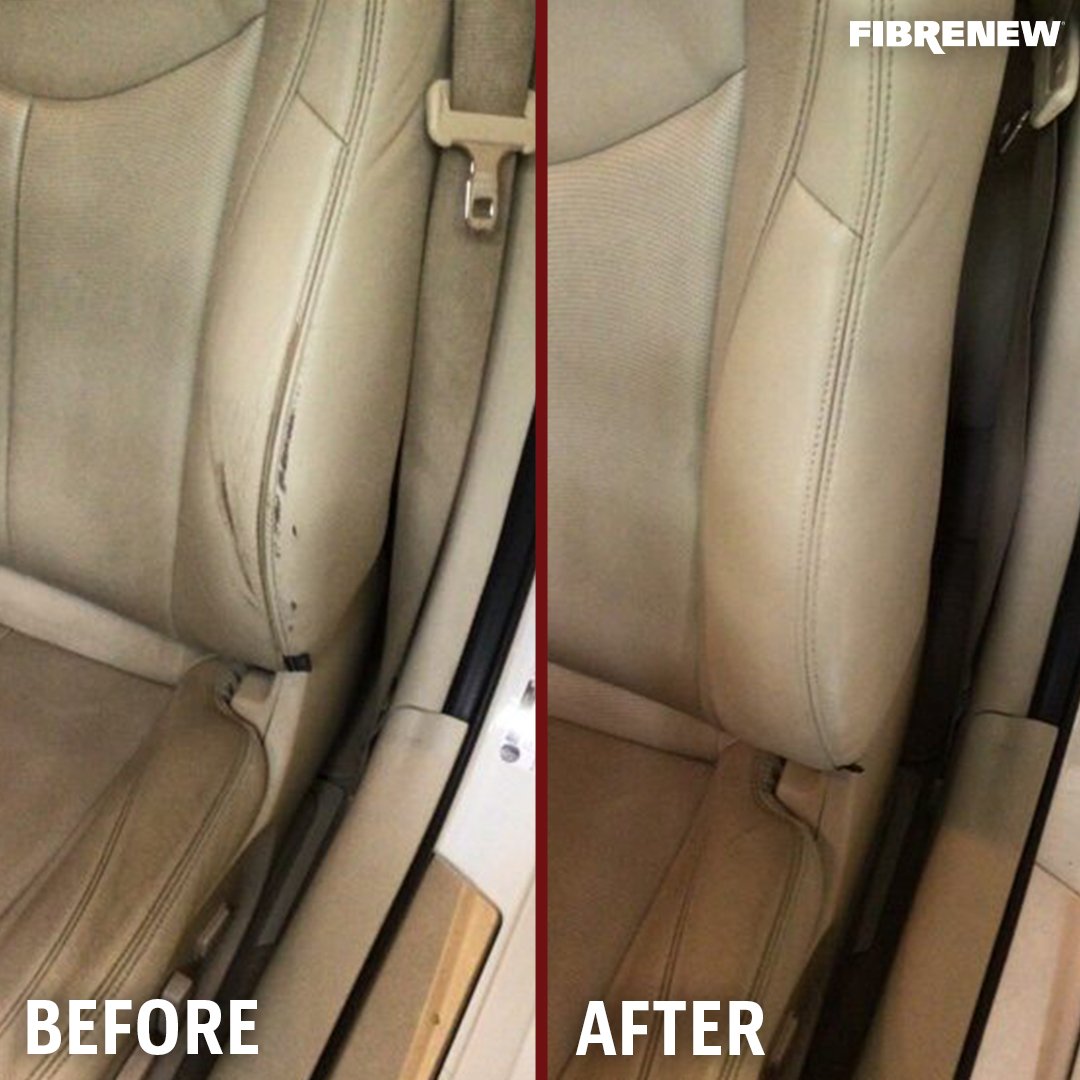 Pete did an excellent job. Very patient to make sure I was satisfied.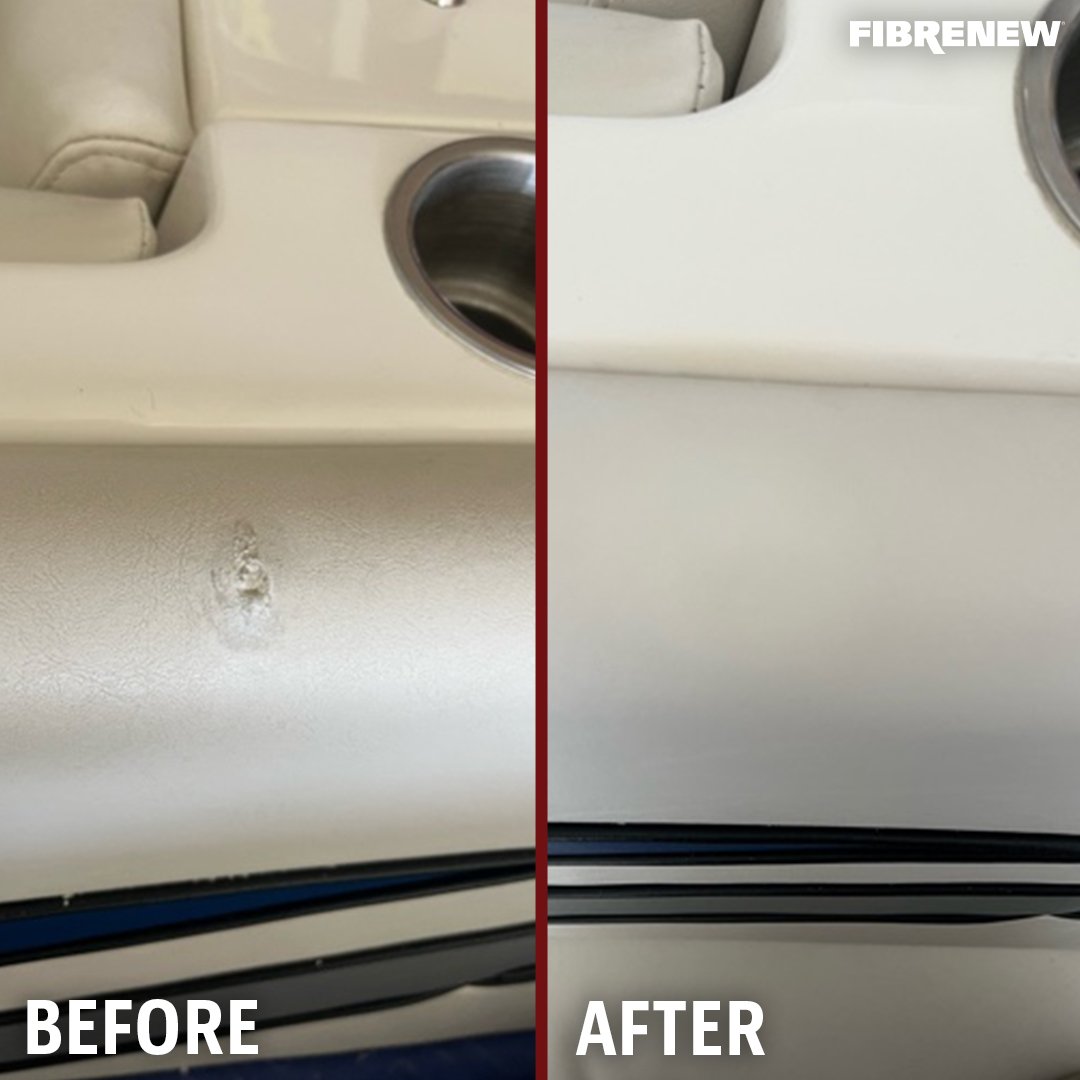 Incredible results. Very satisfied with the results. I would highly recommend Fibrenew to anyone.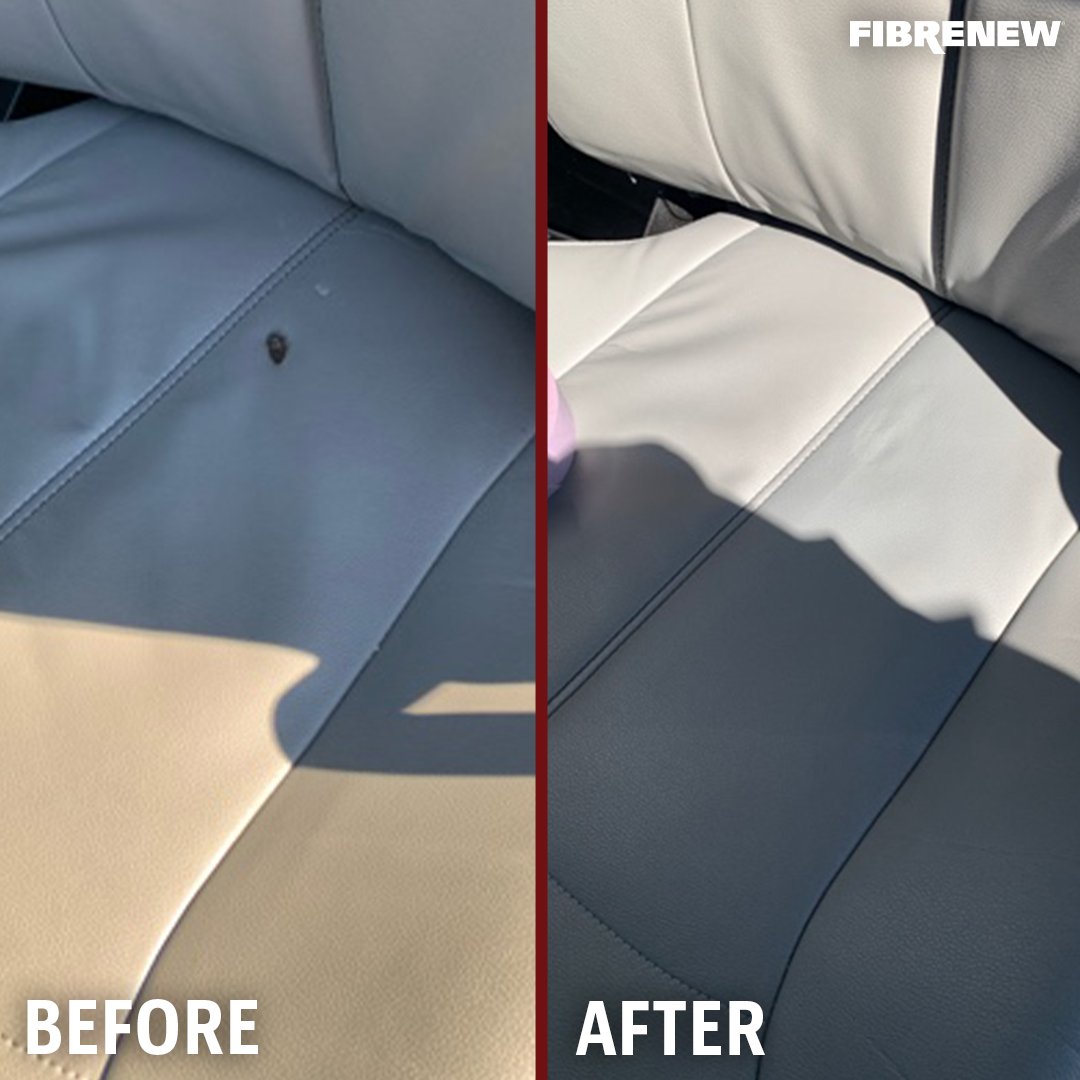 My car had a puncture in the front passenger seat leather. Lloyd of Fibrenew Bridgewater came to my home and did an excellent job in repairing the hole and matching the colors perfectly. I highly recommend him for any leather repair.
Very satisfied with the job done on repairing my dashboard. Highly recommend!!!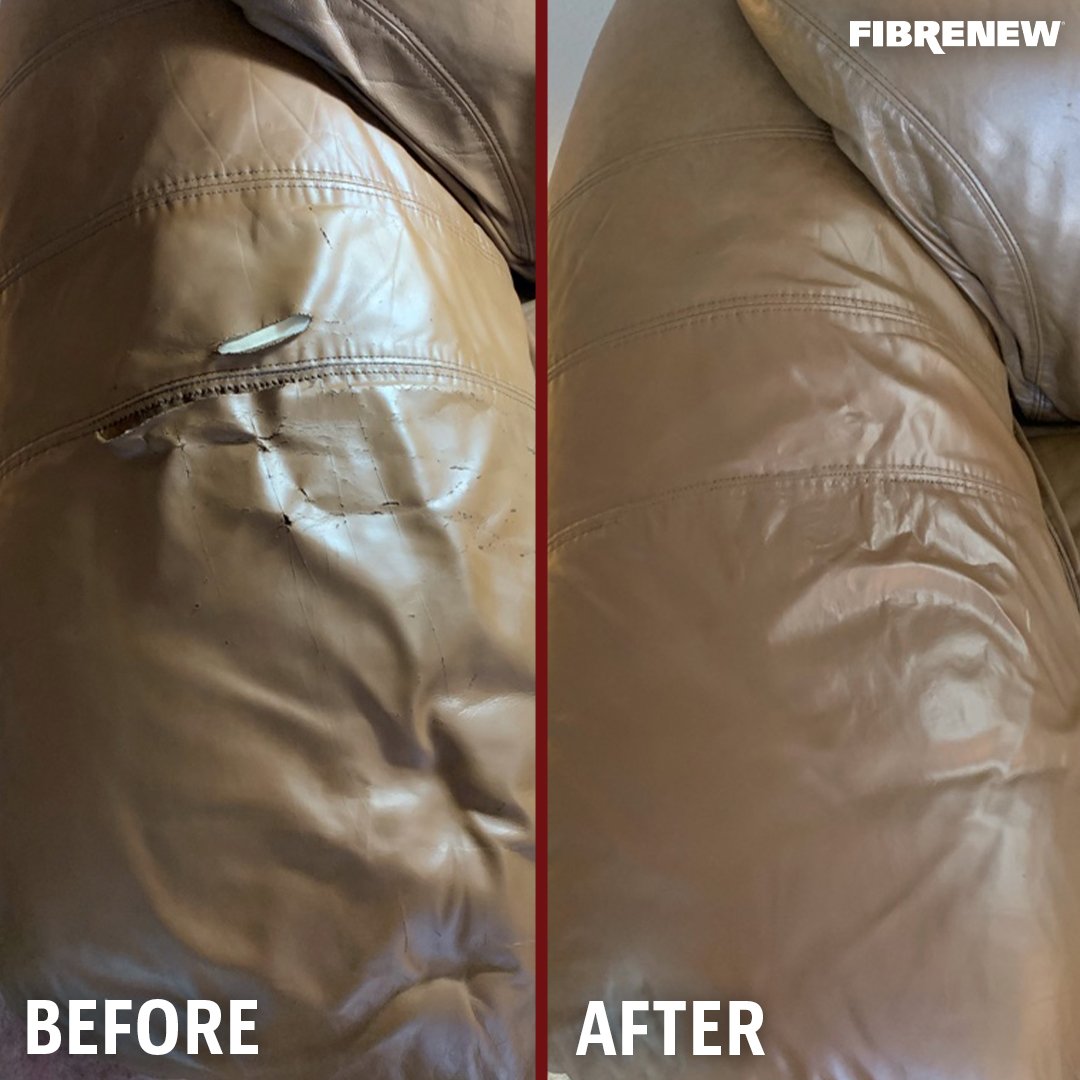 Mark came out today and worked on our Leather Sofa to repair some tears in the arm from our Grand Dogs and did a wonderful job. He was on time and very professional and did exactly what he said he could do.
I have used Fibrenew several times for different repairs, never disappointed. Great workmanship and attention to detail. Very professional.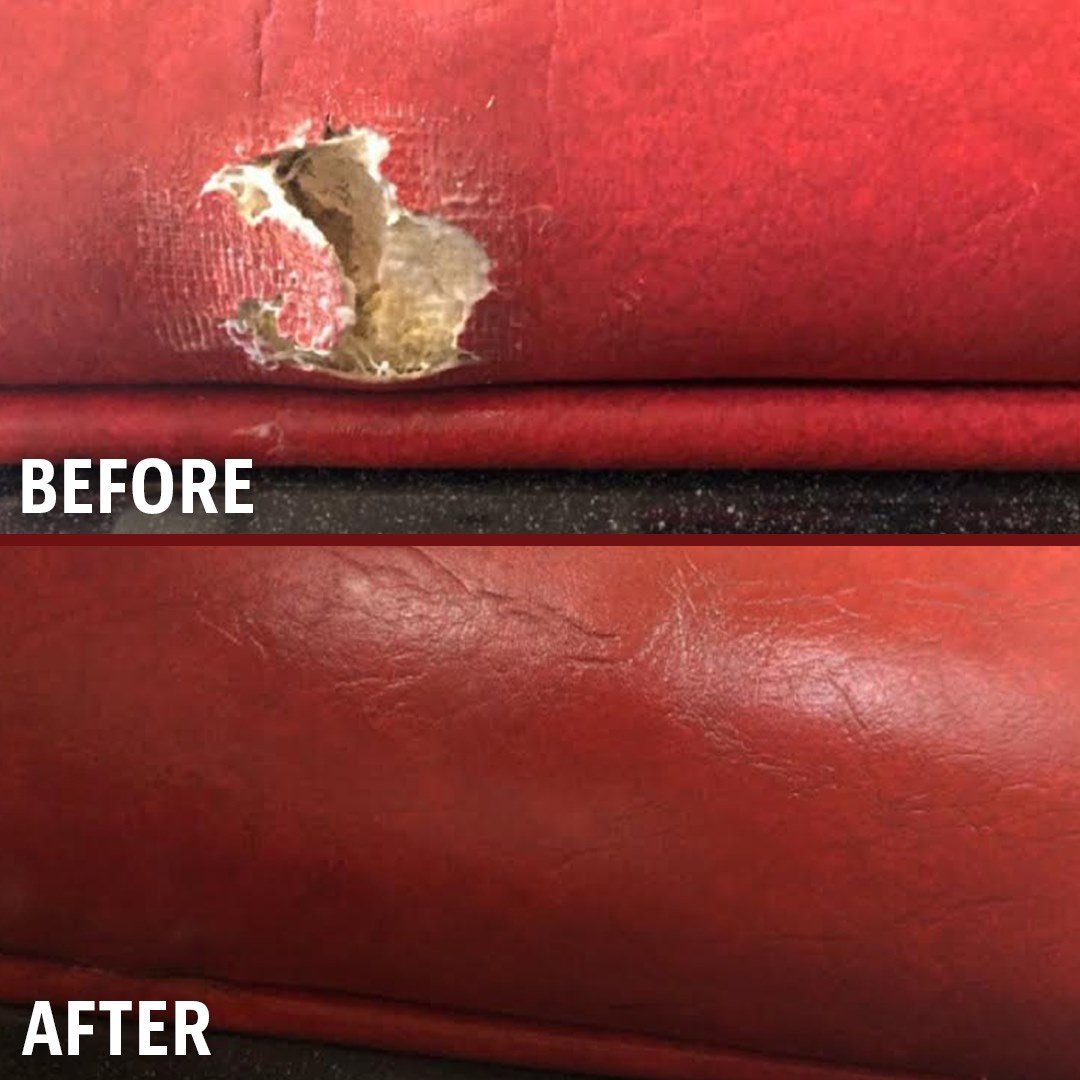 I had a hole in my leather couch and send Olen a picture of it. He responded really quick with a quote of the repair. After working on it for 4 hours it looks incredible. The color is a perfect match. Olen is very professional. I am very happy with the result.
Eric did a fantastic job, completely removed some large ink stains from my leather couch. Very professional, highly recommend!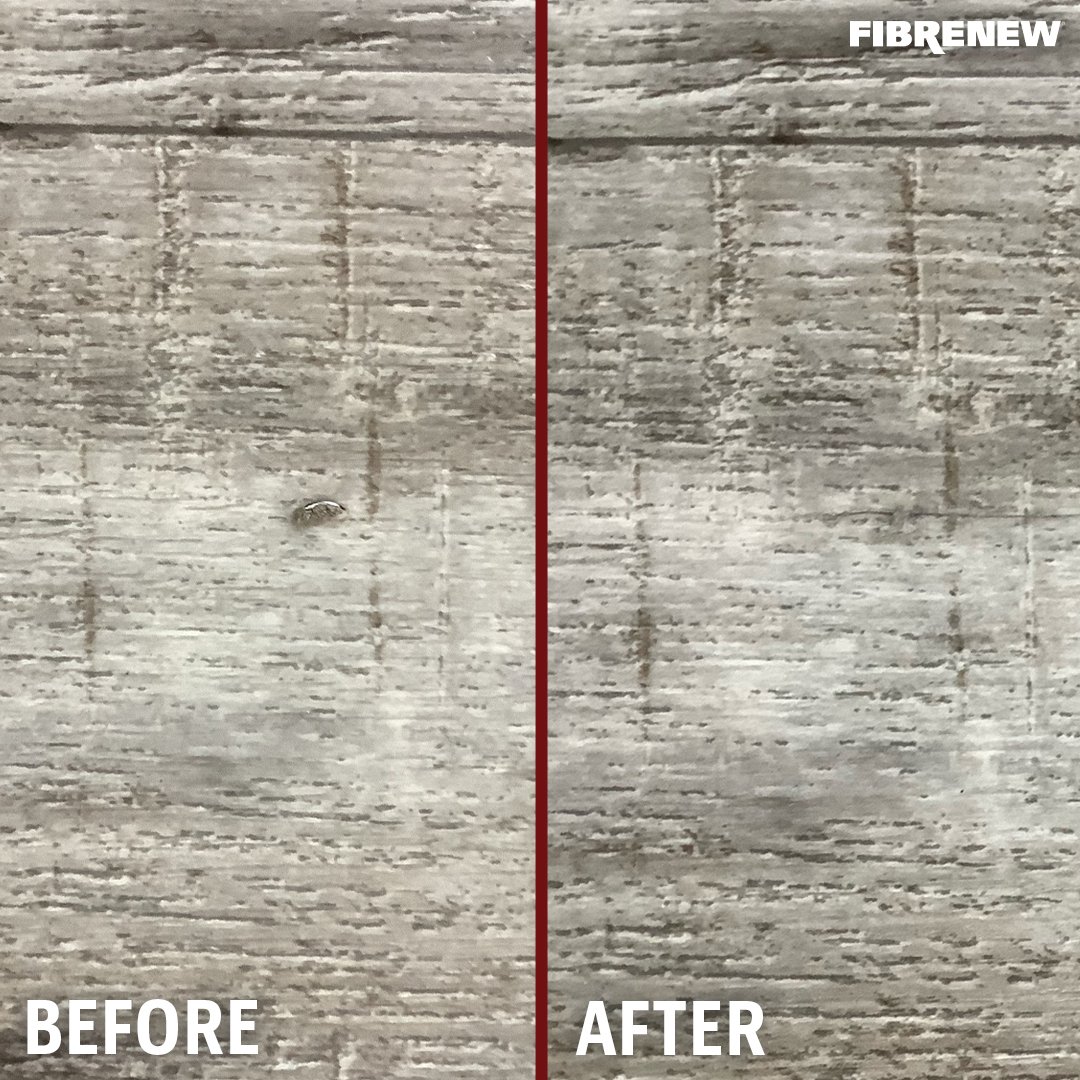 Fibrenew did an awesome job repairing our flooring. We had a nail coming through and you can't even tell. They were very professional and very nice people to work with. I highly recommend them!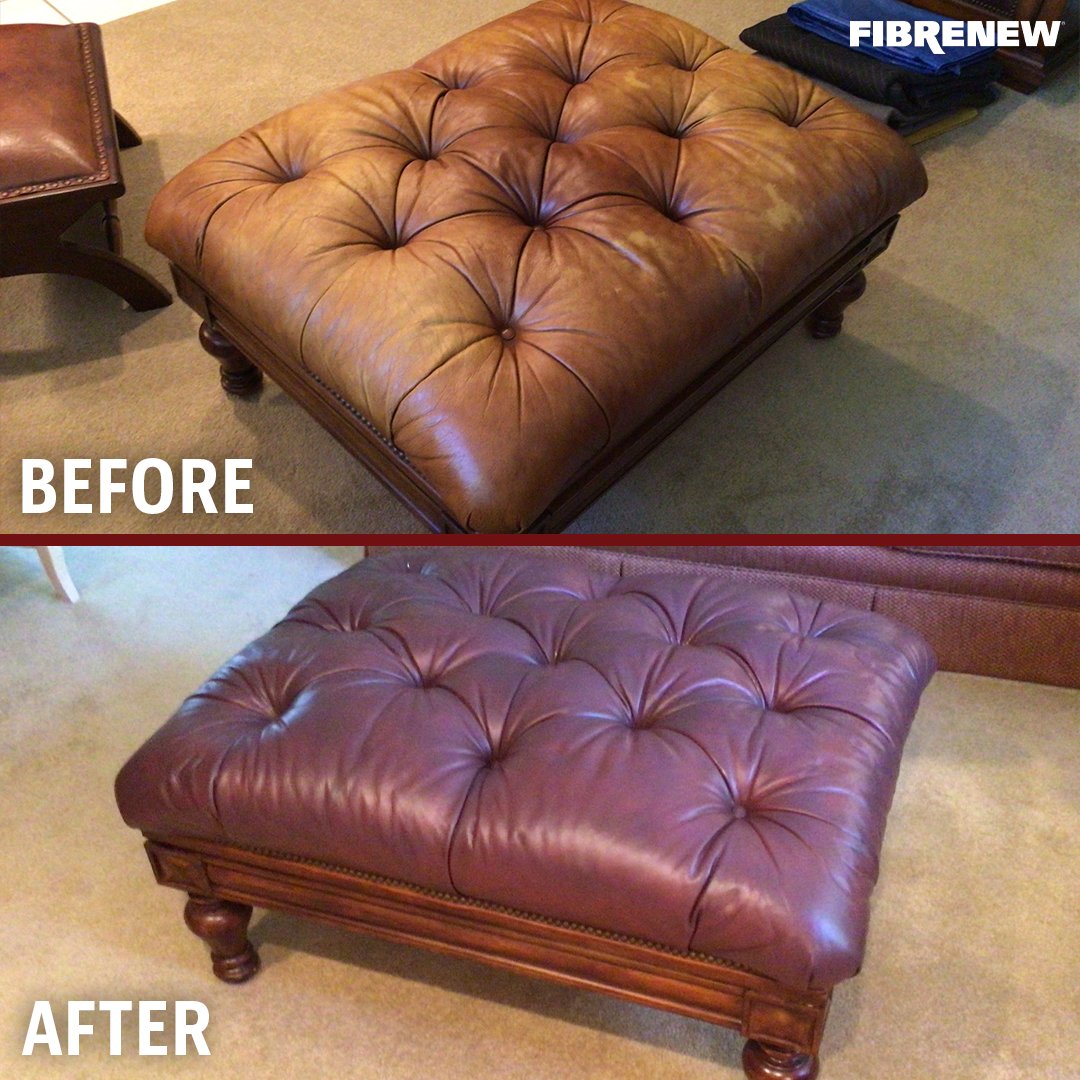 Pete came when he said he would, asked questions so he could get the job done right, didn't leave a mess and of all my piece looks brand new!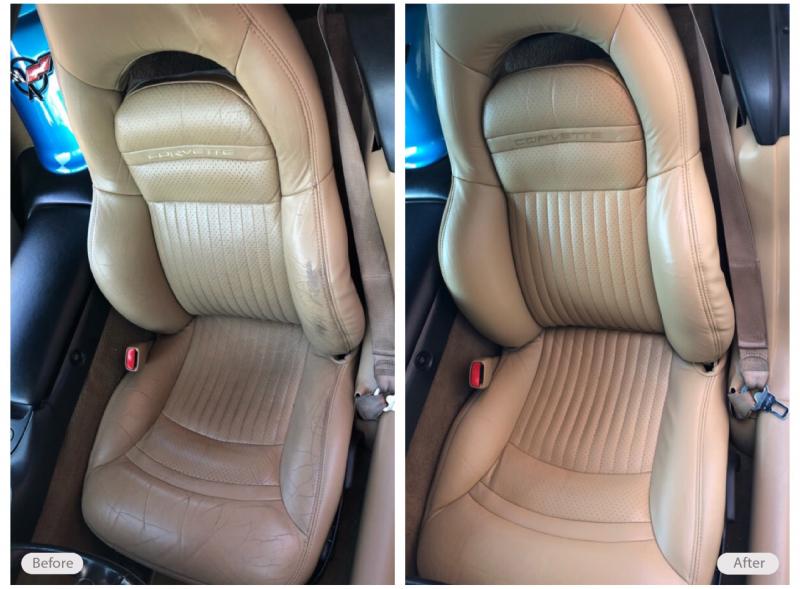 I have had troubles getting new stains or of my car and Eddie came out to my home and removed ALL the stains and made my car look brand new again. He made me feel very comfortable and at ease. He clearly knew what he was doing and did a FANTASTIC job. He was quick and very thorough. Besides the fact that he was so kind and nice, he made my car look and feel new! He truly worked miracles and I could go on for hours on how kind and enjoyable Eddie was. Would recommend Eddie and Fibrenew to anyone and everyone I know. If I ever need any repairs or restores done again you bet your bottom dollar I'm calling Eddie.
Julie did a fantastic job on repair and redye of my drivers seat in my 350Z. She doesn't rush through the job like most people do these days just to get paid. She worked until she had a perfect match in the color and the seat looks brand new. I'm a perfectionist and would not endorse her if the job had been a rushed and botched one. Will definitely use her again if needed. Thanks so much Julie!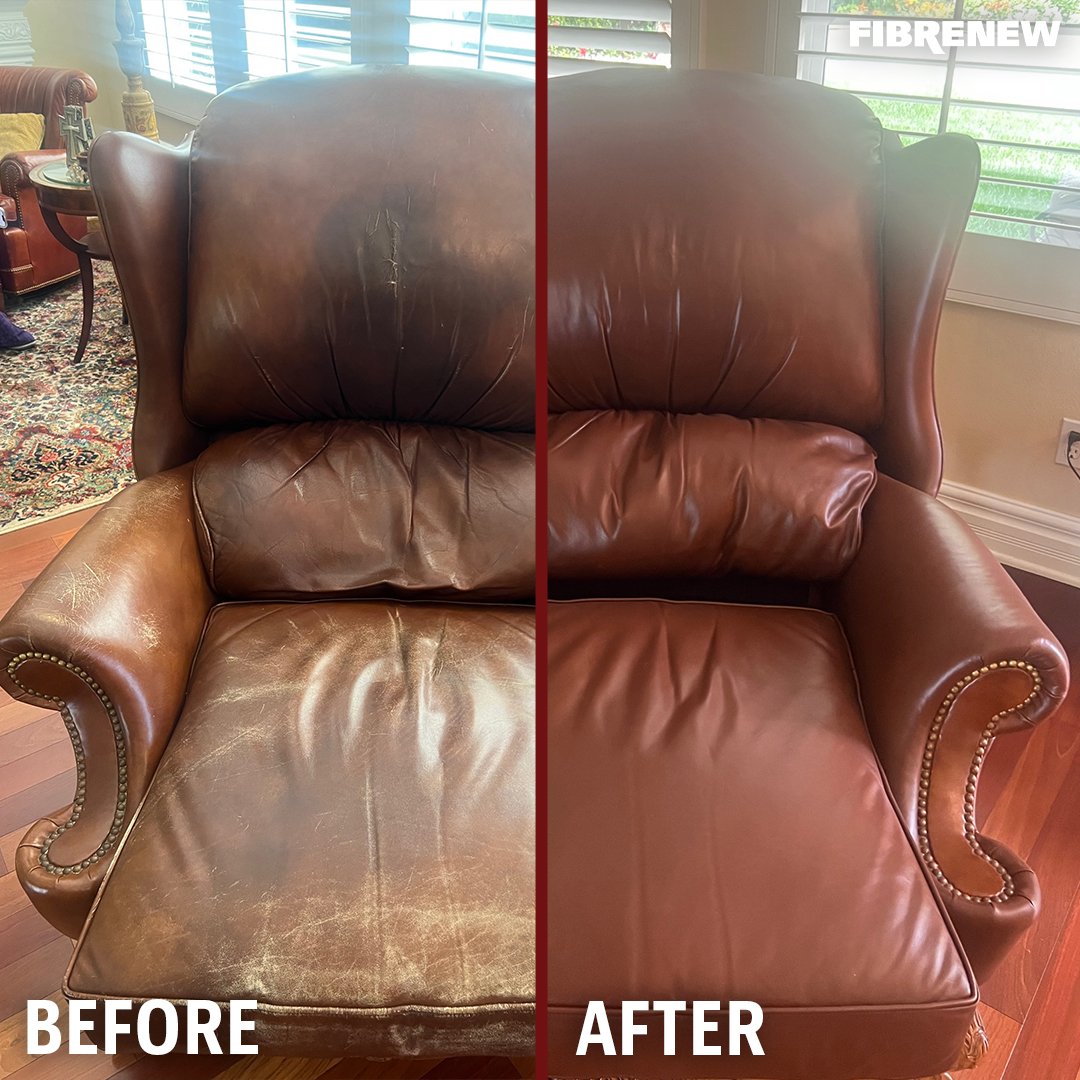 My one chair was destined for the dump but Dave renewed it to an unbelievable condition. He showed up on time and was careful with my home as not to damage anything. He color matched perfectly. I couldn't be happier with his work.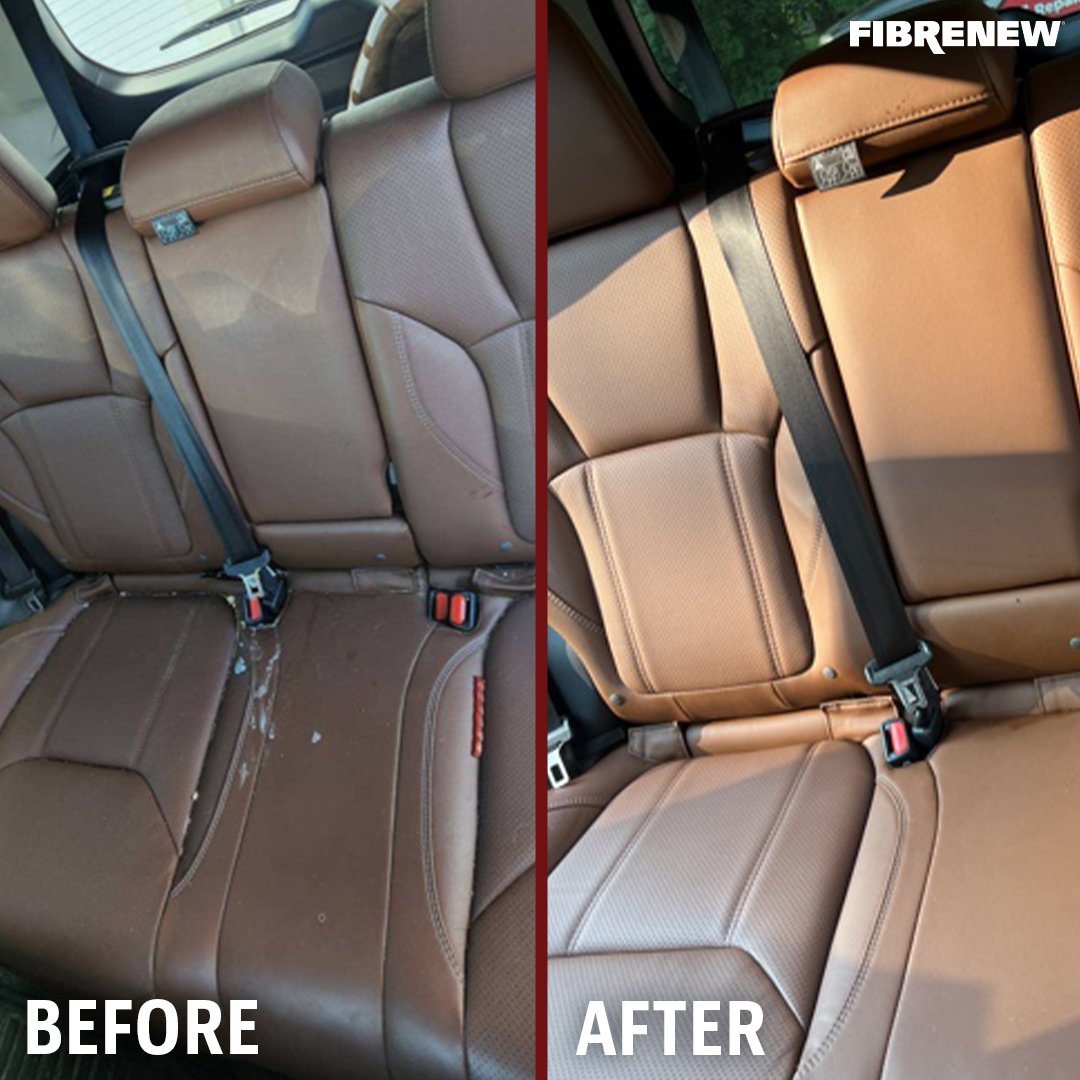 He came out exactly in time and did a fantastic job of fixing the seat and protecting it from future issues. Top notch and will refer to my friends and family.
It was a pleasure having Bill in our home. He was knowledgeable, efficient and friendly. If another needs arises, I will certainly be calling him for help.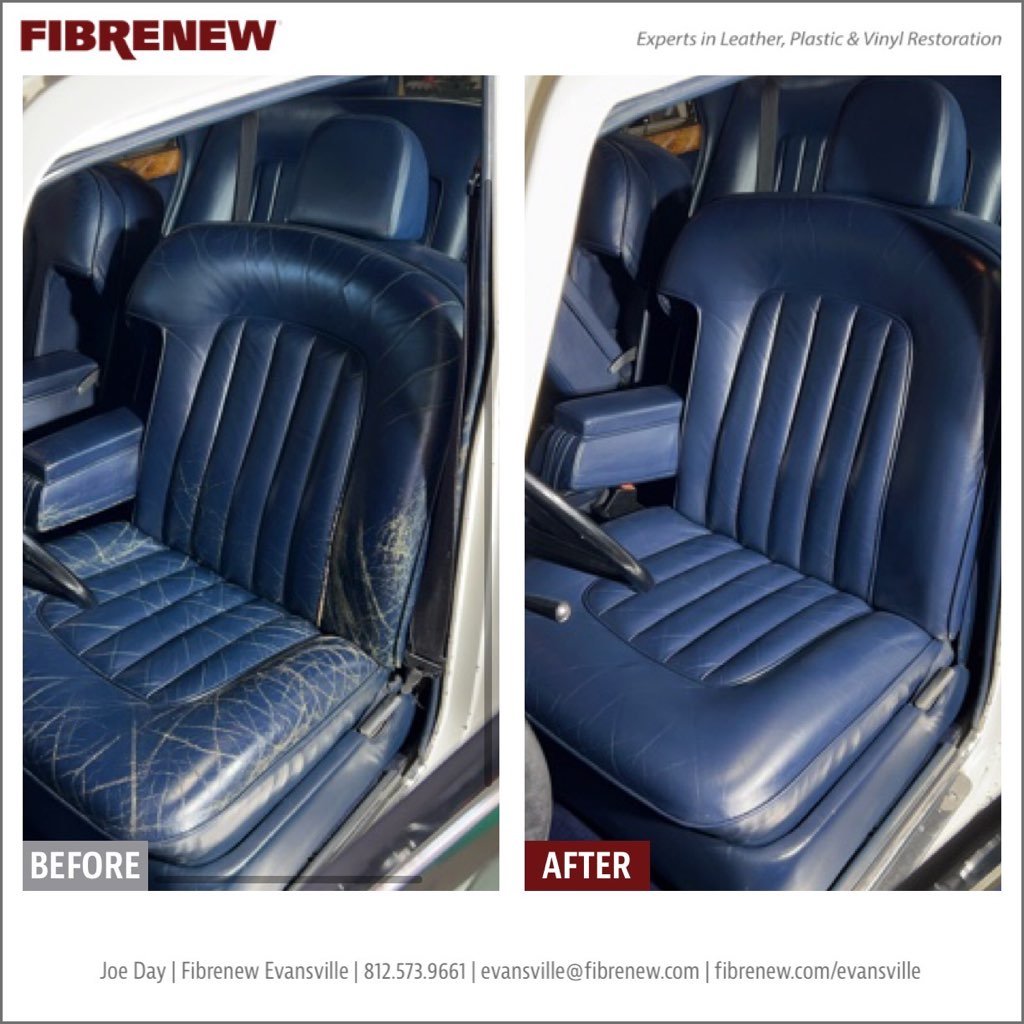 Bill of Fibrenew Cherry Hill renewed my 1993 corvette driver seat. It had a bolster tear and small tear on base of seat. Both issues are gone. Somehow he matched the new dye to 25 tear old seat. Totally happy with the work. I would recommend bill to anyone. Thanks Bill.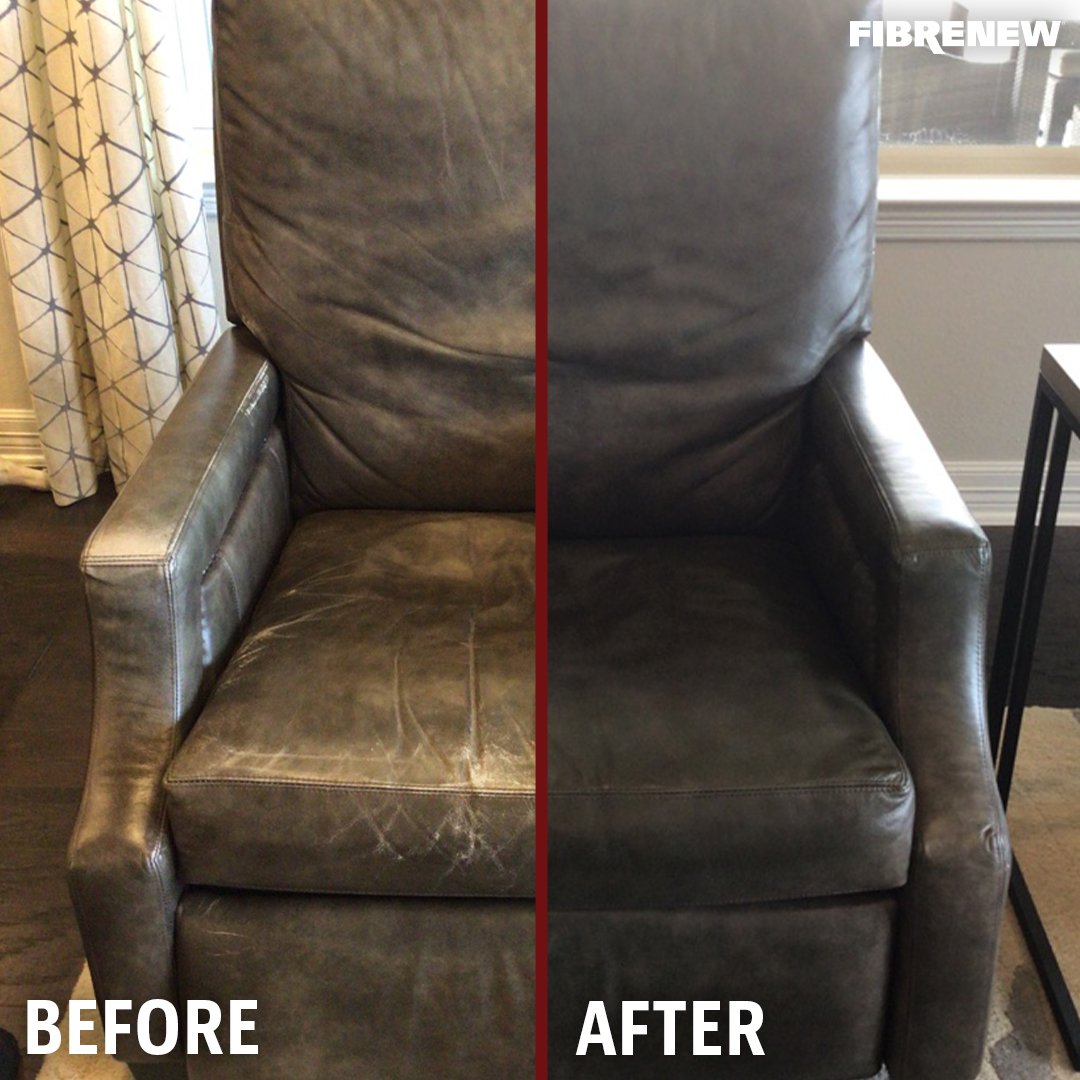 Fibrenew did a great job restoring my faded, worn leather chairs. They look new again!
When I made the decision to have Bob do the repairs for my 1990 Caddy, arm rest and front seat, I was a little skeptical at what I was told he was going to do with it. When I picked the car up I was amazed at how wonderful it had turned out. It was perfect!! Thank you Bob.
We had a small accident that I tried to fix myself- which only made the situation worse.  Jennifer was not only able to fix my unfortunate fix- but she was able to fix the initial issue and match the leather perfectly! We are thrilled at the result.  She is professional and definitely does her best to get great results!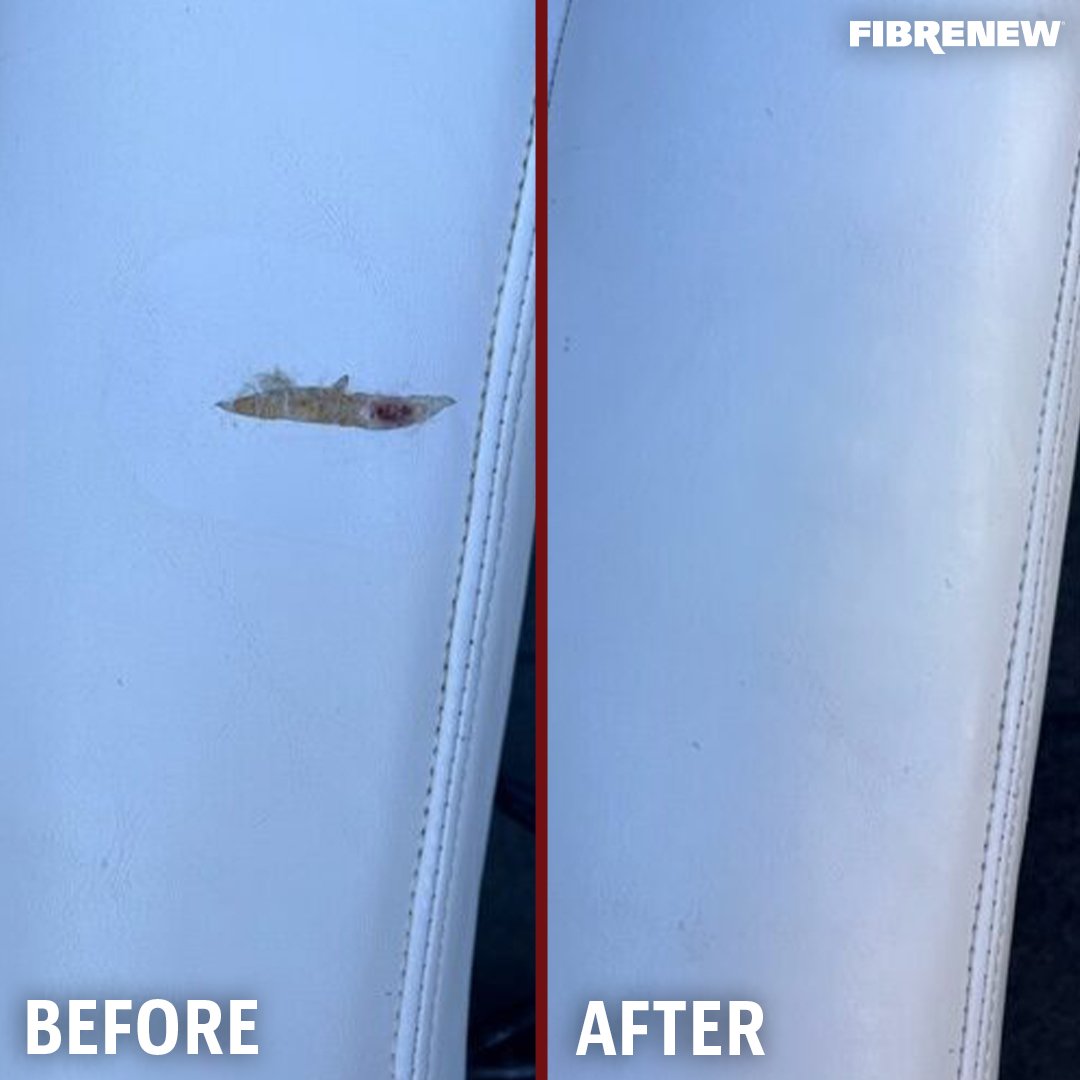 Big shout out and thank you to Jeff and Andi with Fibrenew!! They far exceeded expectations today. They arrived early for 6am scheduled appt and finished the job within a few hours!! End result was great, couldn't be happier with my boat upholstery repair from Fibrenew!! Thank you again Andi and Jeff!
Hays of Fibrenew Worcester did a fantastic job repairing and re-dying the leather side bolster on my driver's seat. It virtually looks brand new. The color match and surface finish (satin) are perfect. He also re-dyed some worn areas in another vehicle the same day without having to schedule a new appointment. And the results are flawless. We're totally impressed and very pleased with the service provided. Thank you!
Had two leather couches we were considering getting rid of but decided to give Fibrenew a shot at restoring them. When Mike was done they looked like brand new couches. Very pleased with the work.
We are so pleased with the repair of a small tear on our boat seat. It looks like new. Lloyd was dedicated to getting a perfect match in the color of the leather and a pleasure to work with. 100 percent satisfied!
I just had Sy at Fibrenew re-stain my sectional and it looks amazing. He did such a great job and most of all he was very easy to work with and very knowledgeable. I would highly recommend him, you won't be sorry.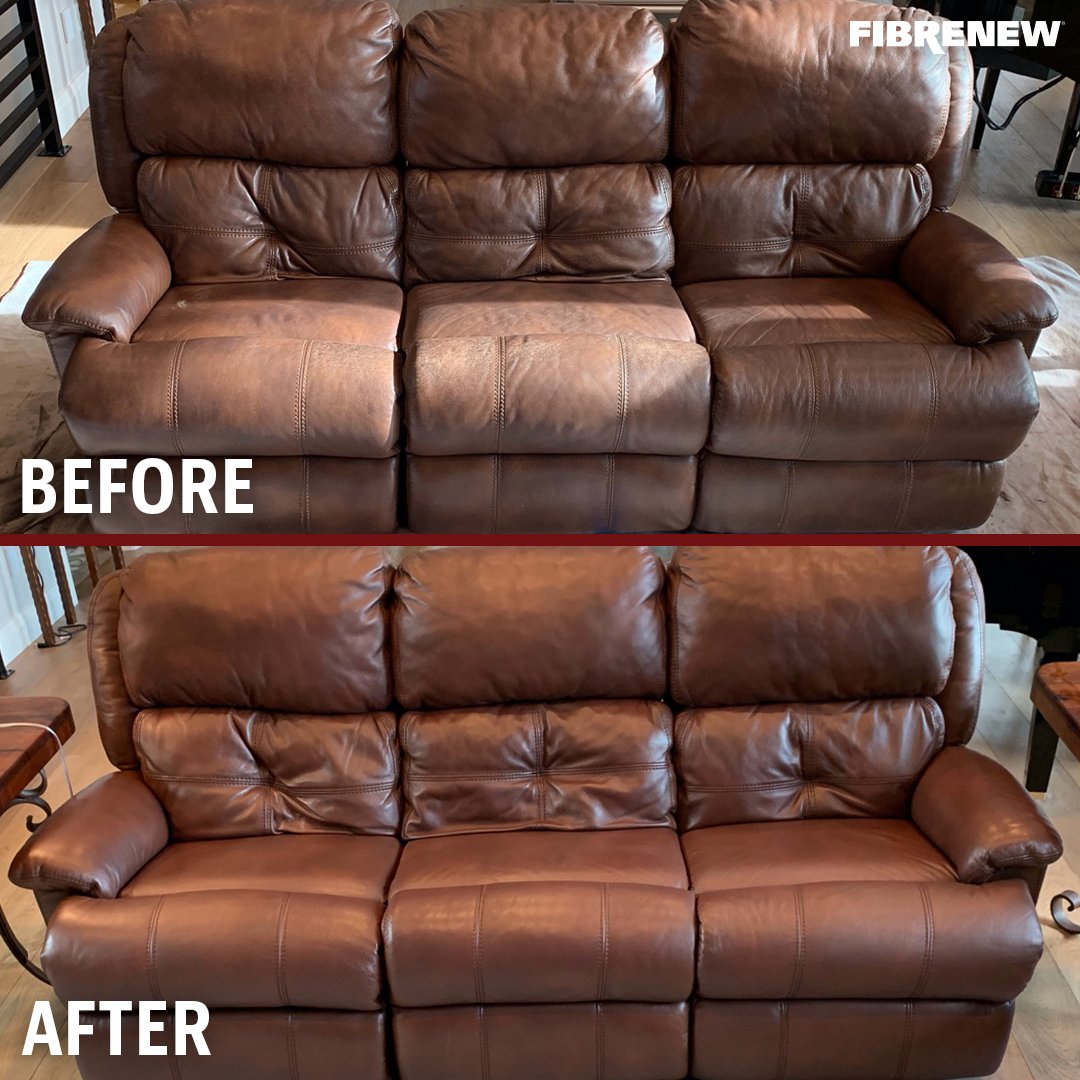 Our experience was great! Fibrenew did a very professional job restoring our couch to look like its original condition!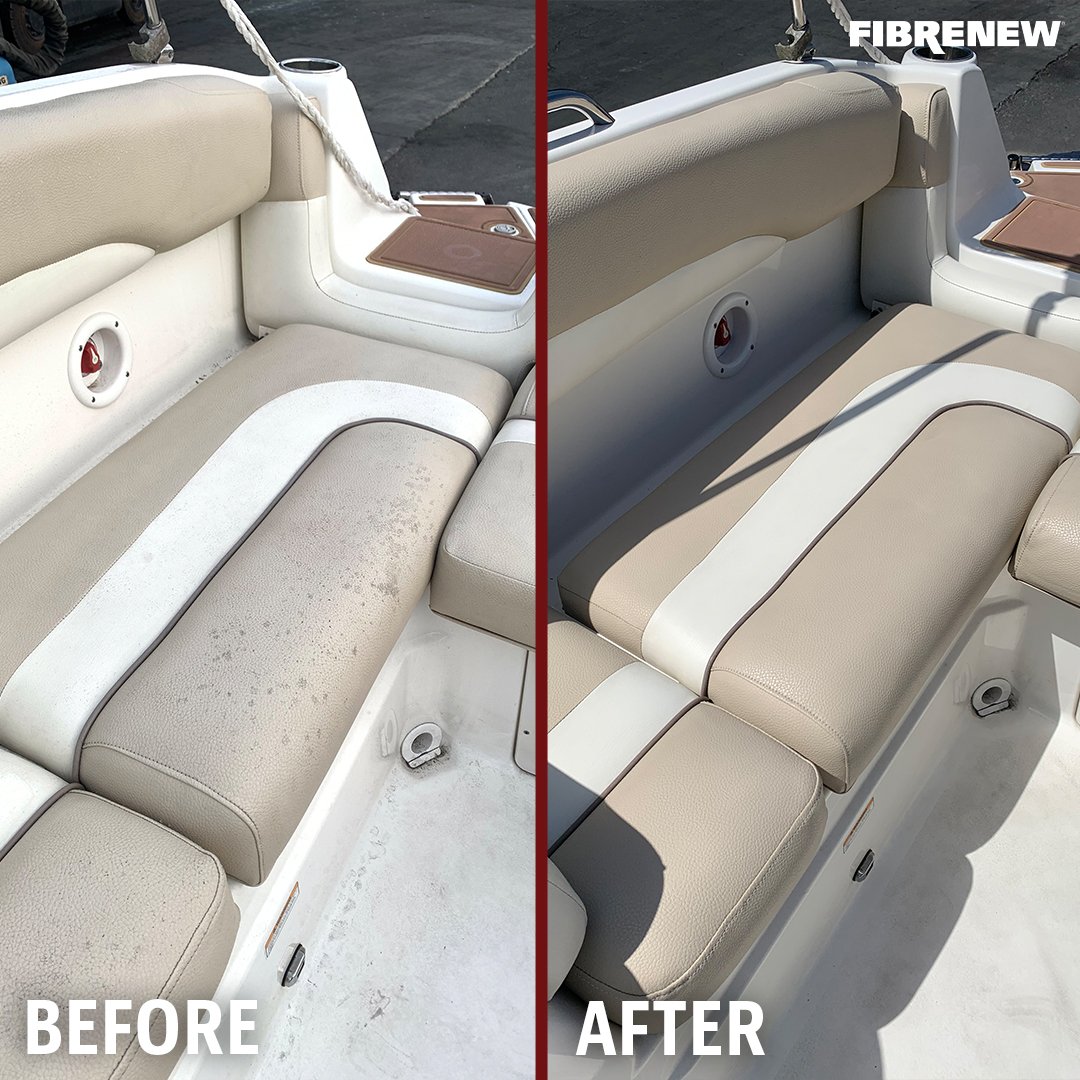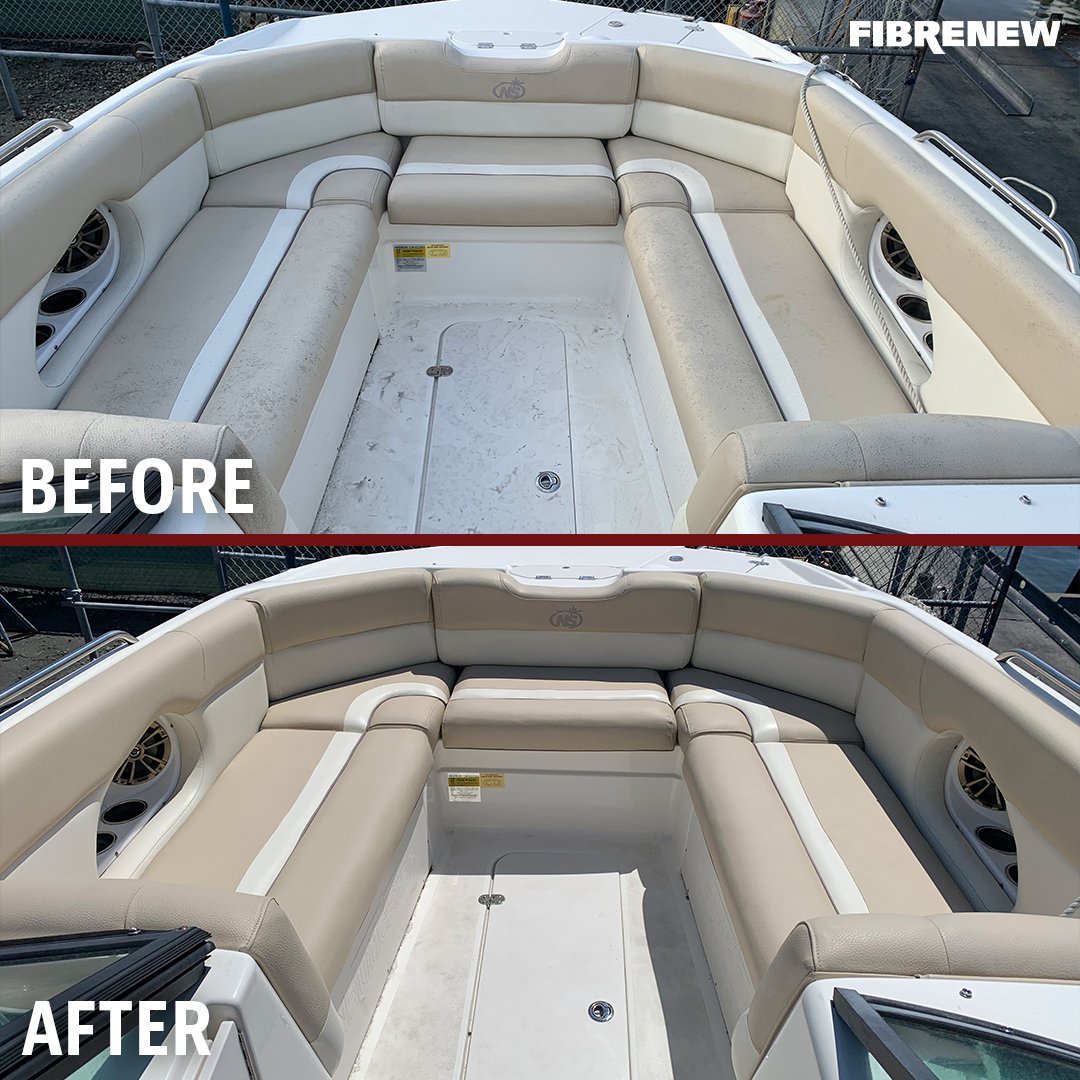 Fibrenew of St. Petersburg, FL did a spectacular job of killing the mold on our seat cushions for our Nauticstar 243 boat. The cushions look wonderful. This team is very adept at solving problems and make what others would consider insurmountable to be easy. For instance, they had to get access to a marina in St. Petersburg that is very selective in allowing outside contractors in to work. They had to get an extra clause added to their insurance to be able to enter the marina. They had to get permission from the cushion warranty company to work on the cushions and to pay for the repairs. In this day and age, most contractors would move on to an easier project. They did all this and we live 115 miles away in Punta Gorda, FL and we accomplised all interactions remotely.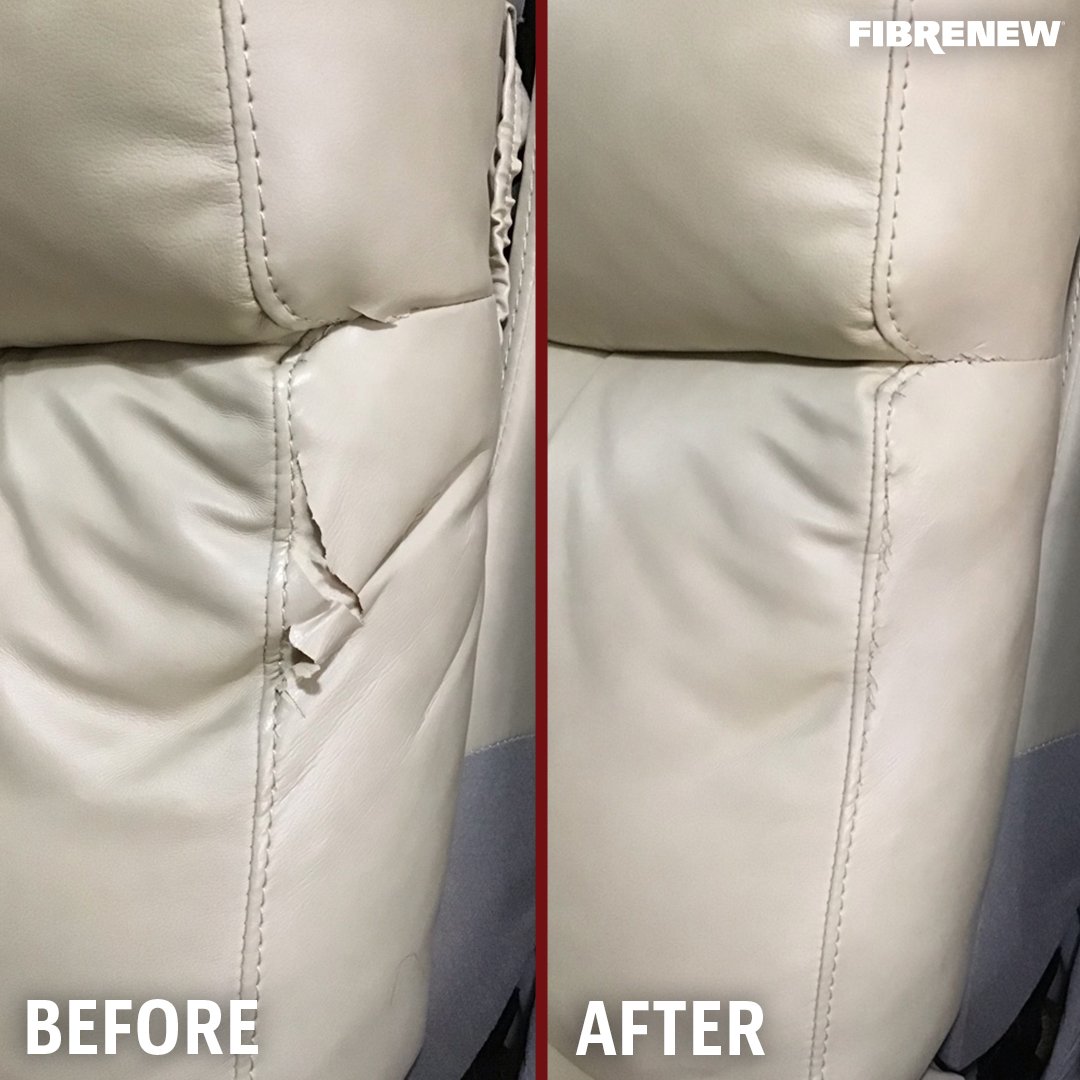 During our local move, our leather reclining couch was damaged. Eric contacted and we scheduled a visit for the repair. Eric needed to spend several hours on the repair, and he did a fantastic job. As we were talking, I asked Eric about motorcycle seat repair as I have a seat that has a tear near the seam. Eric stated that he has done many repairs and could easily repair the tear for me. This is on a 45 year old motorcycle with limited parts available. Eric did a fantastic job on the seat as well, showing his versatility.. I feel very comfortable recommending Eric for any of your needs.
A piece of painters tape took off the color on a new leather chair from Pottery Barn. I made the matter worse by adding baby oil to the aniline leather. After calling Brian at Fibrenew, he came out immediately to take a look and provide a quote. I am so happy with the results. He saved my new leather chair. It literally looks like new. Don't hesitate to give him a call! I highly recommend.
Pete is very professional. The estimate came soon after he looked at the chairs. He was on time, did the job he told us he would and cleaned up. I would definitely use him again and would recommend him.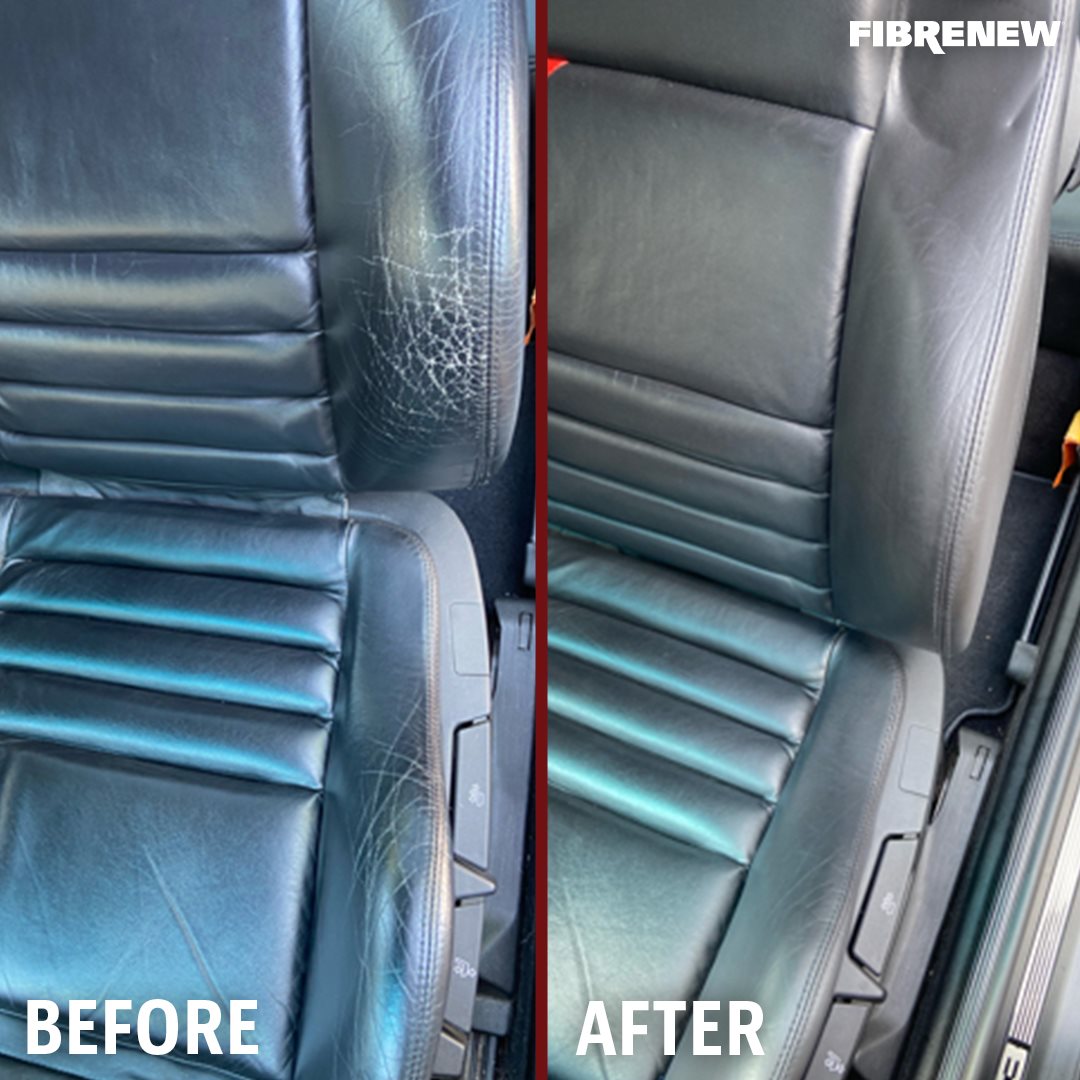 Bought a used Hyundai. My father noticed a tear on the side of the passenger seat when I was taking him for a drive in it which I did not notice when I bought it. Had Fibrenew fix it and after it cured properly my father could not tell me where the tear was on the seat I had to point it out to him and I'm not sure if I even know the exact spot where it was. Thanks very much Derek.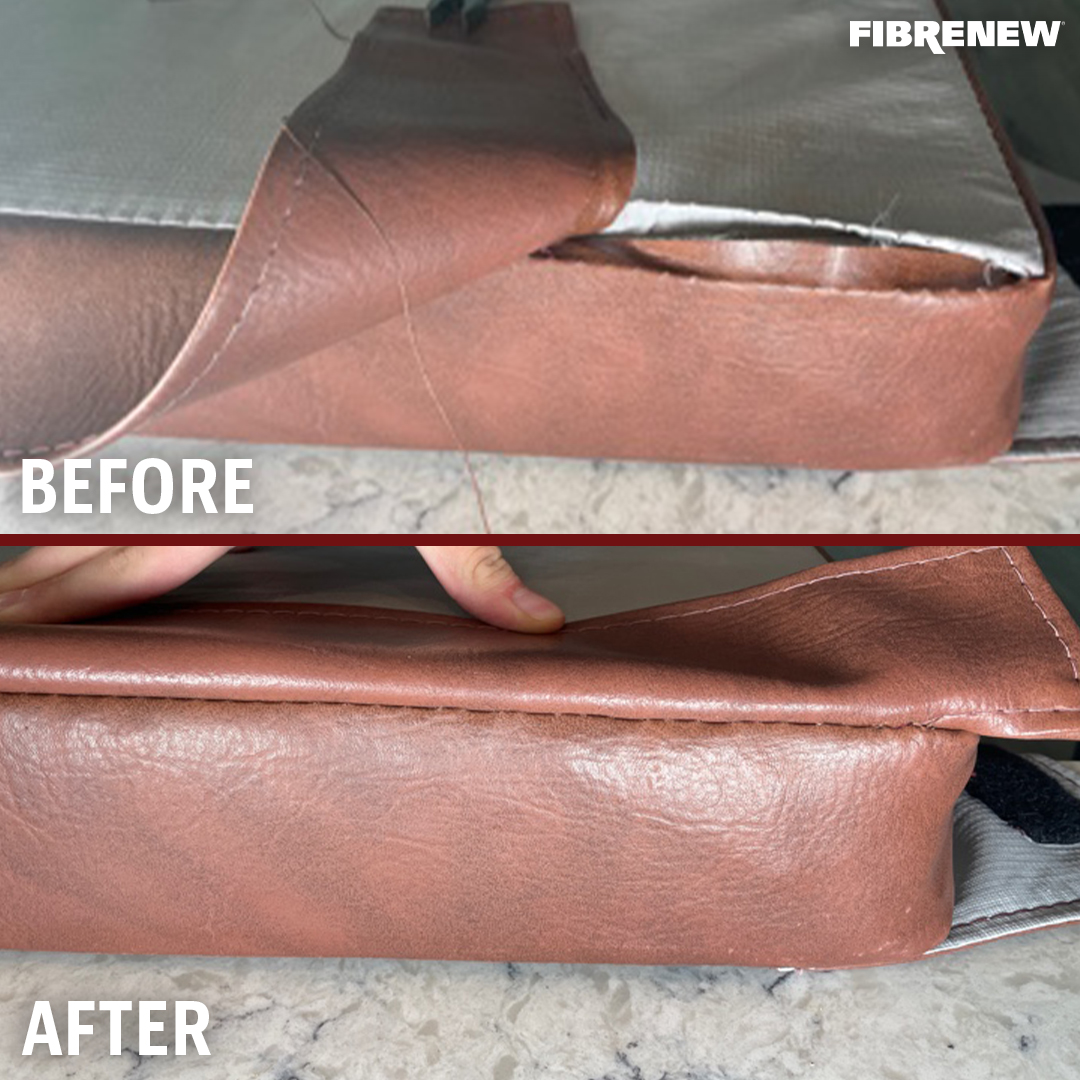 Vazrik was wonderful and helpful, easy to deal with. He turned up on time, the pricing was right for the job. He completed it as agreed and finished the work earlier that I thought. He went above and beyond my expectations, so really deserves a credit! I would absolutely recommend him and going to be his returning customer!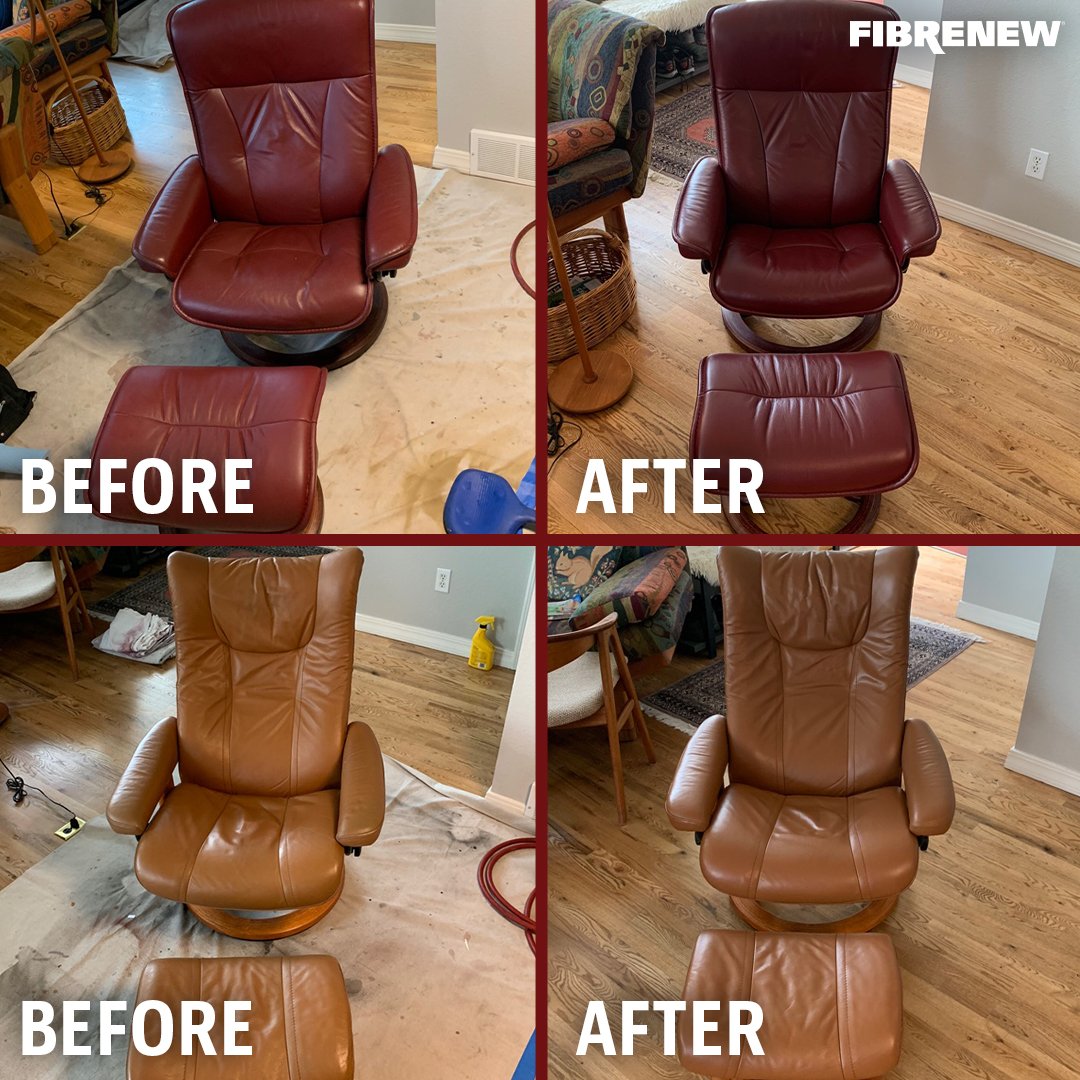 Mark is thorough, professional and courteous. He is profoundly good at his job and revived two of my stressless chairs that were over 20 years old to practically new! These chairs are about $3000+ new and Mark's charges are so reasonable and the outcomes sooo great! I highly recommend Fibrenew.
Josh did a fantastic job! I didn't realize it was possible to make a rip on a car seat virtually disappear. The color match was spot on. I plan on calling him to do some more work for me.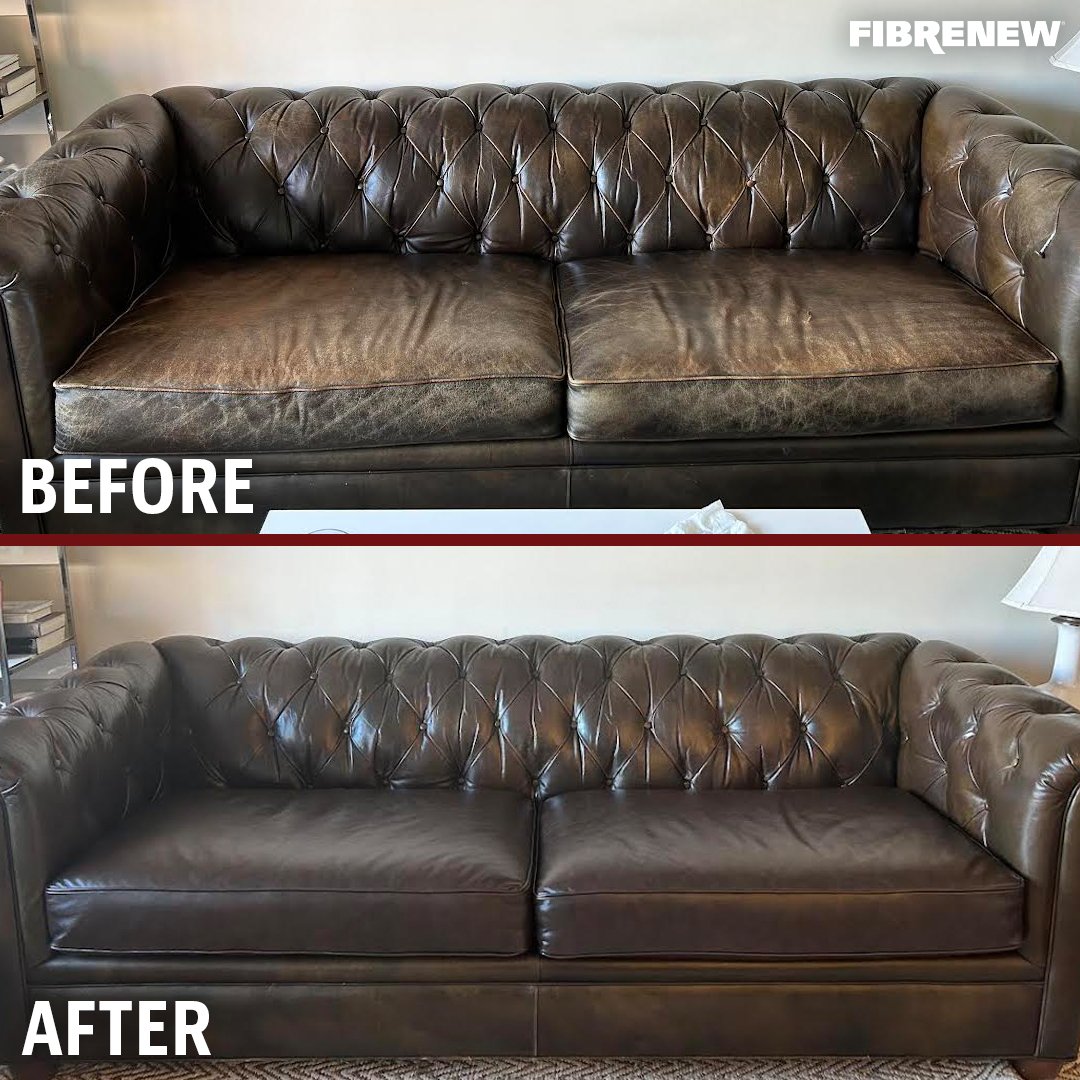 I am so glad I found Fibrenew. I thought our leather couch was beyond repair. Now it looks brand new! Saul was great to work with. Extremely responsive. He was upfront about both pricing and the timeline. He was extremely thorough with finding the right color/shade match and wanted to make sure we were happy with it. Never rushed us on any decision.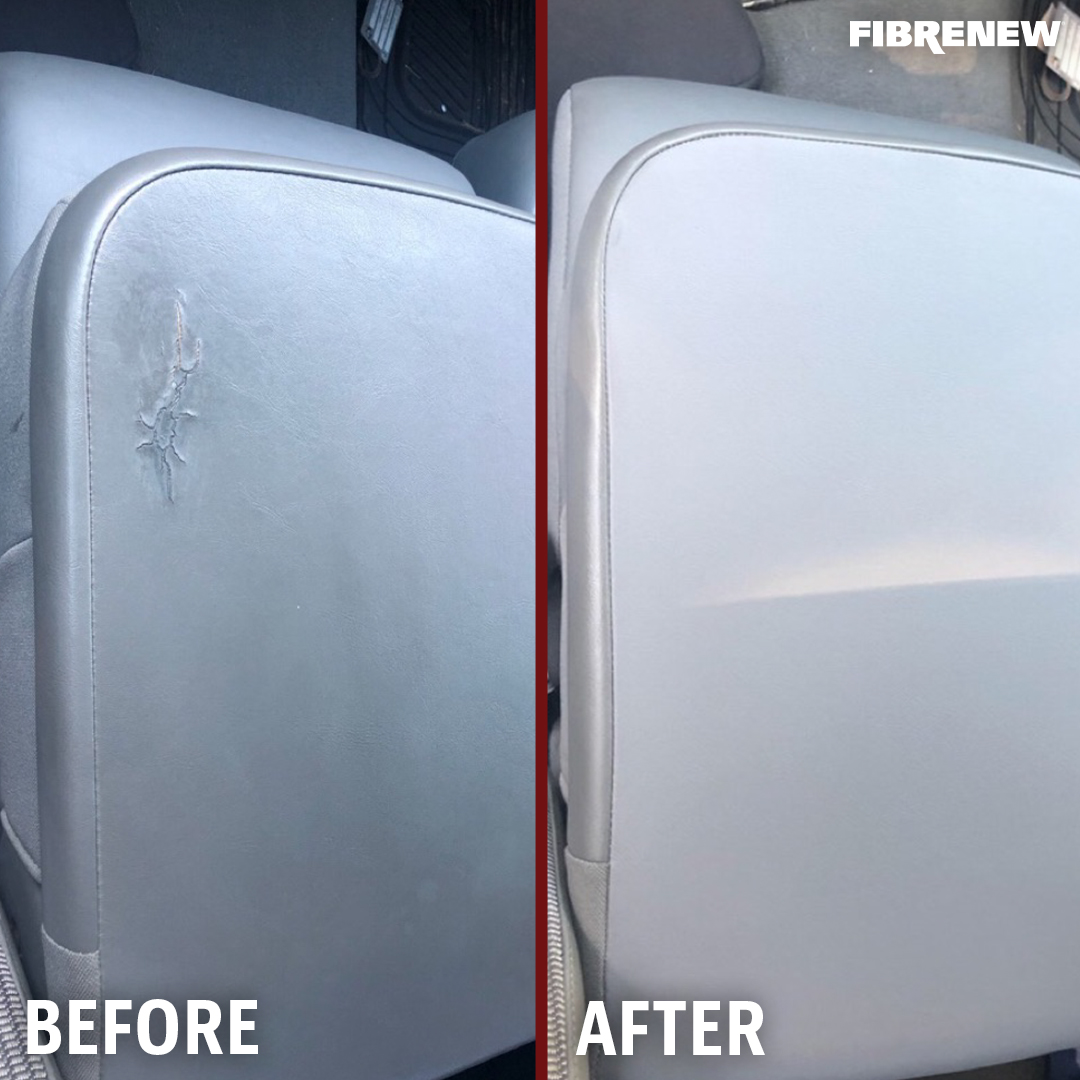 Chris and Fibrenew have become our go to source for any needs we have with leather repair, from our furniture to our vehicle seat leather, it's always done right, and quick at a fair price. Truly hard to even see where the problem was.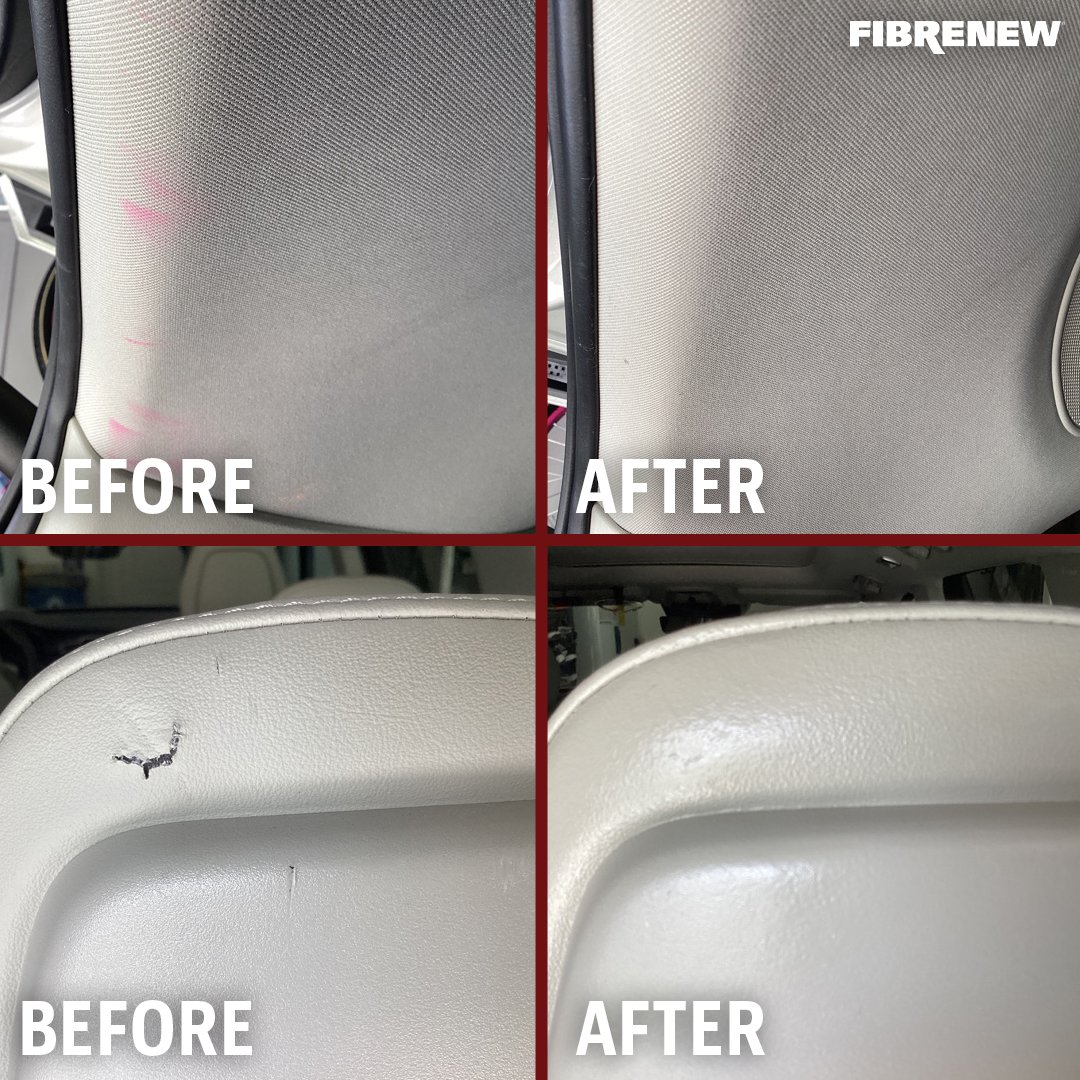 Amazing work, very clean, and great finish. A+, highly recommended.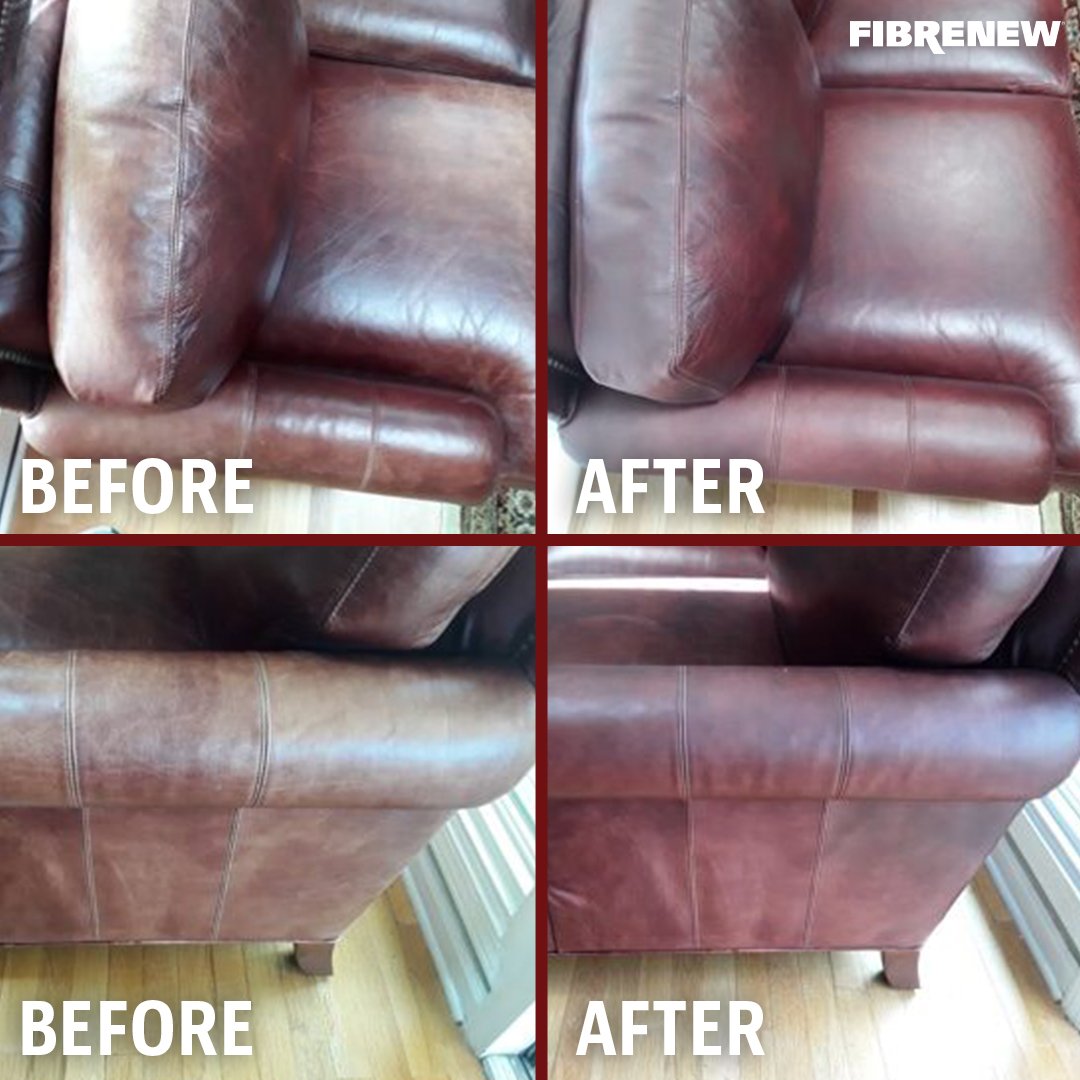 Julie worked MIRACLES on our sun-bleached, cat-scratched, dried-out 17-year-old leather furniture that we failed miserably to re-dye ourselves. Friends who just saw the results swear like we do that our sofas and wing chairs look BRAND NEW! And she was a total delight to have around - considerate, funny, self-sufficient, and so wise about solving problems at a variety of price points. As Julie said, quality old furniture is made so much better than the new stuff, and we're so thankful she rescued the sofas and chairs we love!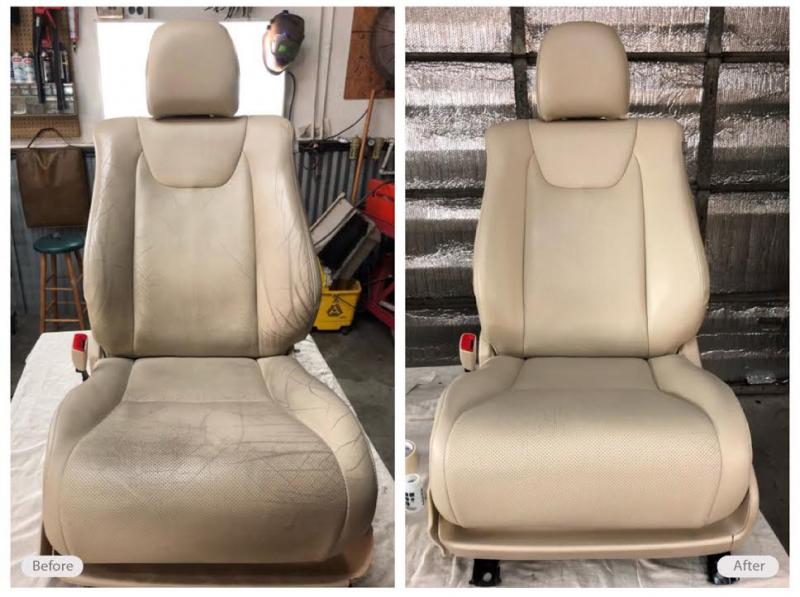 Amazing job! Phil Lacke fixed my torn car seat when no else could! Other companies said the leather pattern was no longer available, the color would be impossible to match, etc. Phil was very professional and made my seat look like new. It is perfect! You should be proud Phil represents your company here in NW Columbus, Ohio. Thank you Phil!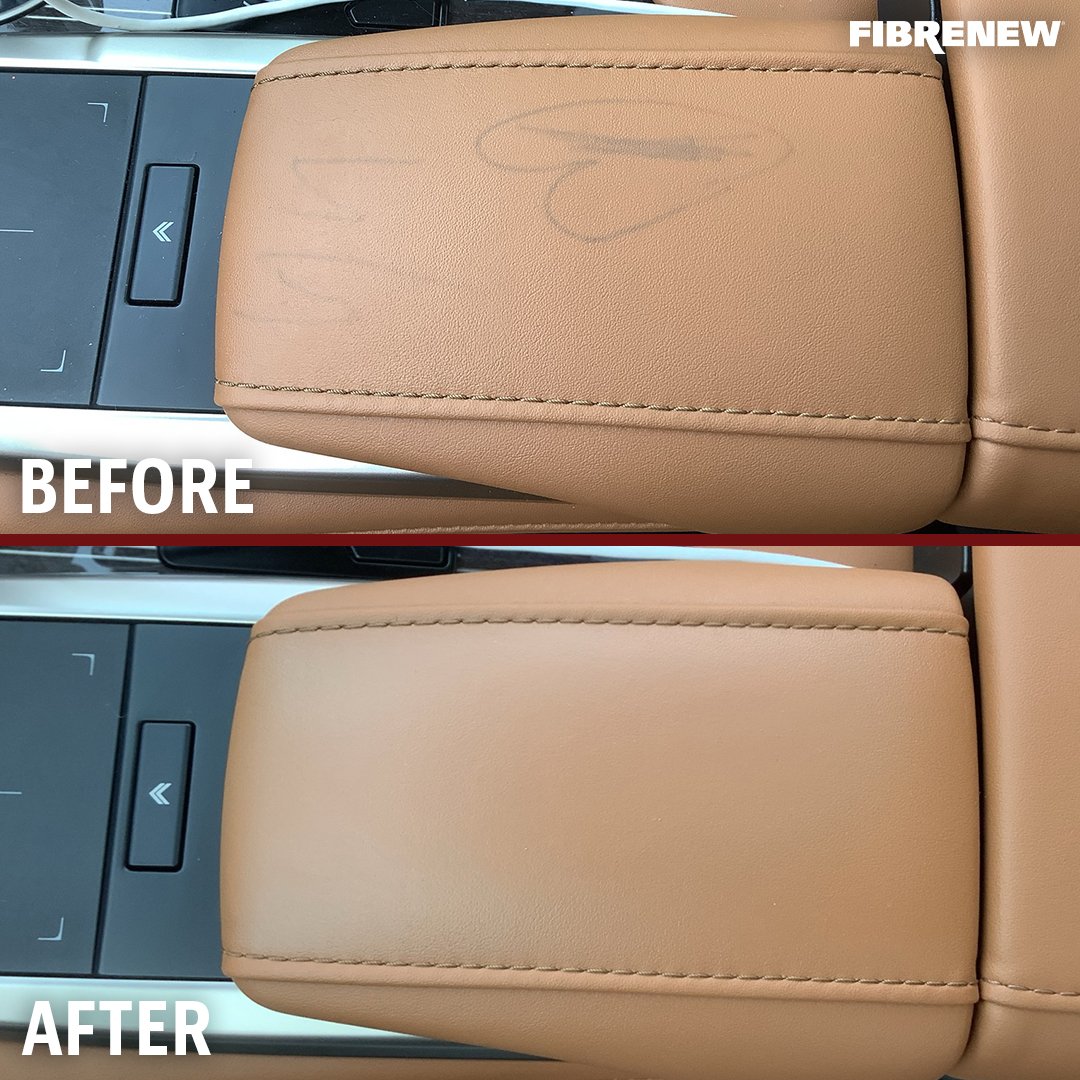 Amazing service, prompt arrival, was able to fix the market on my authentic leather!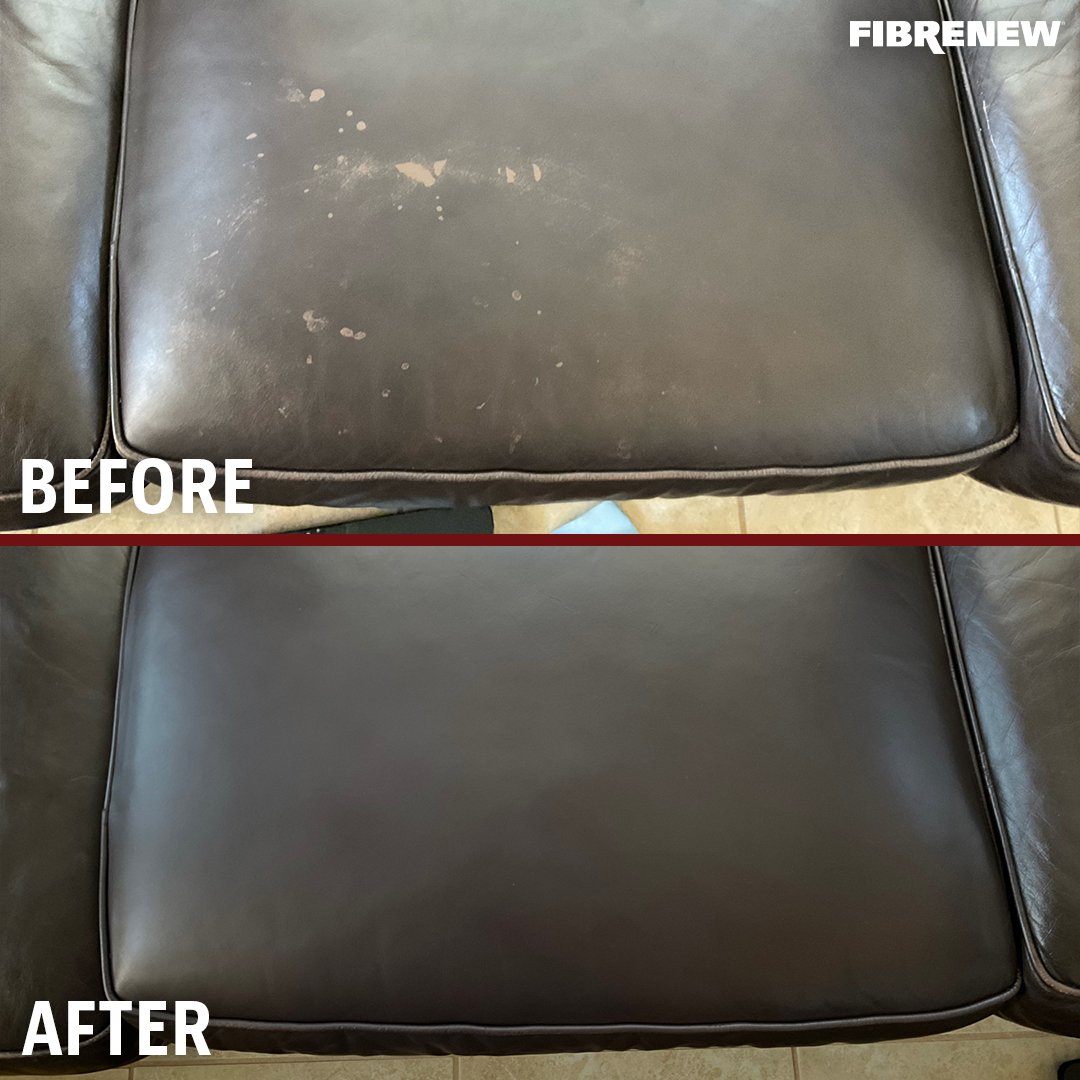 Knowledgeable on leather. Courteous and did an amazing job fixing my leather sofa.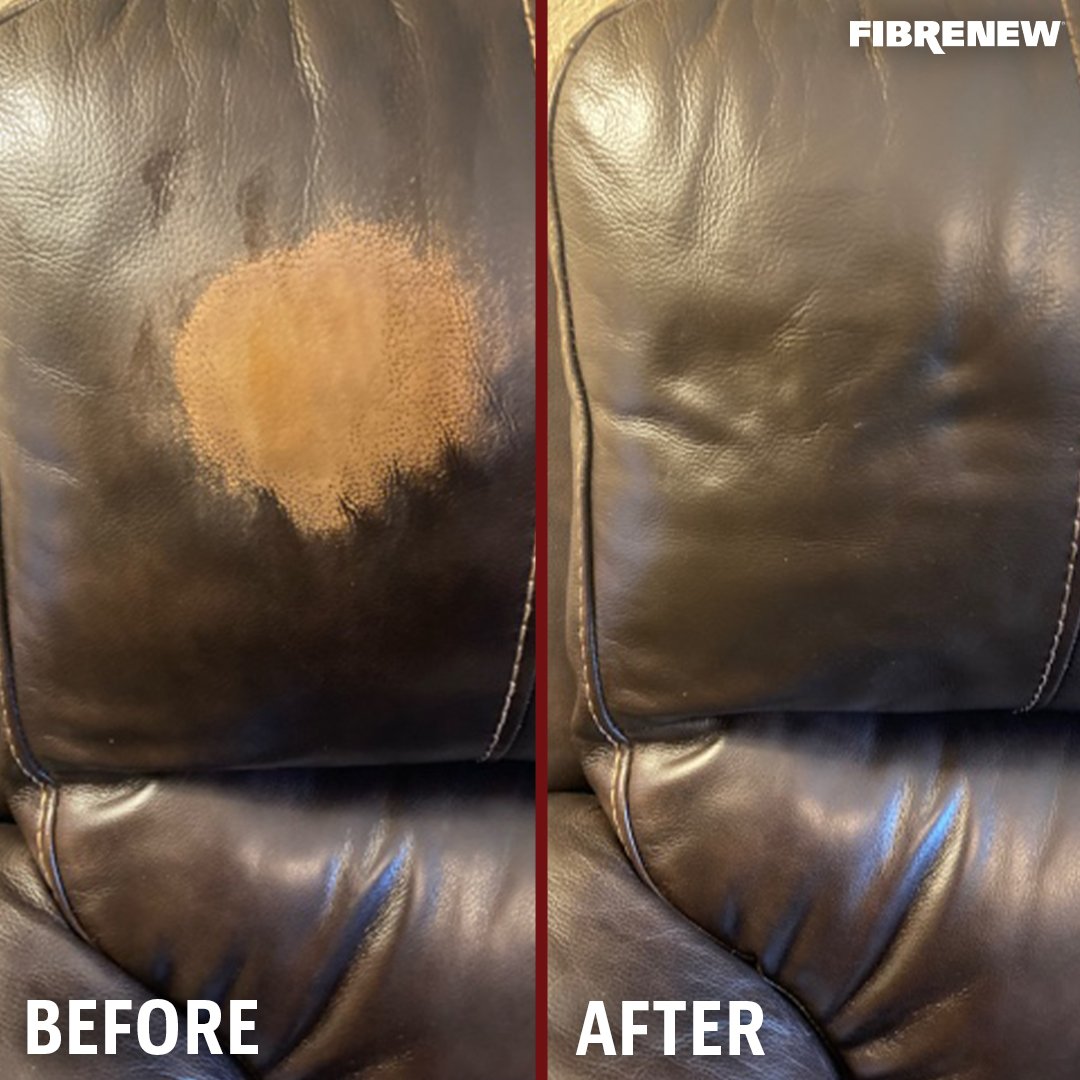 Did a great job on our sofa. It looks new again. Highly recommend FIBRENEW for anyone who needs this type of service.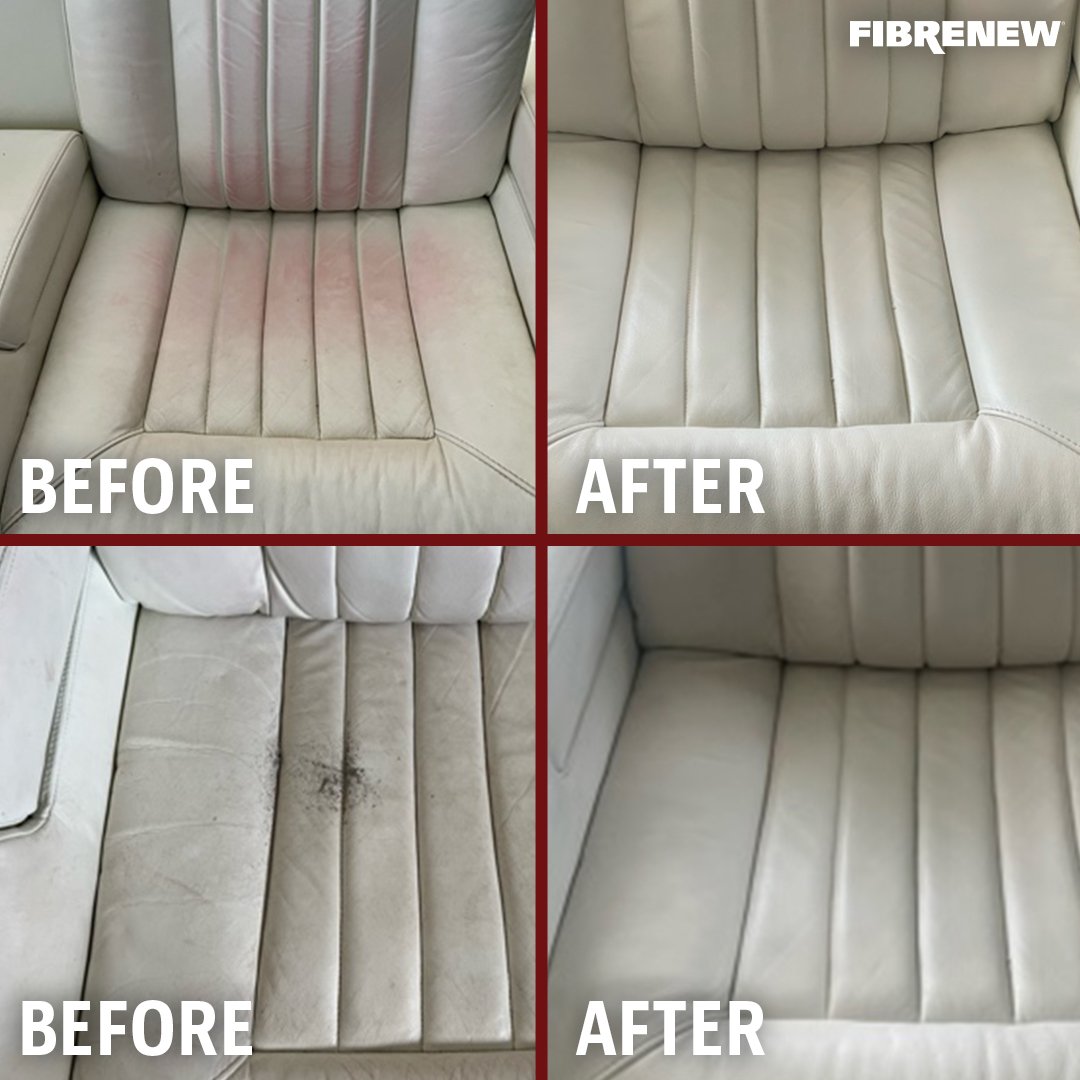 I bought a new set of furniture to replace my damaged set. Then I read about fibrenew on Facebook. I talked to my wife and we decided to try them out. The old set was a cream color almost white and my wife had cleaned it with clorox cleanup. When she put the red throw pillows on the set it turned the set pink on the seat and backrest. We tried everything to get the stain out and that failed. Fibrenew was called and they couldn't get the stain out. They clean the set and repaired a small hole and re colored the three piece set. It looks awesome! Like brand new! The cost was one fifth of my new set. I highly recommend Fibrenew before you spend money on a new set of furniture. My wife is replacing the new set with our old set as I'm texting. Thank you for doing a great job and I'm looking forward to you guys helping me with my boat seats.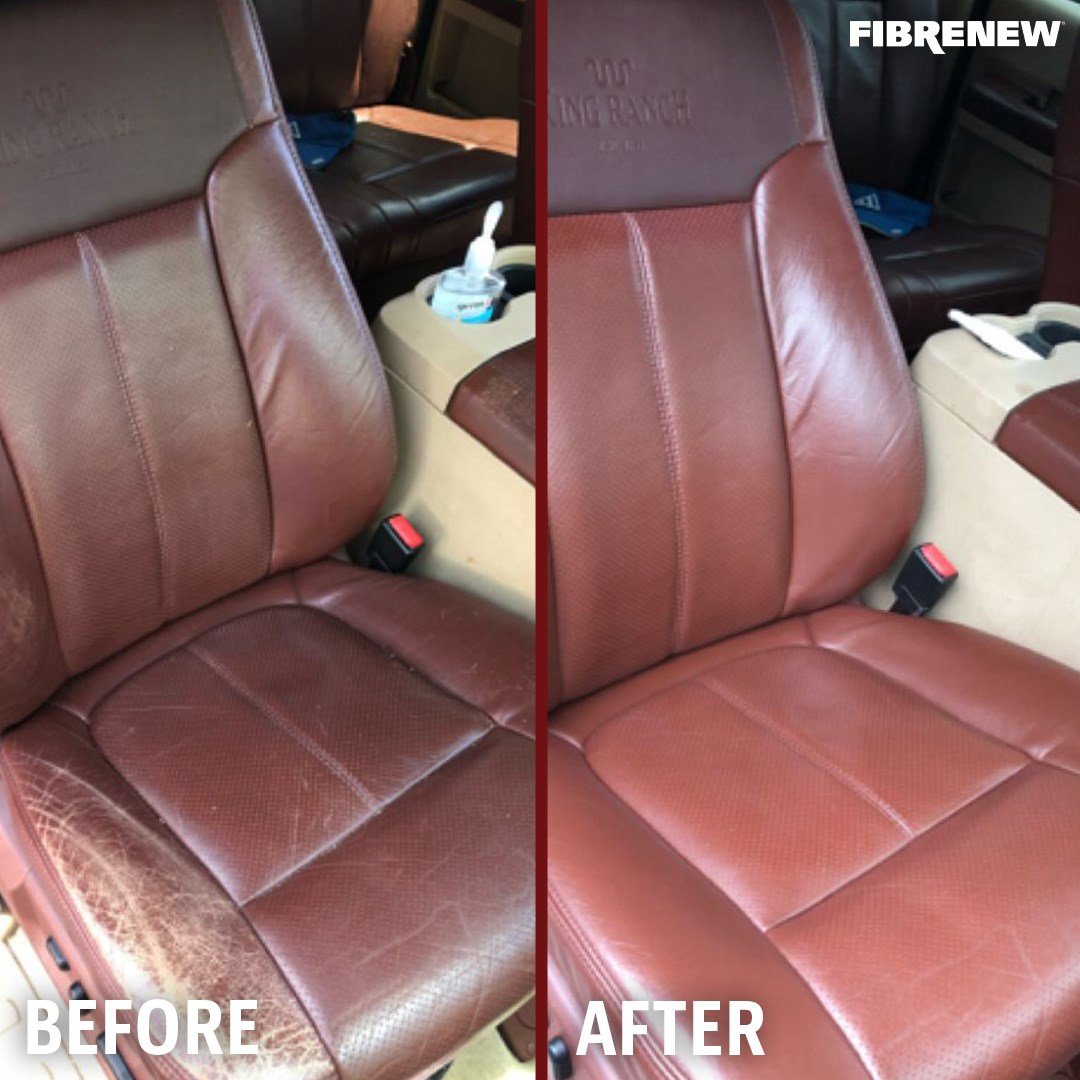 After looking on the Internet for leather repair shops! I contacted Bill at Fibrenew/Cherry Hill. I sent him pictures of the two bolsters to be repaired on my 2010 Acura TSX. He responded promptly with a quote., and we scheduled the appointment. Bill arrived promptly. He explained how he was repairing the seats, and proceeded to complete the work. He is knowledgeable, professional, and friendly. Definitely recommend his service!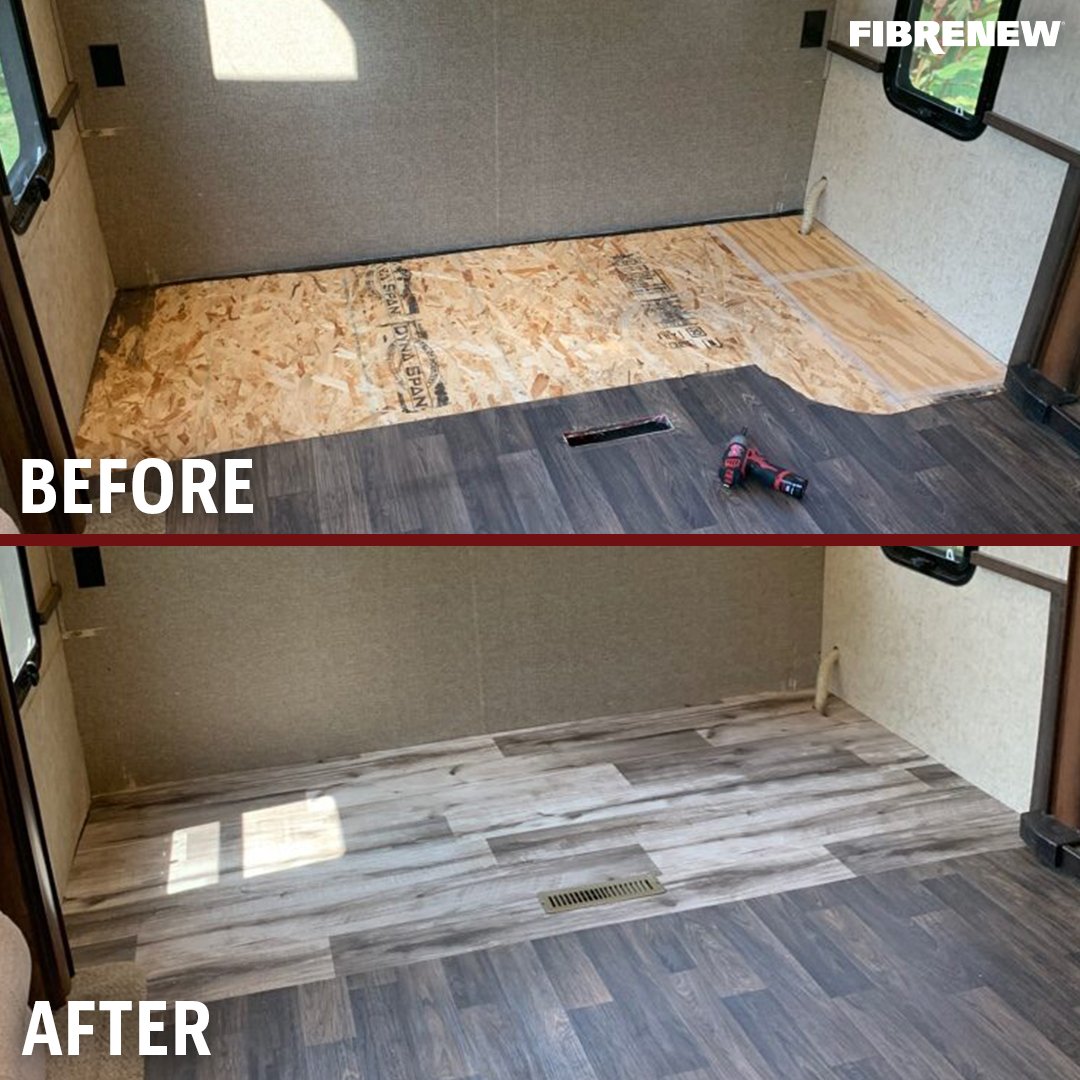 Fibrenew Murfreesboro recently repaired our floor after we had the RV repaired from a leak, and rotted floor. It is impossible to find matching vinyl flooring, so we chose a lighter complimentary flooring. It came out absolutely spectacular. The trim, and side stands will now be replaced, and it will be transparent. Thanks Josh, and Ann.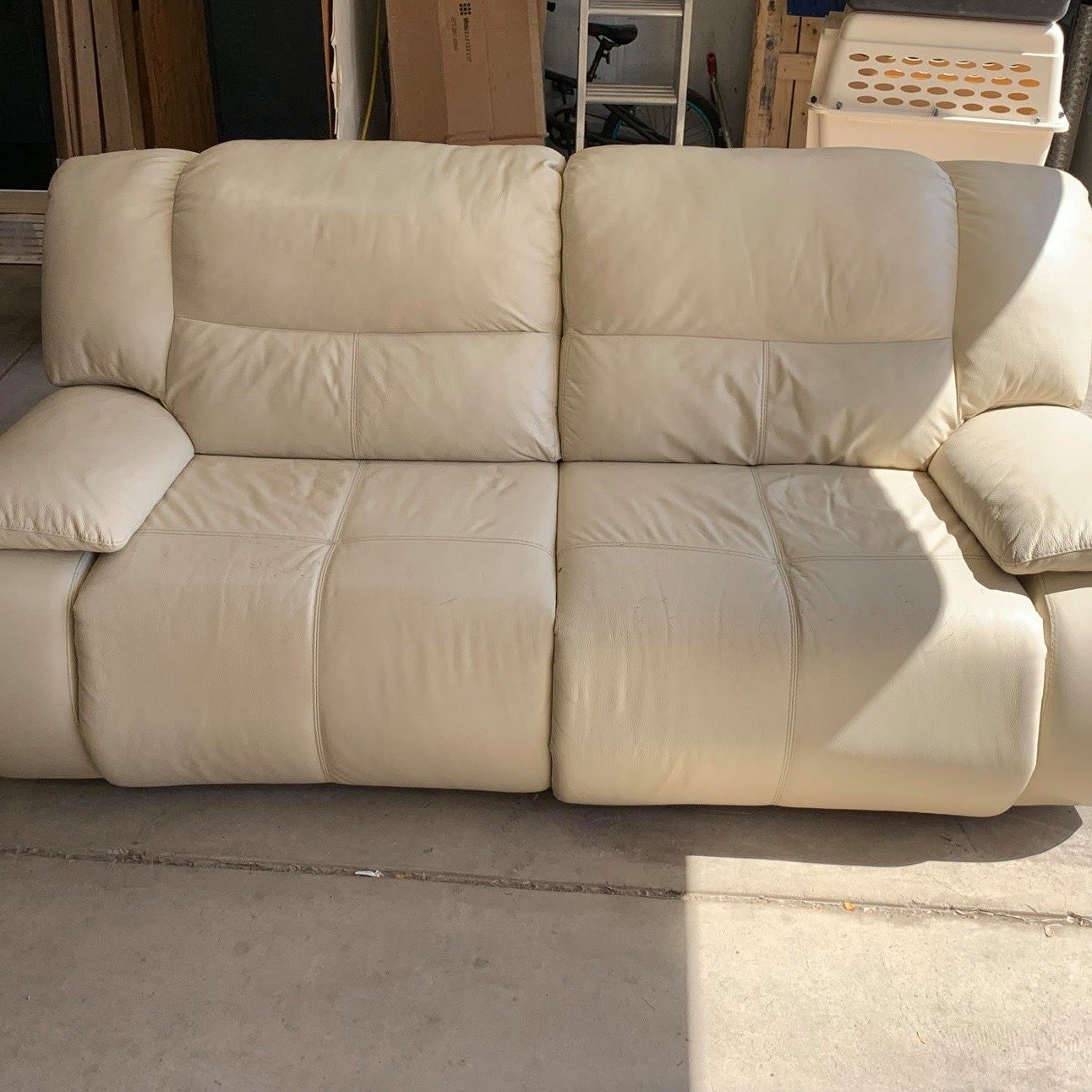 I had Peter & Patricia come and clean my cream coloured loveseat that had gotten stained from dye transfer.  It was very bad so they had to strip the dye and re-dye. They matched the colour perfectly. You could not tell where they had dyed it. I was very happy with their friendly and professional service.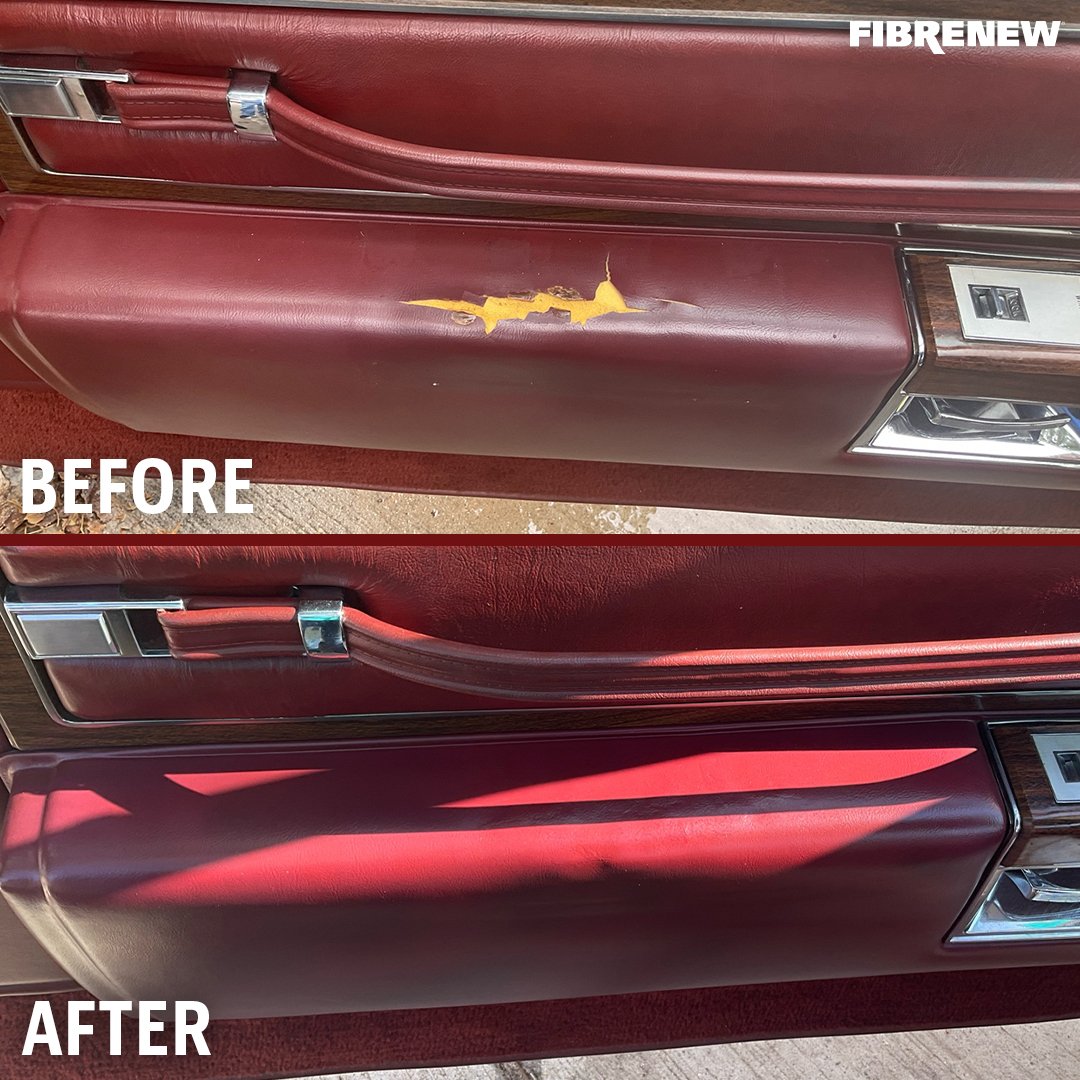 This is the second time I use their services for their work on my 78 Cadillac Coupe. Driver seat repaired and good as news. Highly recommend and very friendly, easy going, down to earth. I will definitely use their services again and will refer them to my friends. I'm elated I have found them locally. Thanks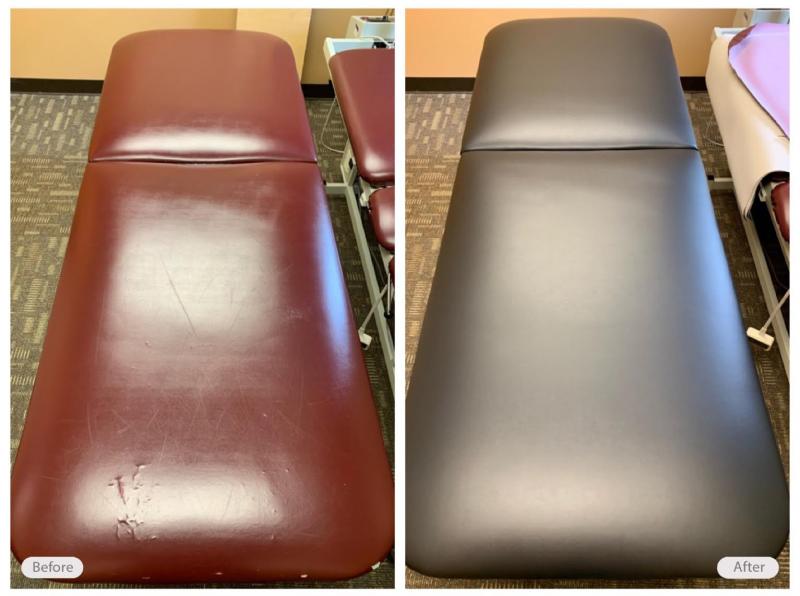 Fantastic work! Brian of Fibrenew North Raleigh Wake Forest is a perfectionist who attends to every detail of the restoration process. You will find that his service is not a nuts & bolts process but rather an art. You will come away from the entire experience with a greater appreciation of what quality service really means.
Excellent professional service, that is what we have experienced with Josh's services. Our first experience in having leather restored and are very pleased with the results.  Our first sight of the chairs, sofa and foot rest when they were returned was "it looks like new". I have no doubt that his future will be very successful with that level of quality.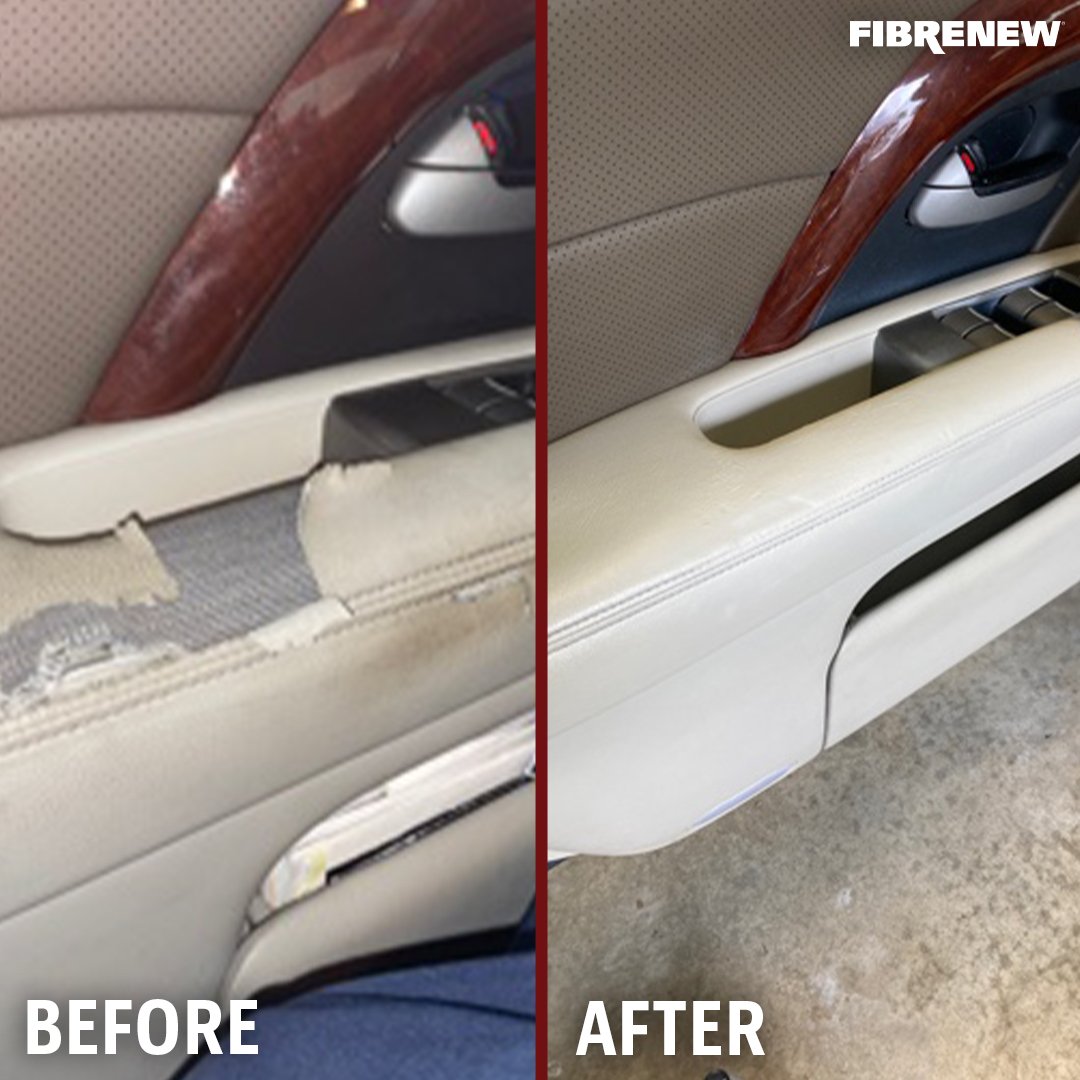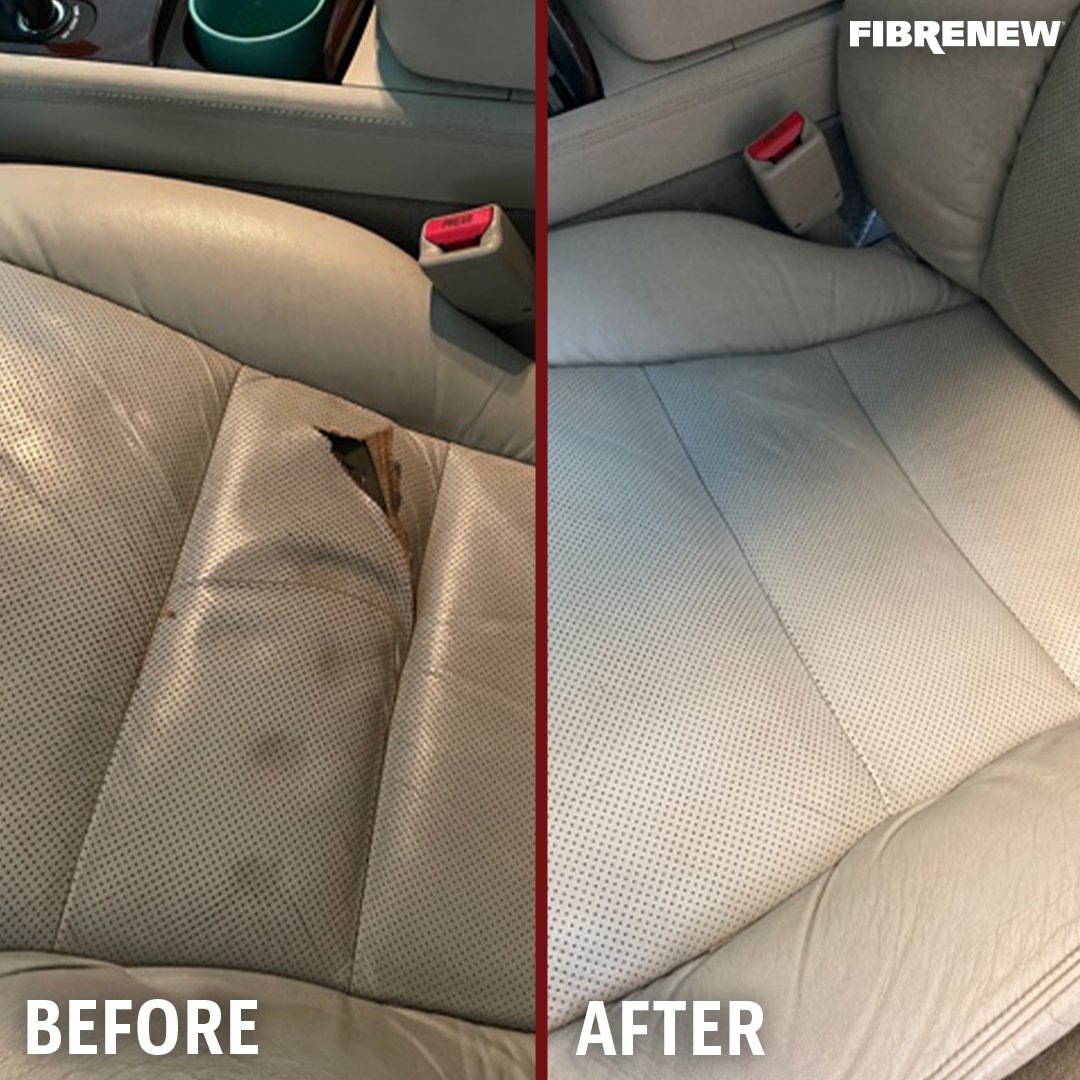 I had a seat tear on my 2011 Acura RL as well as torn vinyl on my driver door. Ken did a superb, professional job at a very reasonable price - and he is a nice guy! I highly recommend him.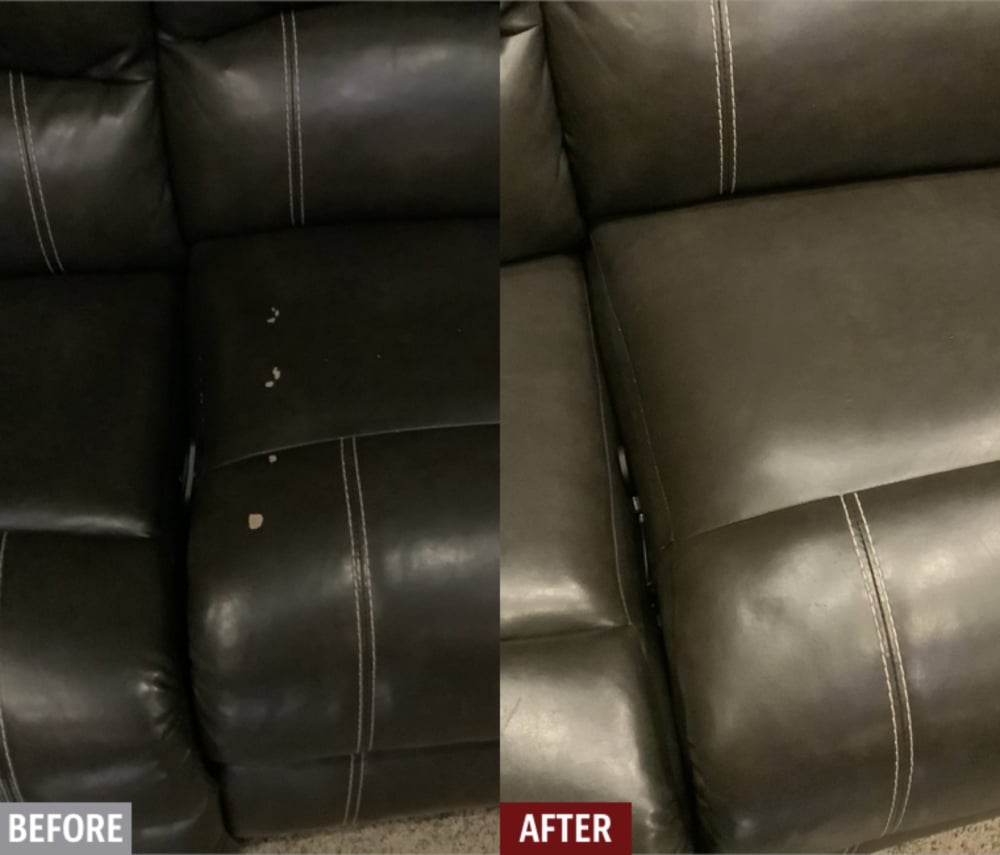 I had David of Fibrenew Surrey White Rock come in to fix my auto recline on my sofa. After taking off the back to my surprise there was a tear under it. Well I don't need to tell you it has also been repaired and you can't tell it was torn. Great job David. Thank You!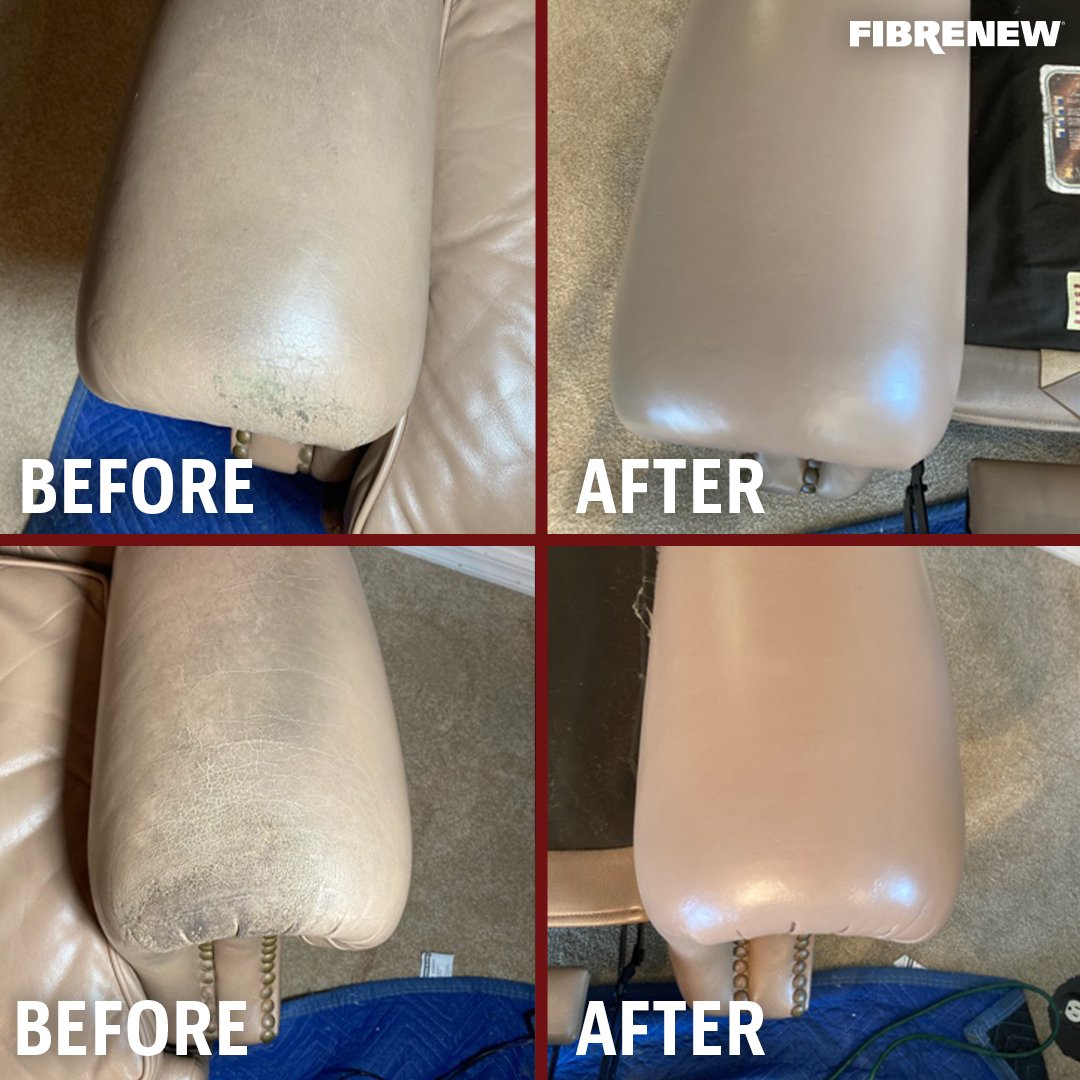 Jerry fixed the kick plates and several leather blemish areas on our two favorite leather recliners. They are high quality leather recliners that we purchased several years ago and that fit our personal comfort preferences perfectly. Jerry did the repairs in our living room in one onside visit including the leather fixes and reconditioning. His color match to the original leather hue was spot on and we are very impressed with the quality of his work. The cost was very reasonable for the work done and the back-and-forth communication and customer service we received was first class. we highly recommend Fibrenew and Jerry for any leather furniture repair and reconditioning repairs a prospective customer might need.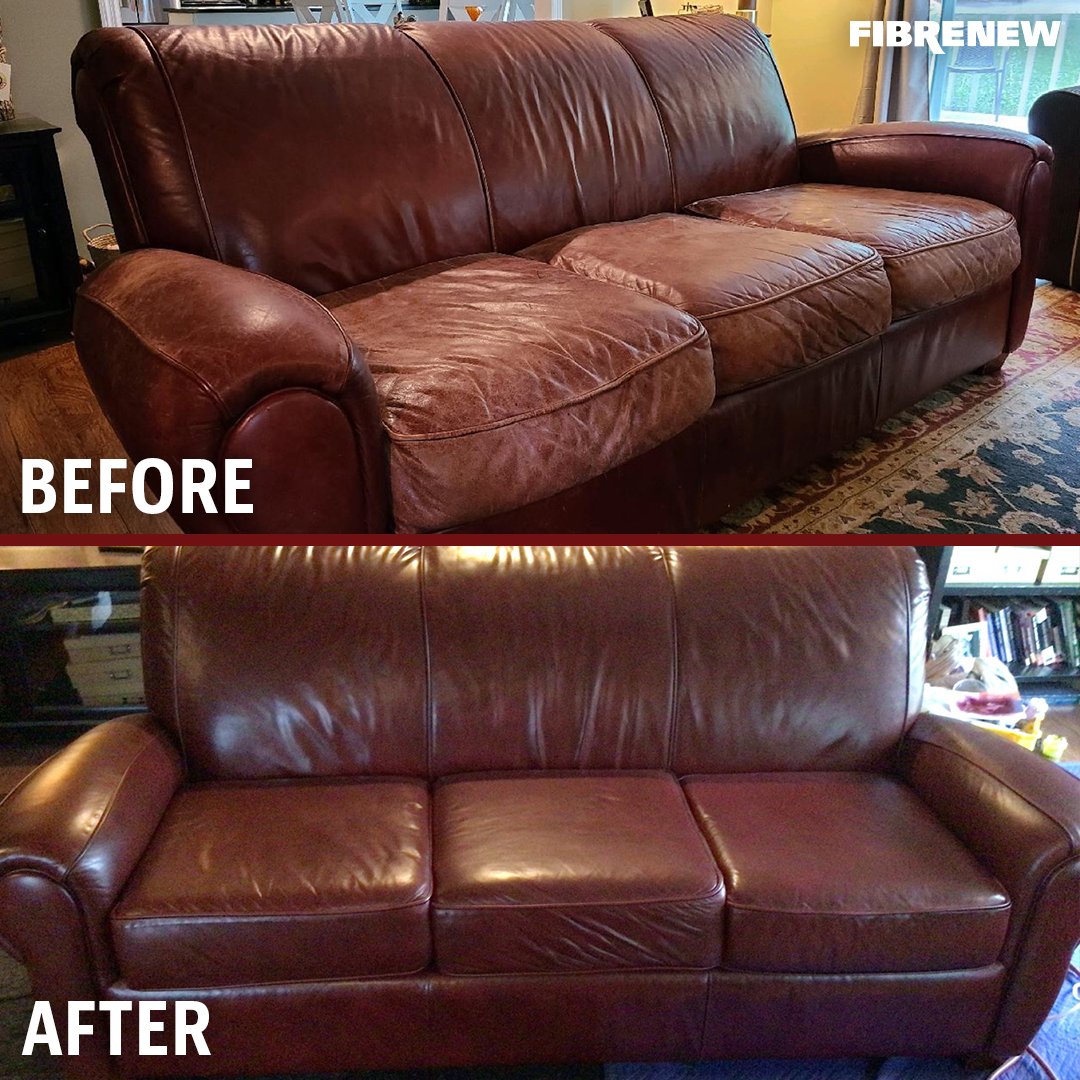 Excellent work! Our 15 year old leather couch looks and feels brand new!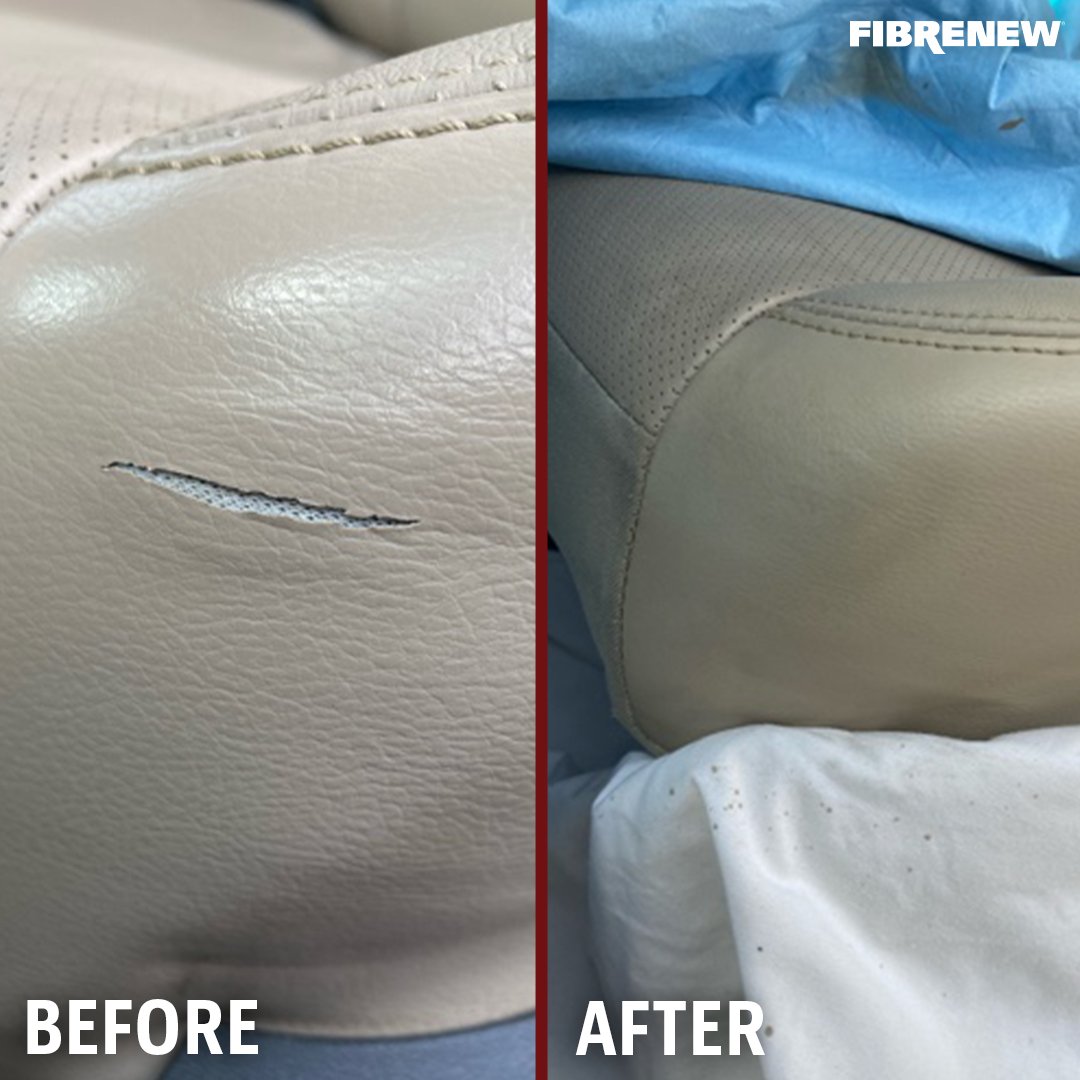 Jerry at Fibrenew came to my office and repaired a rip in my drivers seat on my Nissan Altima. Can't even tell it was ever ripped. Gave me the time it would take and he was spot on.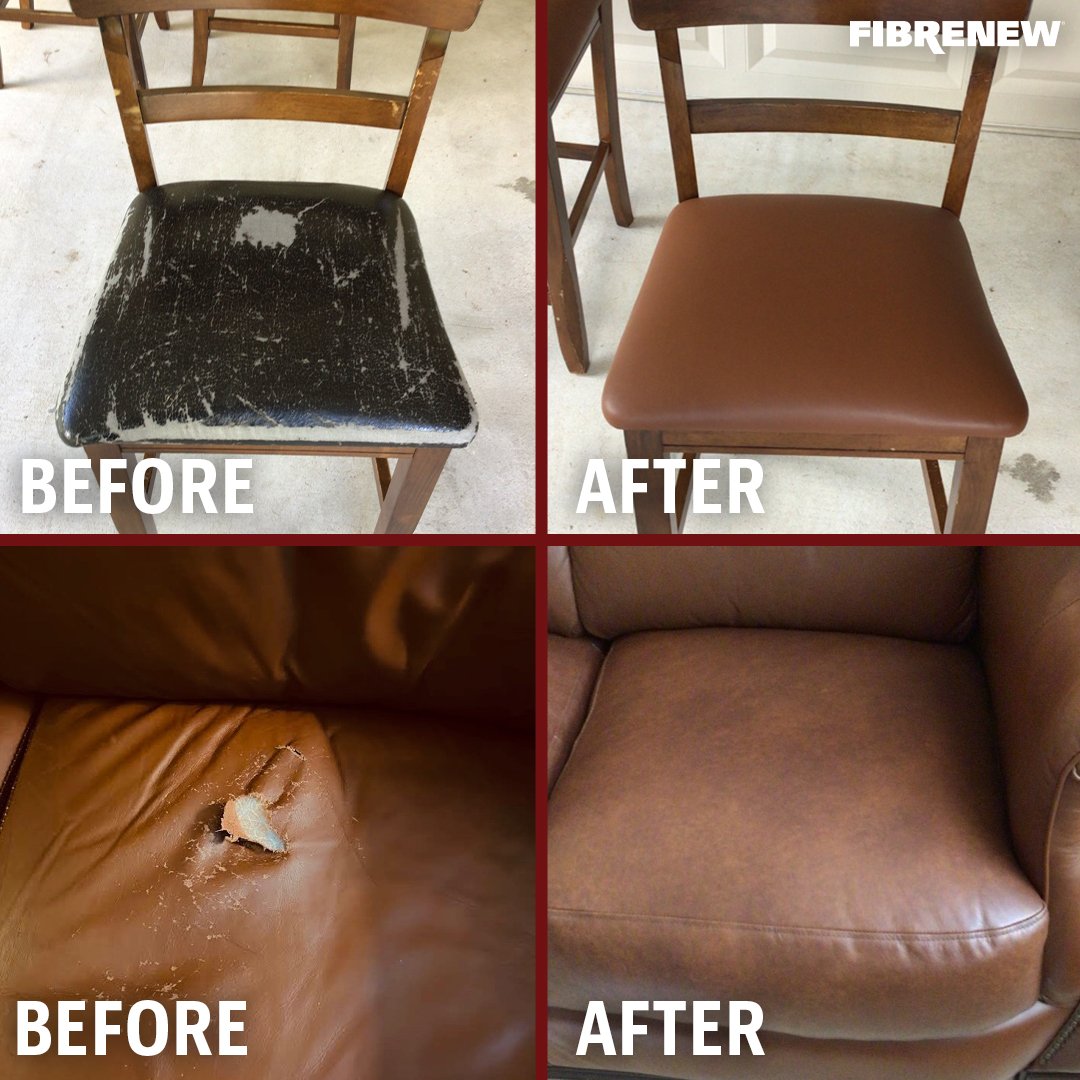 Jeff and Kim did a terrific job replacing the leather on our sofa cushions and 6 dining room chairs. They took the time to answer all of our questions, ordered and brought samples of 2 different leathers to our house to allow us to make an informed and correct decision and the work done was absolutely top quality. We could not be happier and will not hesitate to use them again in the future should the need arise. We highly recommend them.
Eric was great and it was such a good stress free experience!! I highly recommend!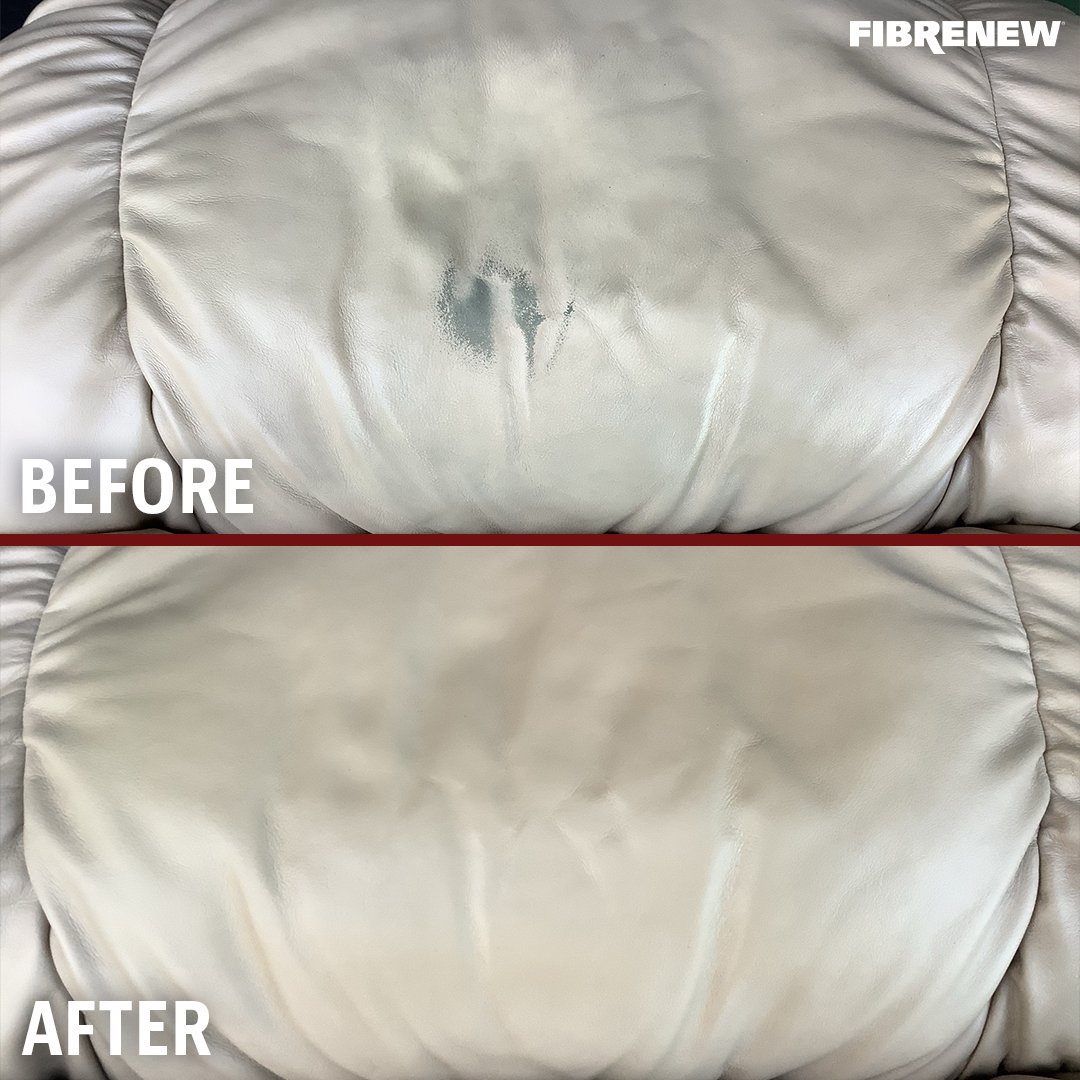 Had Fibrenew repair spot on leather recliner. Matched color perfectly and chair looks like new. Bought leather cleaner to protect chair. Perfect service. Highly recommend.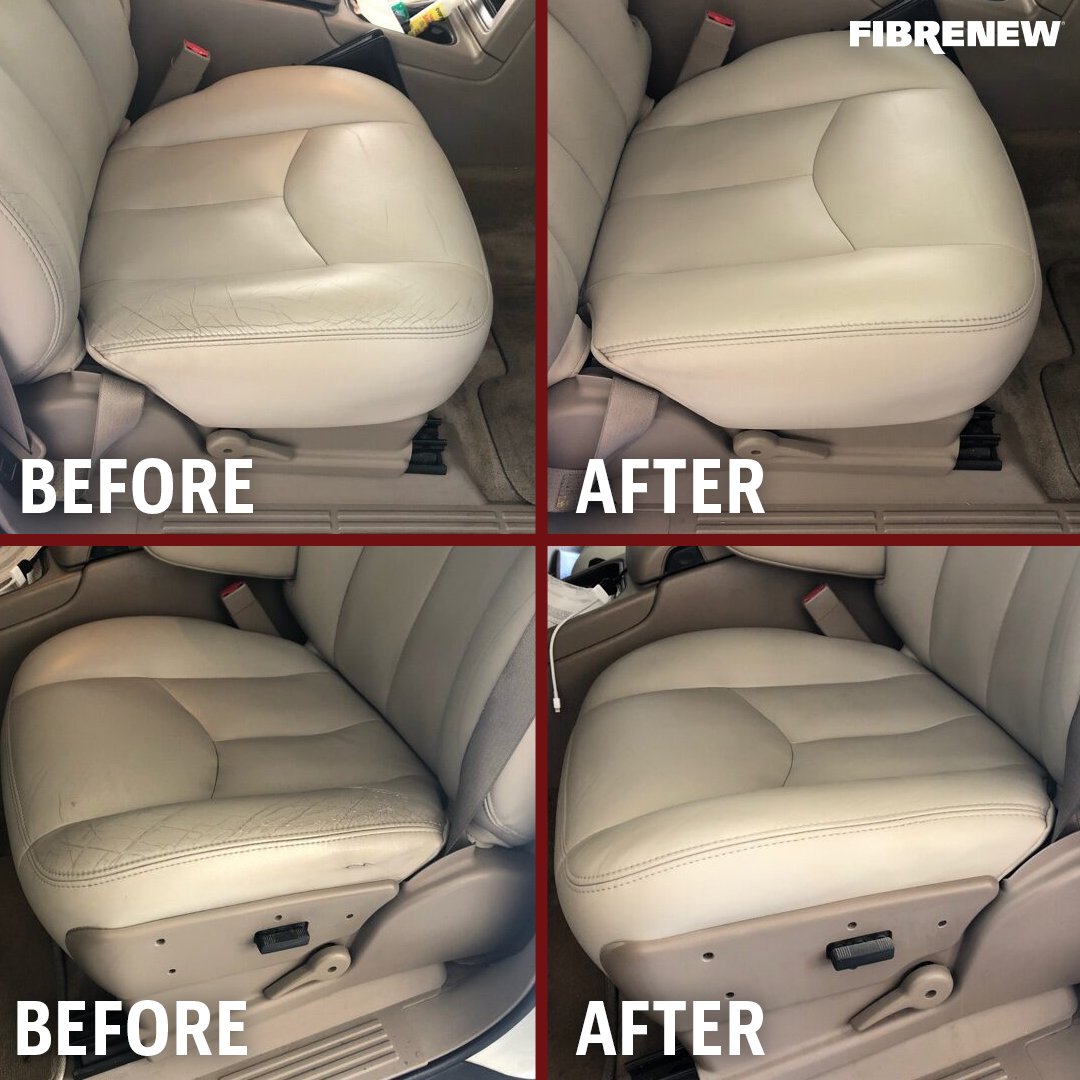 Sam did an amazing job restoring the seats in my 18-year old SUV. It was fast, affordable and complete surprise that he was able to make it look like new without actually removing the seats and leather.
We had a beautiful, caramel-colored leather chair that we assumed was ruined because of the damage done to the head rest  as a result of perspiration and body oil. Fibrenew's man Warren came out, gave us an estimate, and took away the ruined part of the chair. Approximately two weeks later he returned it to us, and we can only describe the results as miraculous. He matched the color and the texture of the leather perfectly. It is beautiful work and well worth the expense and the wait. I recommend  Fibrenew in Indianapolis enthusiastically and without reservation! They saved our chair!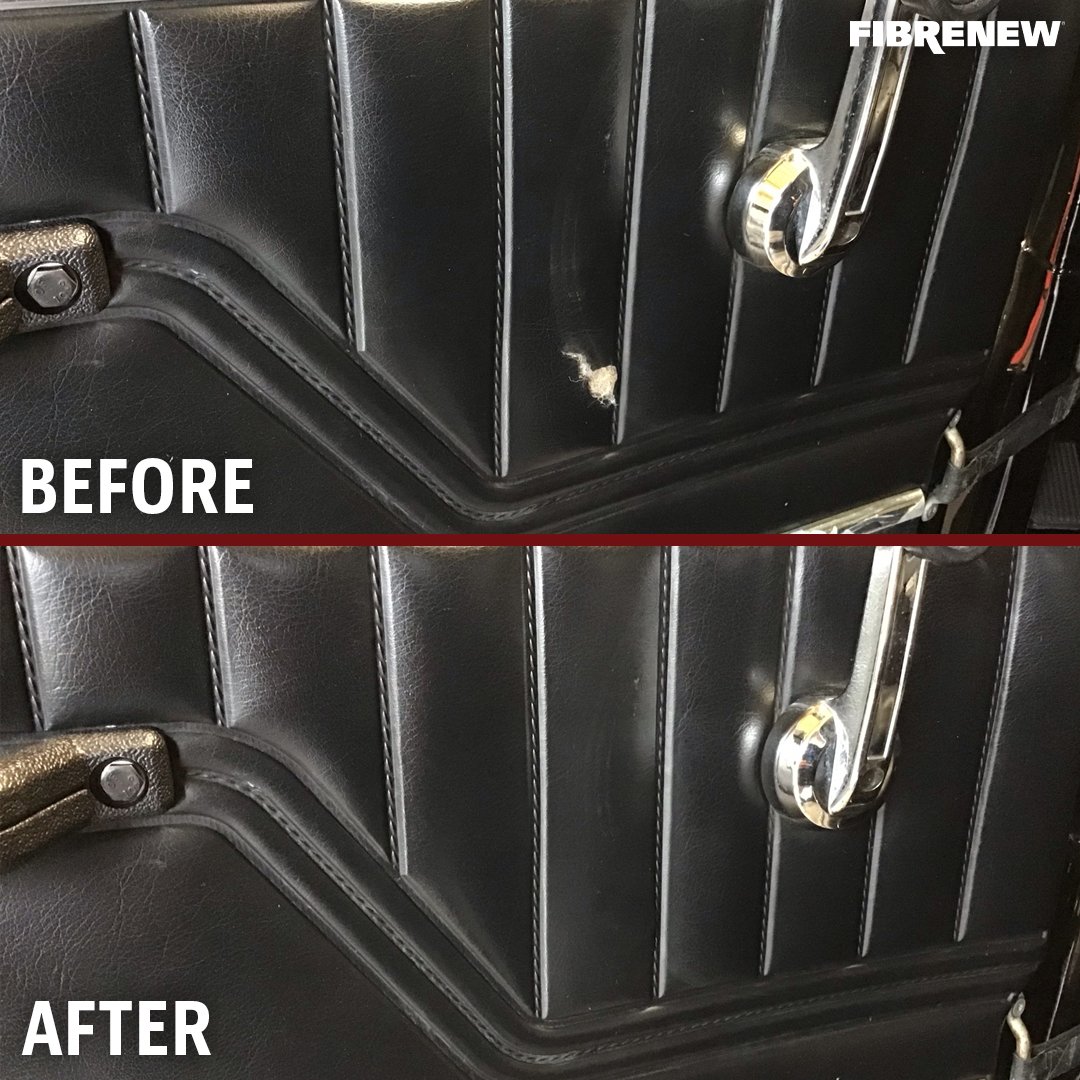 Great job. Showed up on time as scheduled, work was completed in a timely fashion, job turned out great. Very happy.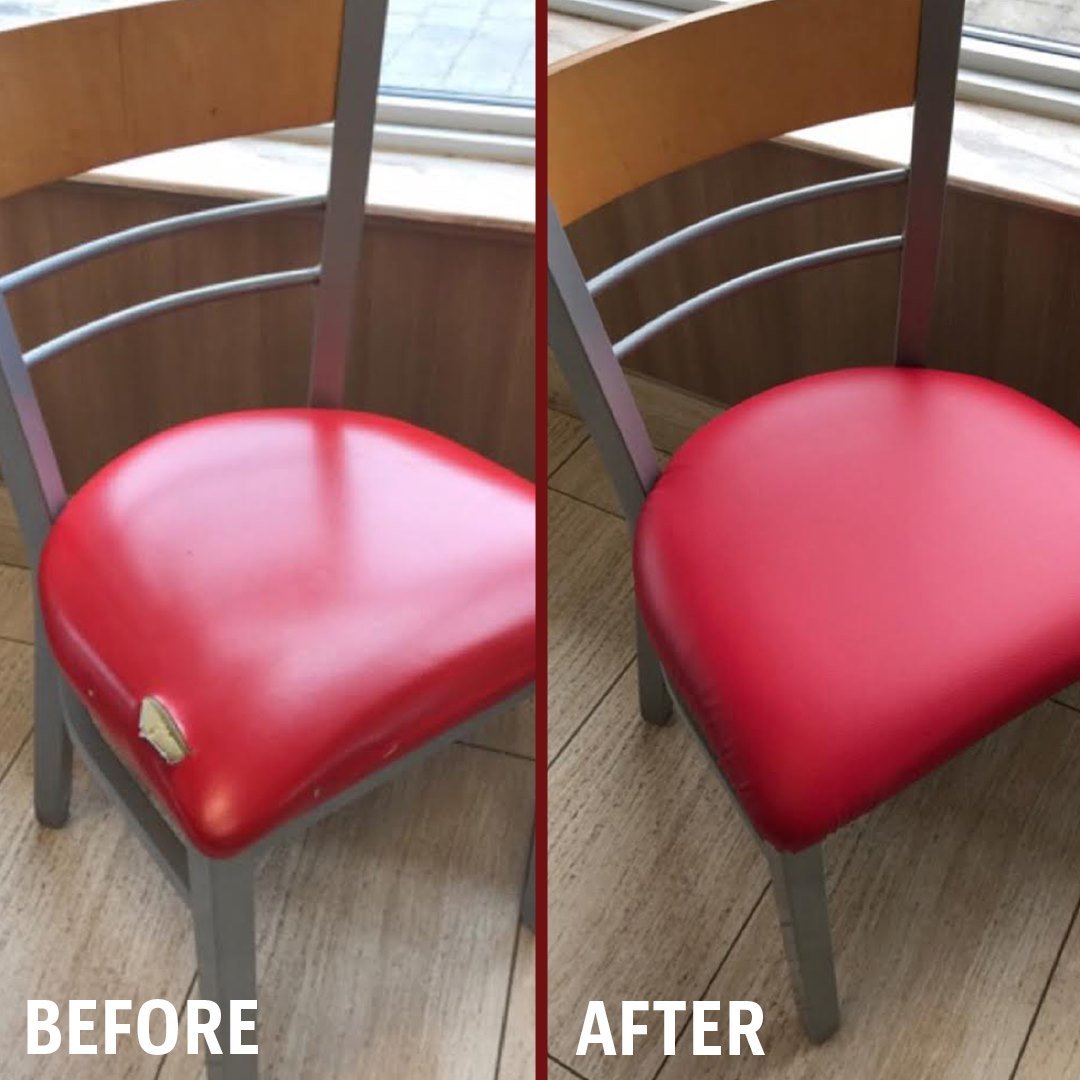 Moishe did an amazing fix on my bar stool. He came in a timely manner and did a beautiful job on the tear at the top of the stool- I cannot see any mark or find any indication of where it was.
I would recommend him for any job!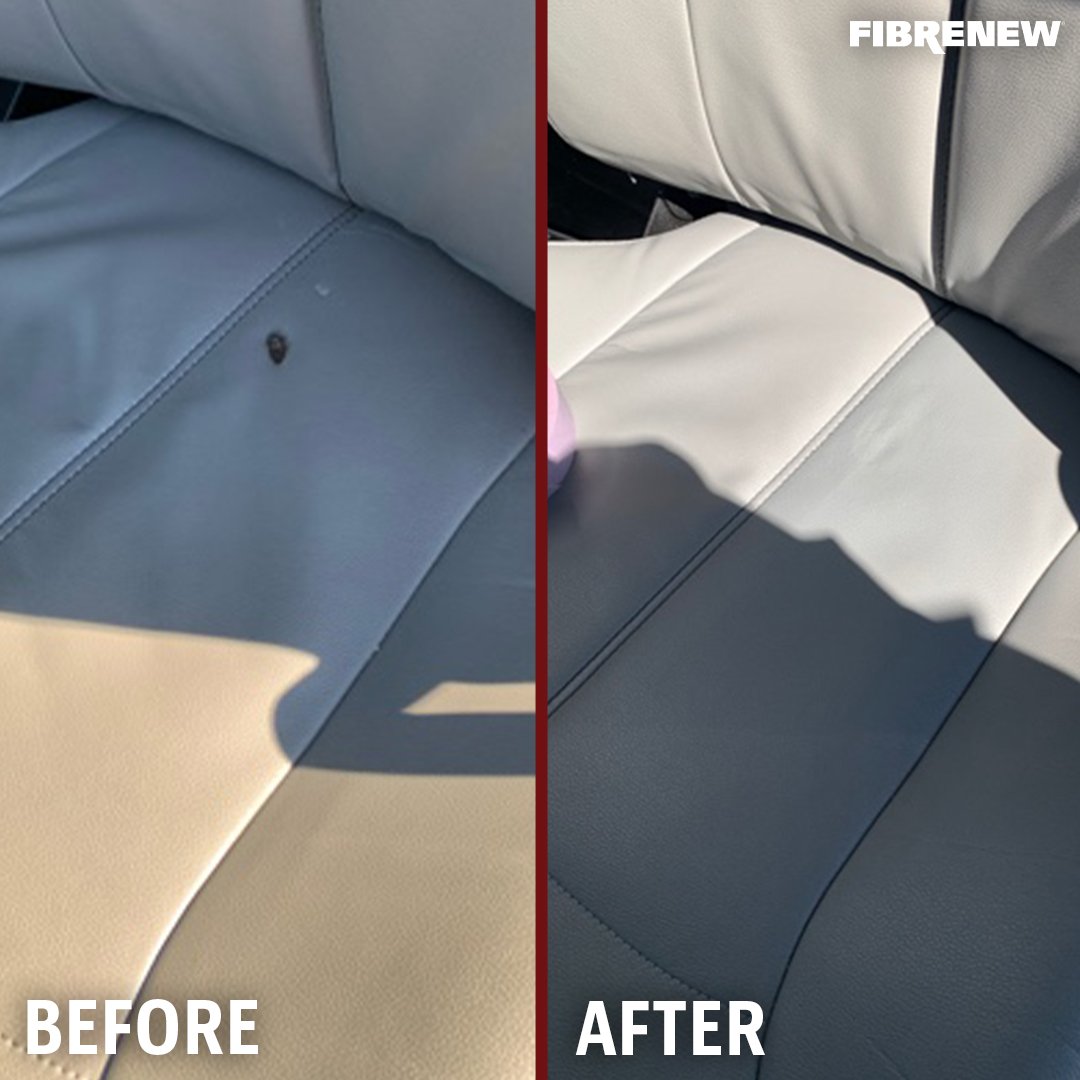 Warren did an absolutely amazing job restoring the leather seat in my 2008 Toyota Tundra truck. It had been damaged with a burn-through hole in the seat approx. 1.5. in by 0.25 in. wide. He came to my home, and after working on it about 2 hrs, he made the damage disappear. I would highly recommend him for such repairs and will definitely call upon him again if I experience any damage to my leather upholstery.
Jeff and Kim of Fibrenew Conroe did a fantastic job of replacing/repairing the arms and seat cushions of 10 conference  room chairs.  From the initial review of the job; selecting the material to match the top portion of the chairs (their suggestion to save us money); the bid process and completing the job within the quoted time frame, they were professional, friendly and efficient.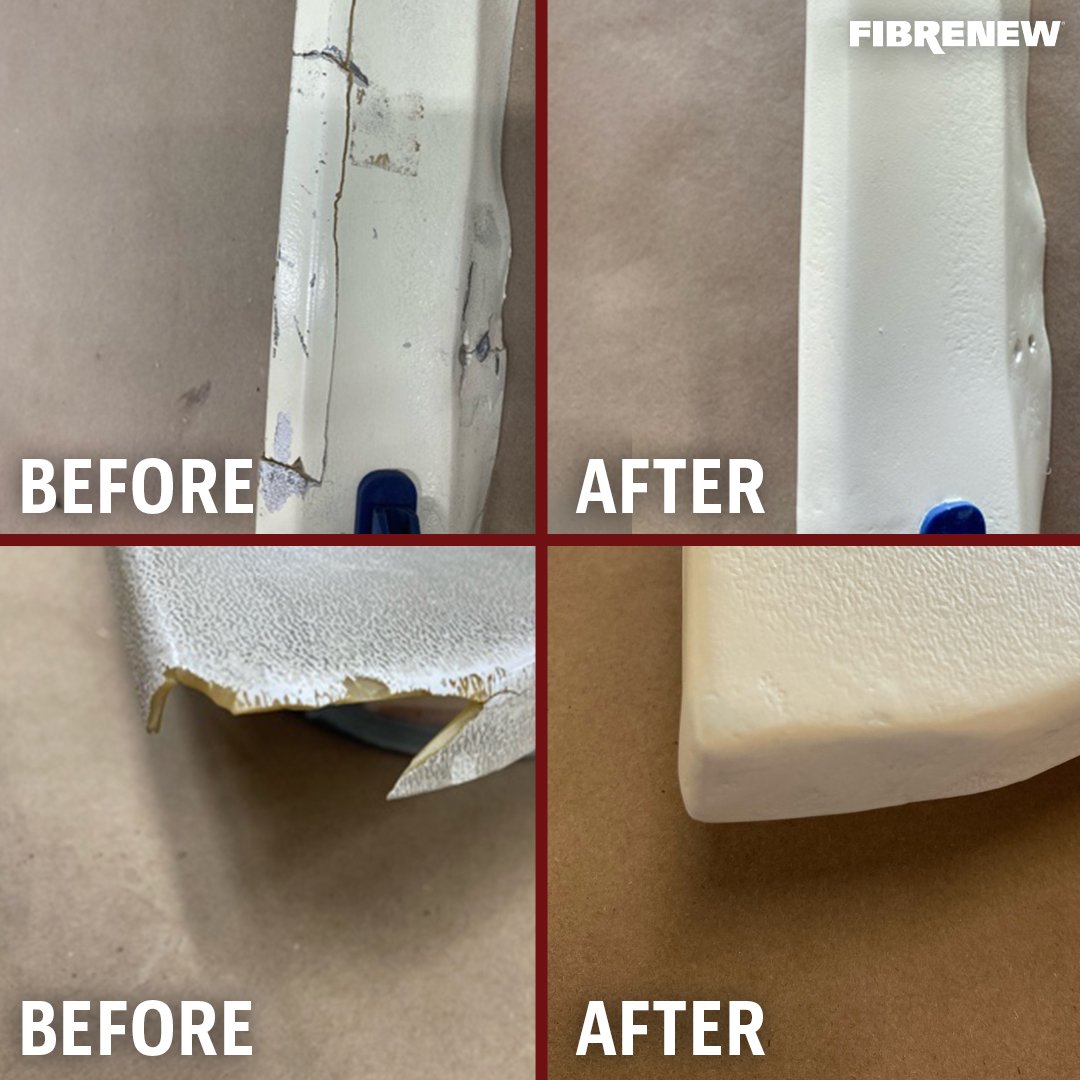 Excellent work on difficult material.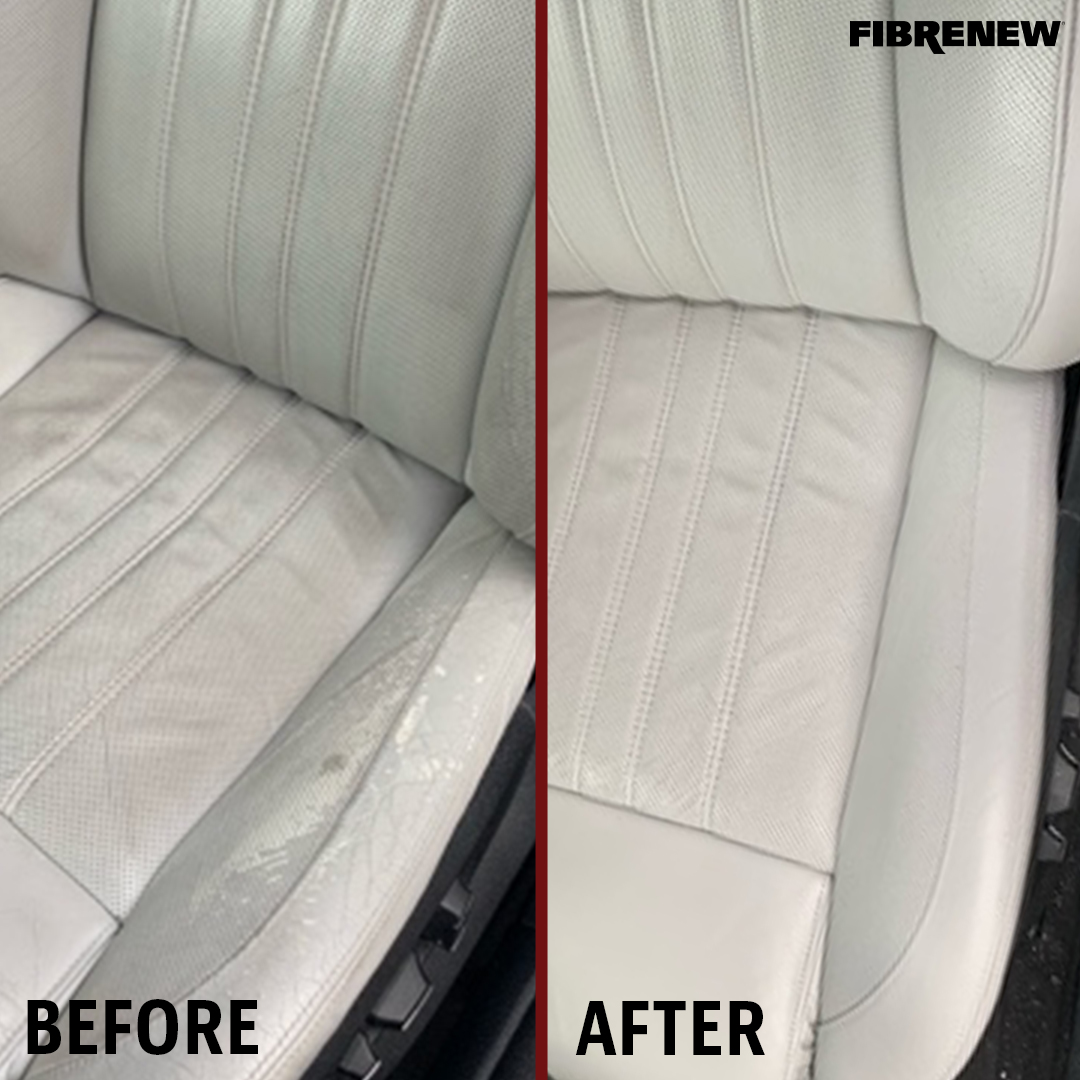 I would like to give Daniel of Fibrenew five stars! He was very professional (on time, communication, etc), but his personal service was very impressive. He worked with me on my specific requests and the results where phenomenal! I would highly recommend him for any upholstery work.

Sue Kassian came to my house this morning to repair three couches. I am delighted with the way my couches look. She was prompt, professional and very efficient. My twenty five year old couch looks brand new. I would recommend this company to anyone looking to repair their leather sofa. Great work!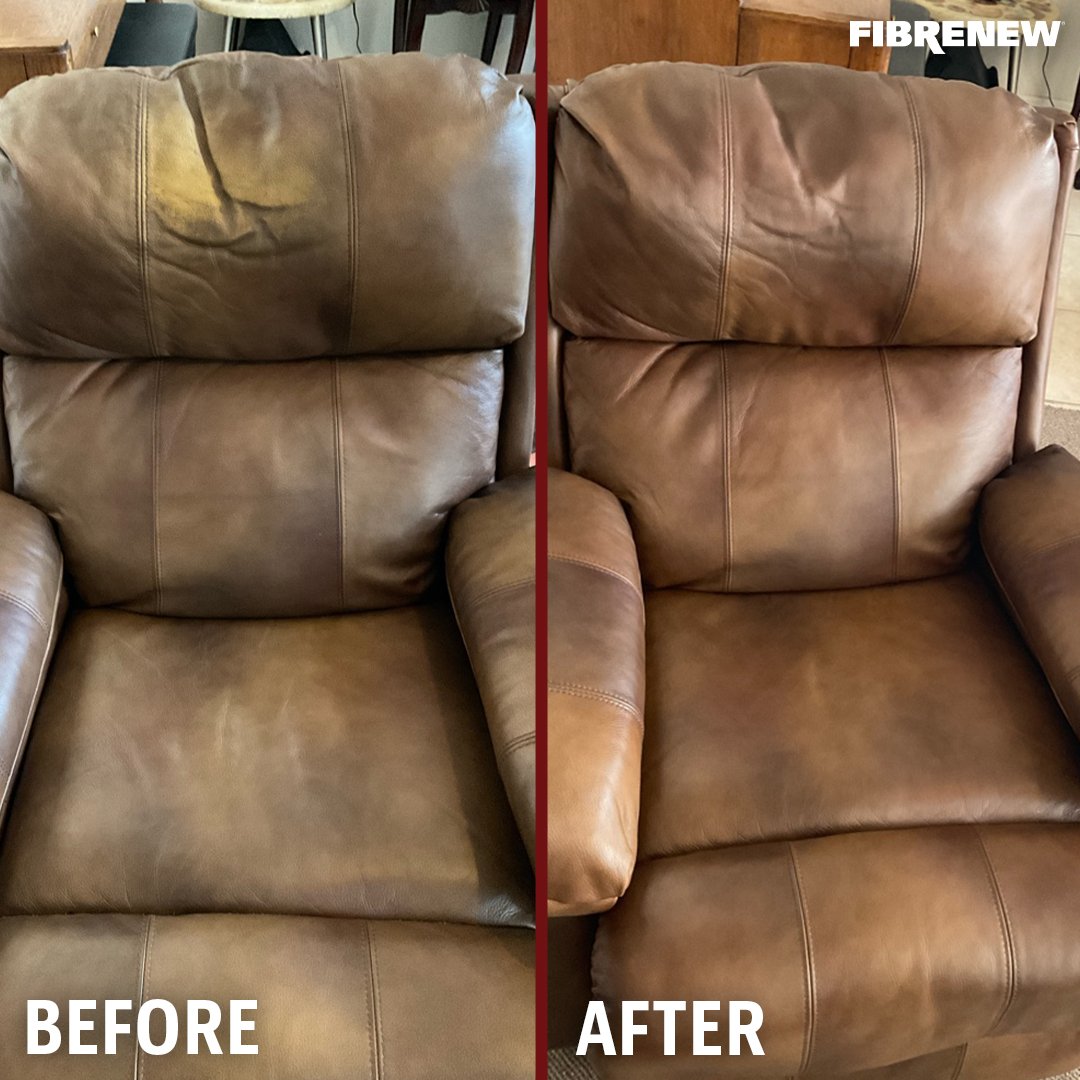 Fibrenew is a great company!! Nohely and Saul are very professional and know their craft with repairing furniture. I bought a recliner over two years ago. It started to fade recently on the head rest area. I'm very grateful I was referred to them by another upholstery company. Thank you Saul and Nohely!!!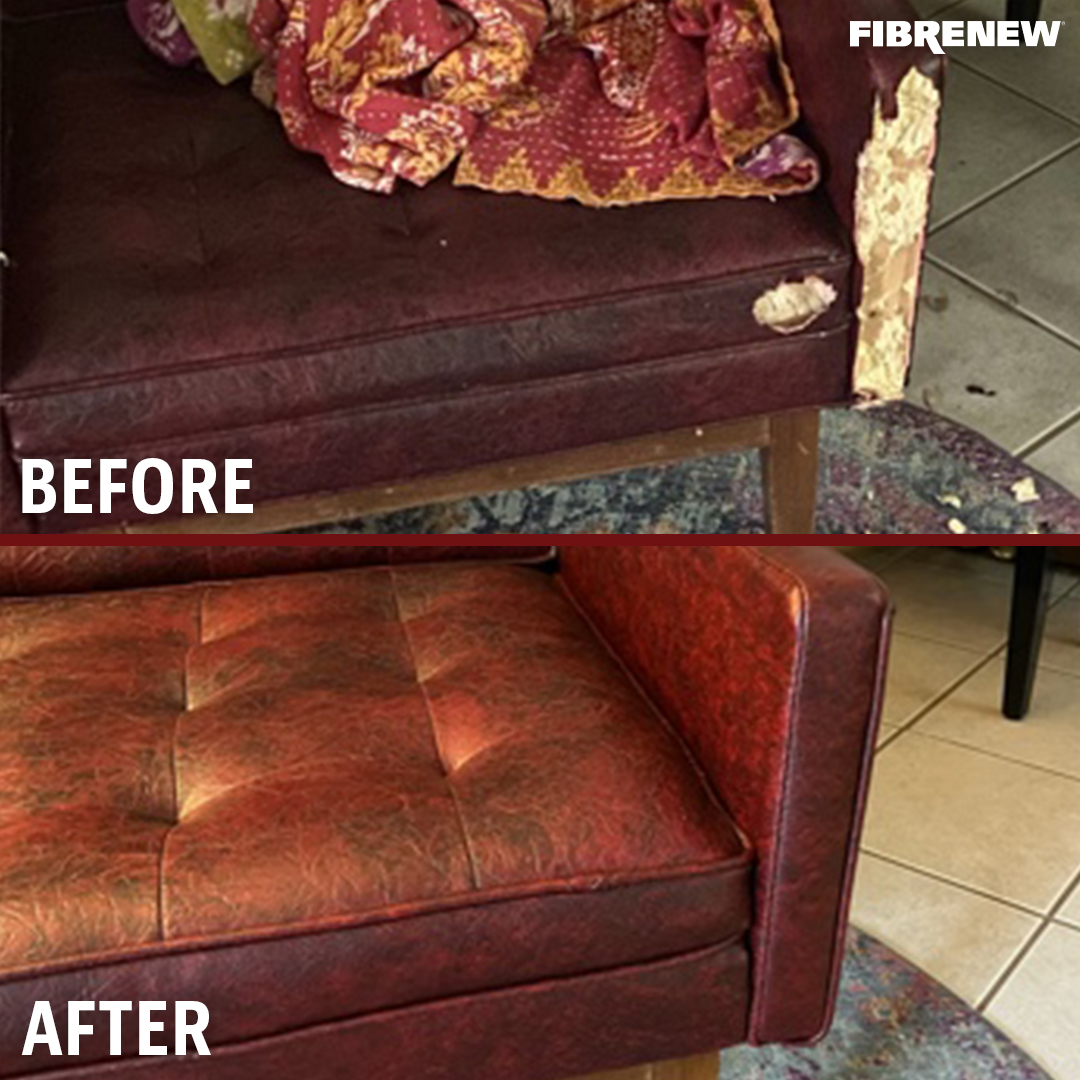 If you need anything reupholstered- Fibrenew Bluff City is incredible. This chair means a lot to me. Made in the 50s or 60s gifted to me by my best friends mom. Dan was incredible- came to the house to check out the damage and immediately wanted to help. I knew I found the right person when I could tell he felt he HAD TO fix it. He found a perfect match and had it done in a few days. I'll be using him for life, as should you. Especially if you adore vintage as much as I do. They don't make it like they used to, but there's still people out there that care to restore the quality furniture used to be. To be clear- the other arm was demolished too!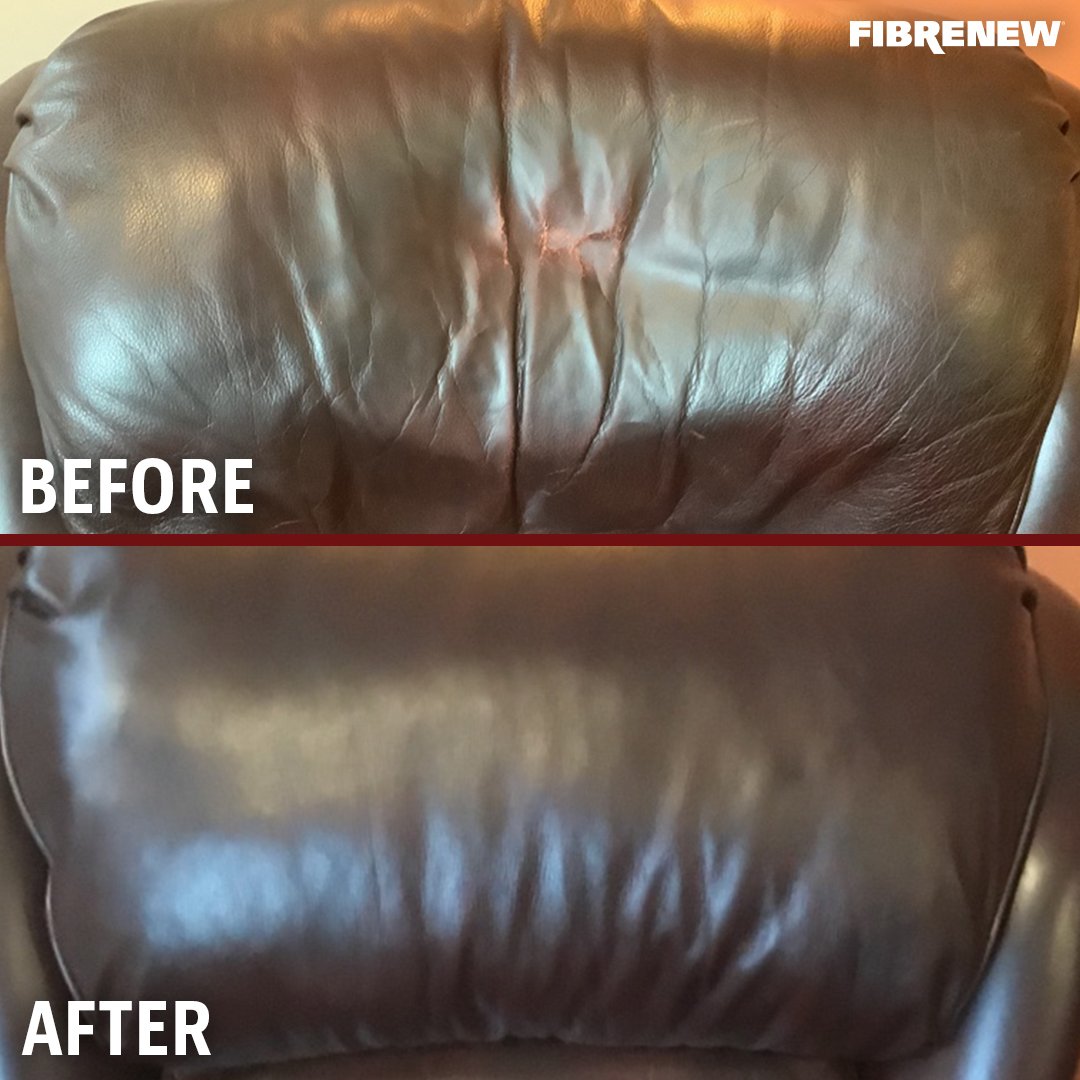 Excellent results, our 15 year old leather recliner and ottoman looks new! The process included leather replacement and dye touchups. The repair process was completed quickly as promised. This company takes pride in performing their work.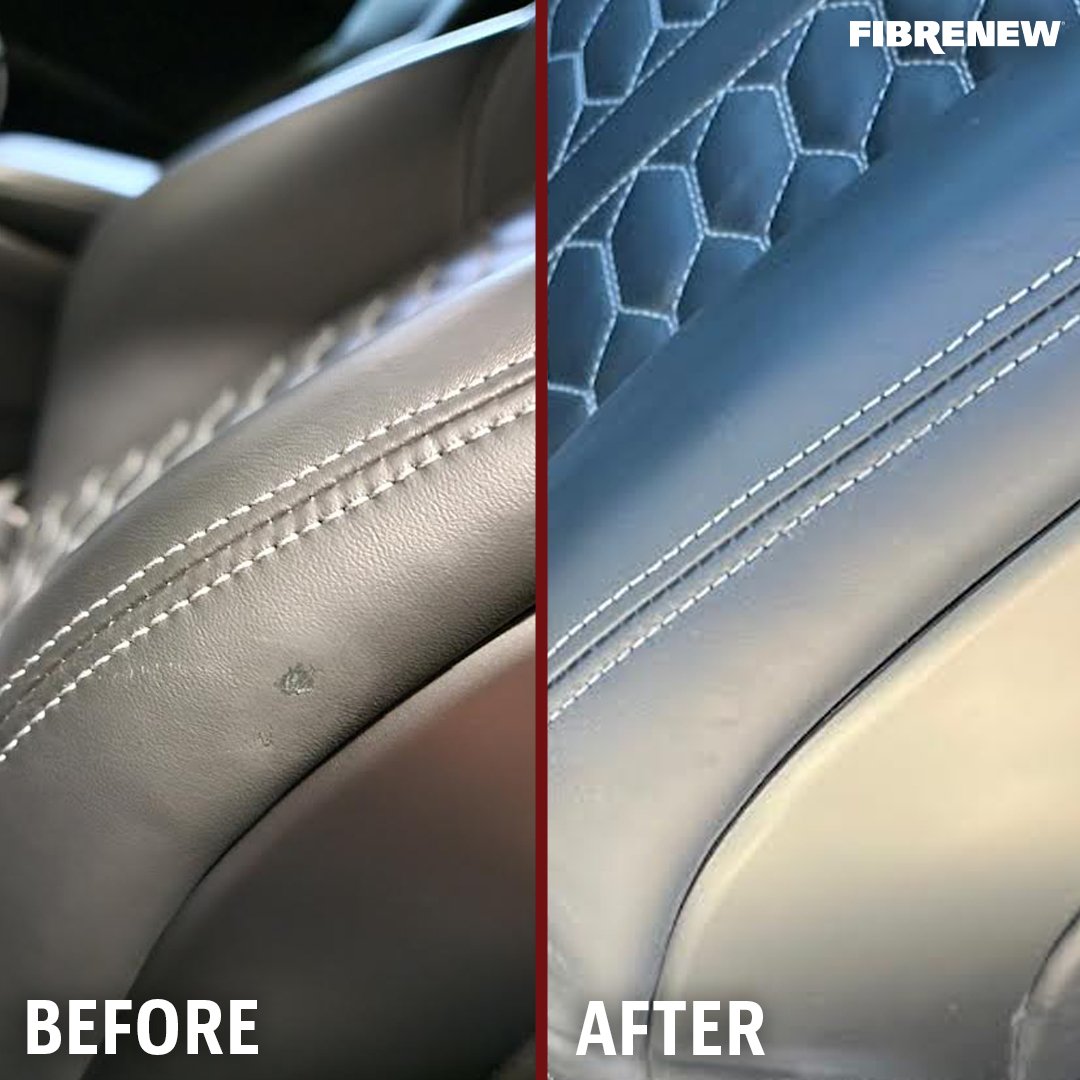 I had a scuff mark on my car and tried to touch it up with a sharpie... Dave was very good at responding and scheduling me in. You can't even tell the damage was there. I'm very happy with the service and will highly recommend if you have any type of repair to give him a call and he will tell you the right price or if it's not fixable over the phone.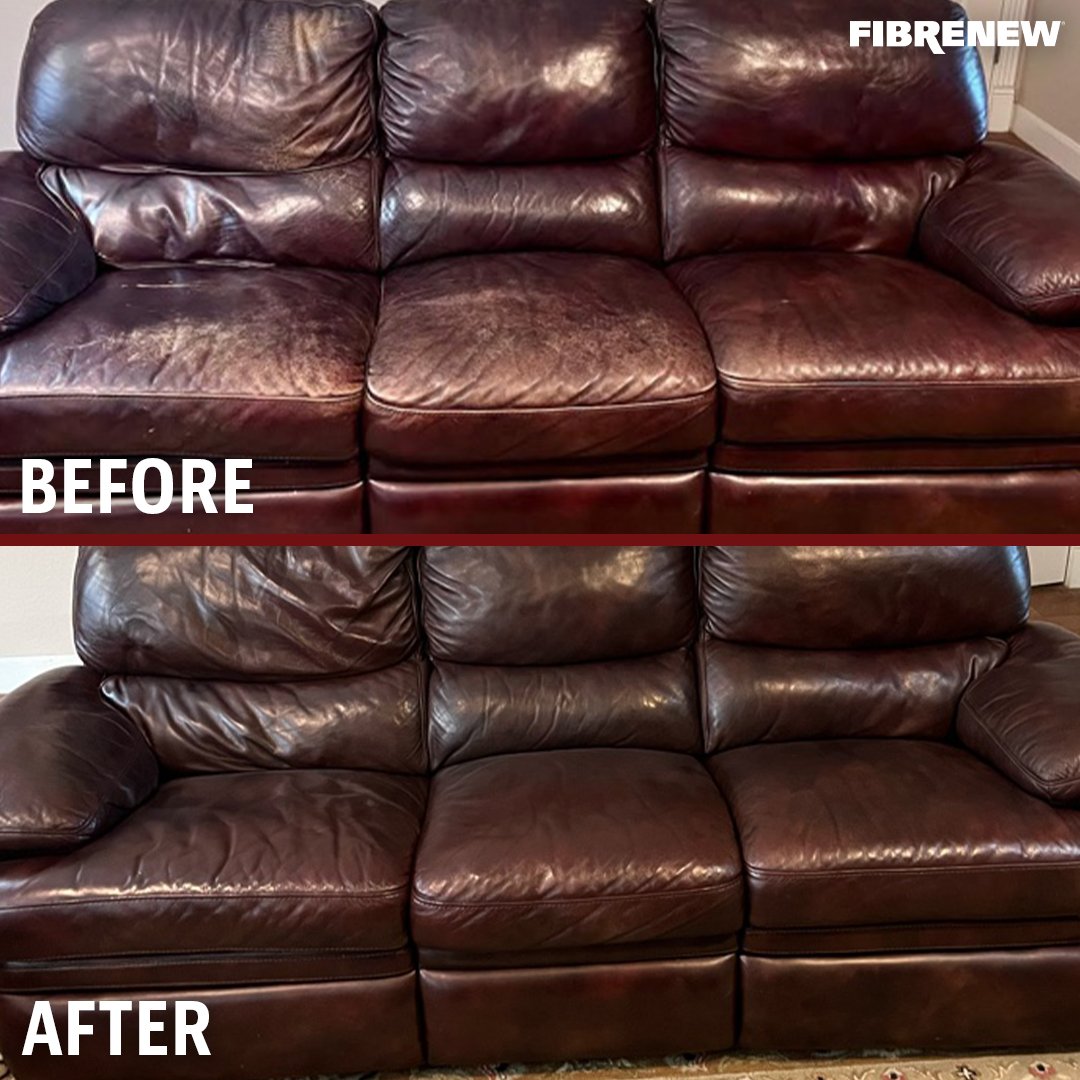 We were so pleased with our sofa and loveseat restoration! They look amazing! Fibrenew was so friendly and professional as well. We would highly recommend them.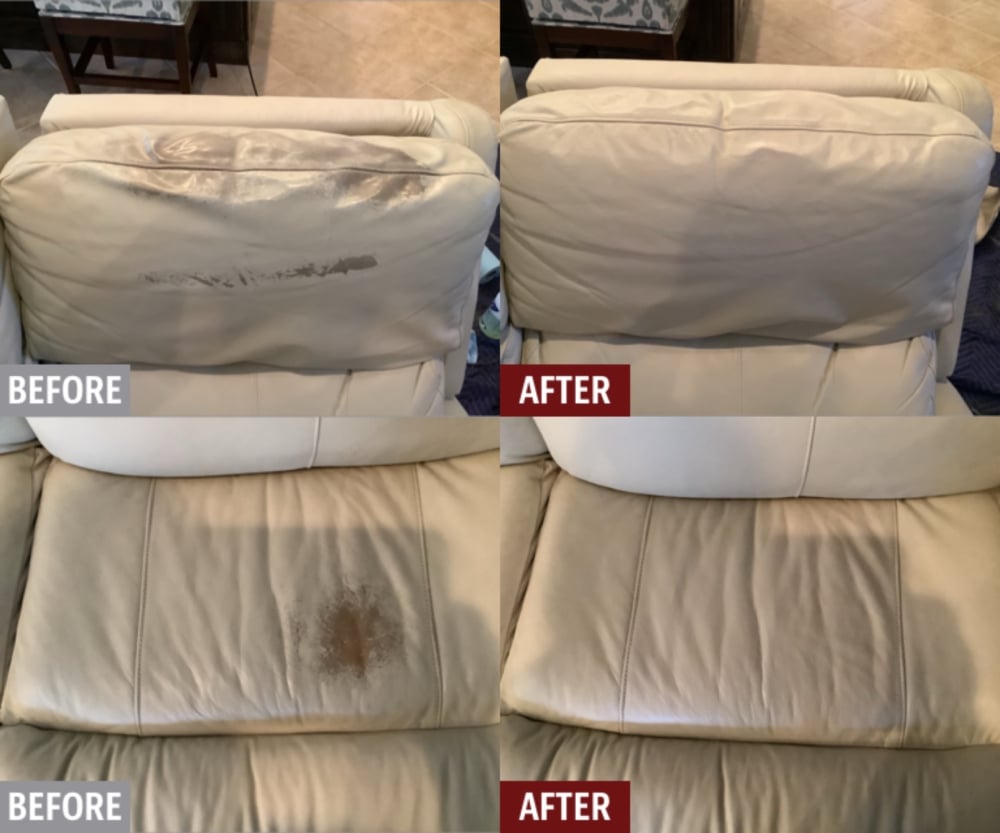 My reclining sofa had a major fabric failure on one of the seat backs. Henry responded promptly to my email inquiry, gave me a fair estimate based on the photos I sent him. He came up removed the back, took it to the shop and returned it all for the quoted price. His workmanship is outstanding, frankly better than the original.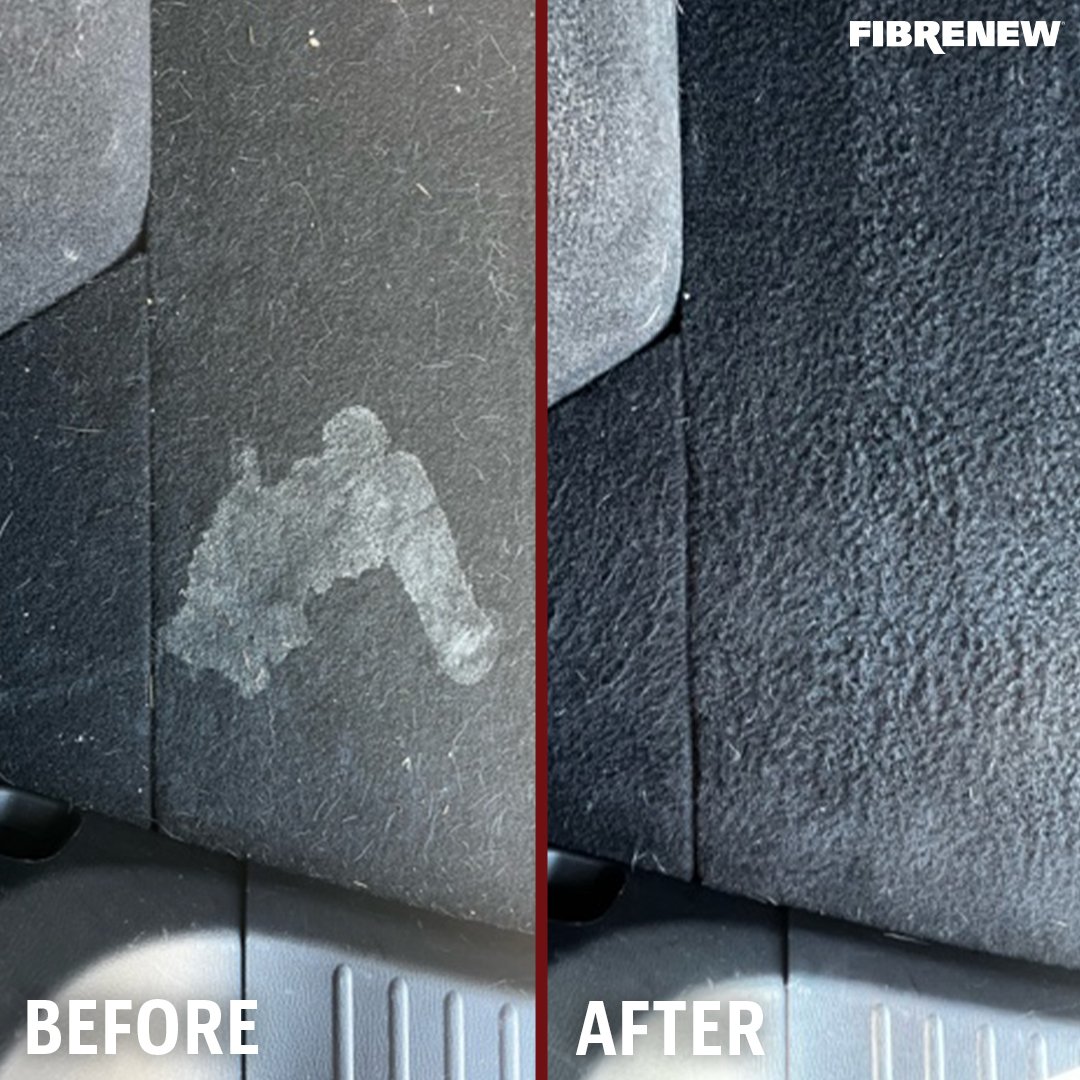 Andrew did an amazing job cleaning up a spot in my trunk. He showed up explained the process and worked very efficiently! I am glad I was given Andrew's contact info from my warranty for my car. You can't even tell there was a spot to begin with! I will be passing along his info to others!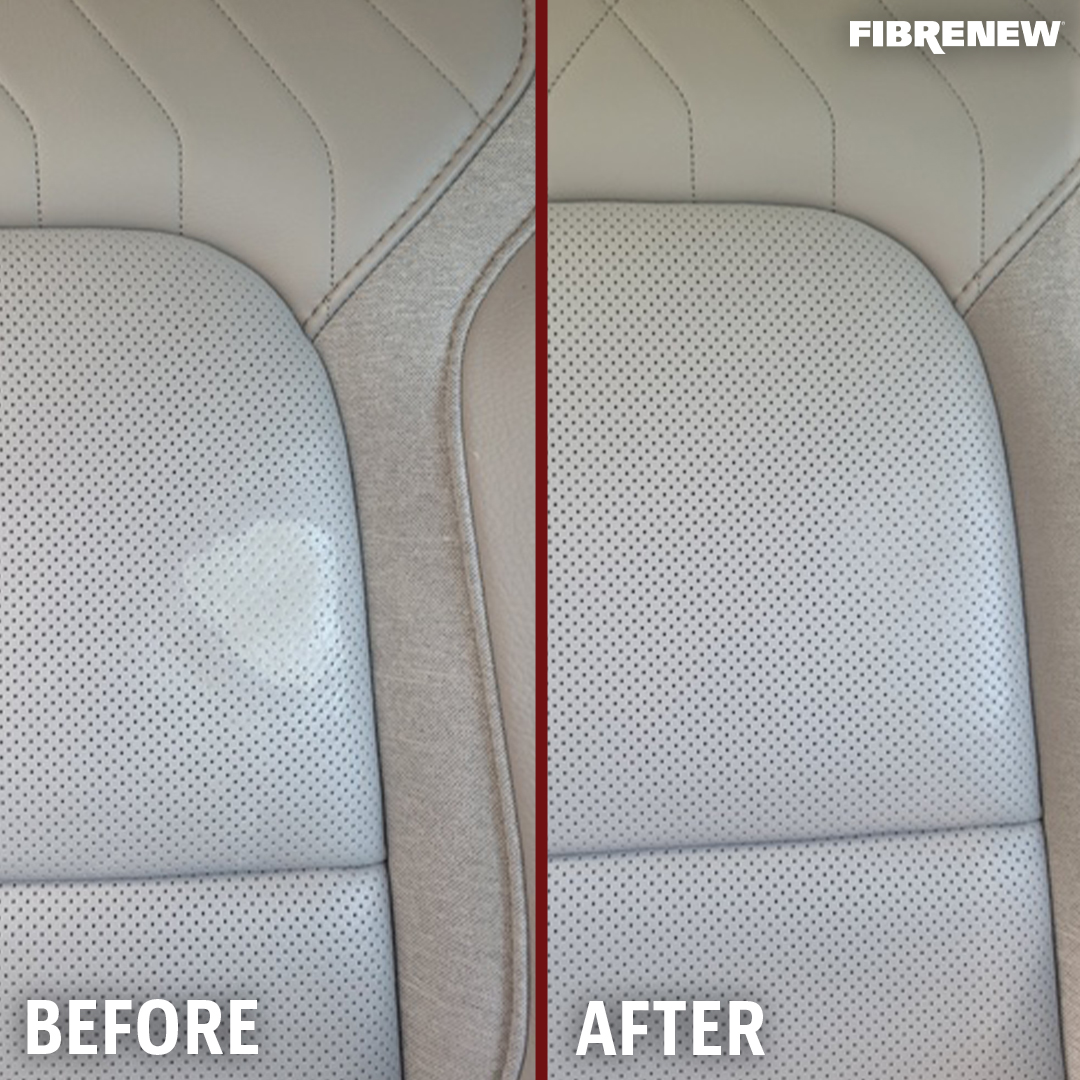 One of my kids got paint on my seat and I tried to fix it myself. Anyways I tried a couple of the leather repair dyes on the internet and nobody could match my color. I called Fibrenew and they nailed it. Would recommend to anyone looking for leather repair.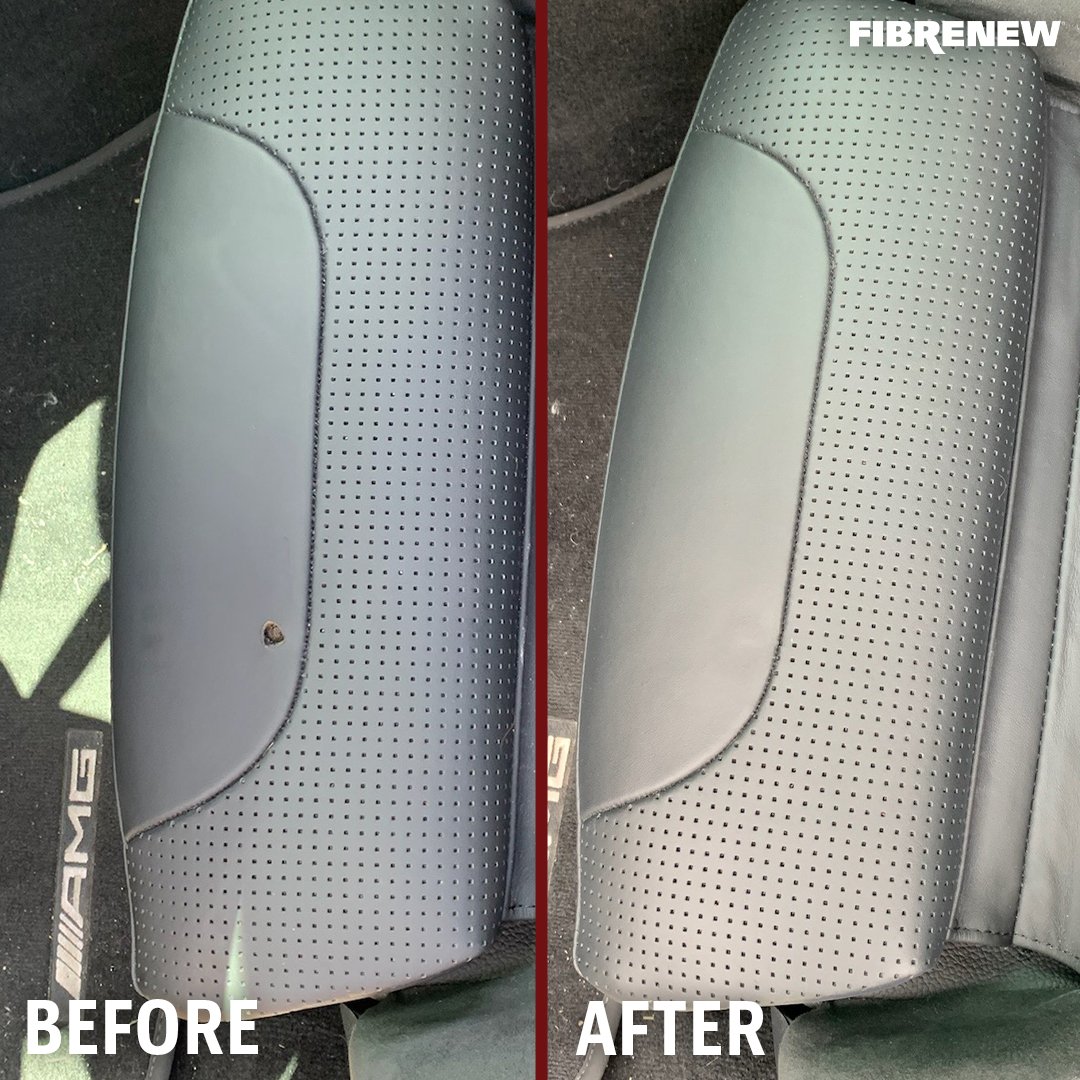 Stellar job on an extremely unsightly burn mark in one of my seats. I was impressed from start to finish. 10/10 would recommend!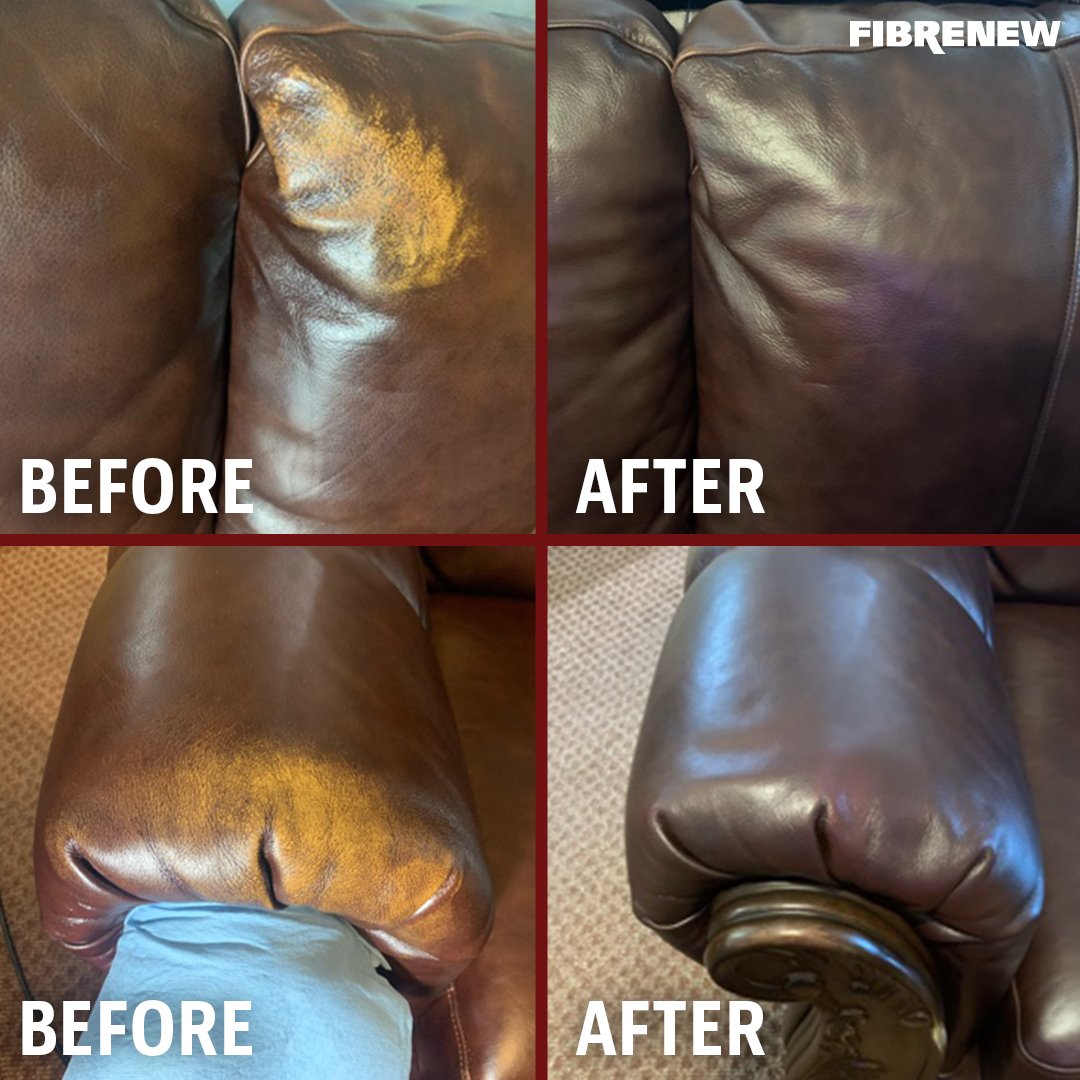 Fibernew did a great job making my sofa look new again. They were very courteous and friendly at all times. Highly recommend their services!