Since 1987, we have worked with some of the world's biggest brands in the automotive, aviation, medical, furniture retail, insurance, disaster recovery and warranty industries. As we fulfill services for large companies, we're proud to service local customers in their homes and businesses as well.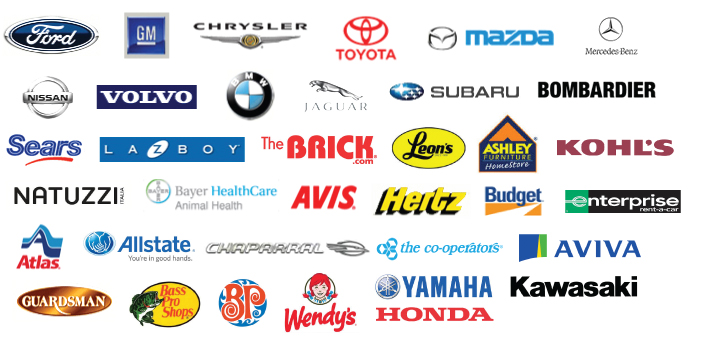 * the above listed companies do not explicitly endorse Fibrenew's service. Fibrenew franchisees have at one time performed work for these companies.
If you have your own comment to submit, please use this form. We thank you in advance for your feedback and look forward to the opportunity of serving you again.
Comments from some of our valued customers
Warren did an absolutely amazing job restoring the leather seat in my 2008 Toyota Tundra truck. It had been damaged with a burn-through hole in the seat approx. 1.5. in by 0.25 in. wide. He came to my home, and after working on it about 2 hrs, he made the damage disappear. I would highly recommend him for such repairs and will definitely call upon him again if I experience any damage to my leather upholstery.

Bob K. - Zionsville, IN

Josh was very professional and helpful from the start. He patiently answered my many questions, and worked with our schedule for the repairs. We are so impressed with the results on our couches and chair. Our 15 year old leather furniture looks new again! Would highly recommend to anyone considering Fibrenew.

Sue S. - Elk Run Heights, IA

Fantastic work! Brian of Fibrenew North Raleigh Wake Forest is a perfectionist who attends to every detail of the restoration process. You will find that his service is not a nuts & bolts process but rather an art. You will come away from the entire experience with a greater appreciation of what quality service really means.

David F. - Youngsville, NC

Not only did I find Greg to be a true professional in his demeanor but his work was outstanding. I'm a repeat customer. I've had two car seats repaired and a leather chair in my home. I would highly recommend this service to friends and family.

Rob R. - New Albany, OH

I had David of Fibrenew Surrey White Rock come in to fix my auto recline on my sofa. After taking off the back to my surprise there was a tear under it. Well I don't need to tell you it has also been repaired and you can't tell it was torn. Great job David. Thank You!

Joanne K.

Very professional and courteous, not to mention showed up on time and called on the way. By the way the repair to our leather cushion is awesome you can barely tell that it was repaired. I would recommend this company to anyone that needs any kind of leather repaired.

Will - North Carolina

We are extremely pleased with the repair Gerald did on the seat of our leather couch which was badly worn. After finding Fibrenew online & sending Gerald a few pictures, he provided us an estimate and two days later our couch was good as new! Gerald was on time, very professional & cared, a pleasure to deal with. We highly recommend Gerald of Fibrenew!

Kelly S. - Mississauga, ON

Rod did great work on our dining room chairs! Not only did he recover them, but he also raised the sitting height for us. They look awesome, and the price was very reasonable!

Ron and Gail R. - Elk Grove, CA

Had the seats & trim reupholstered for a 2003 BMW. They did a wonderful job. Everything looks good as new. Work was done efficiently & communication was excellent. Will definitely use again for future needs!

Barry H. - Spartanburg, SC

Thanks Mike for coming to our home and refurbishing our leather recliners. They are now just like new and we are so glad to have your contact information for future use. Great job!

Bob B. Knoxville, TN

Bought
 a 
used
Hyundai
. My father noticed a tear on the side of the passenger seat when I was taking him for a drive in it which I did not notice when I 
bought
 it. Had Fibrenew fix it and after it cured properly my father could not tell me where the tear was on the seat I had to point it out to him and I'm not sure if I even know the exact spot where it was. Thanks very much Derek.
Bruce - Wilmot, NS
I am so pleased with the results of the leather refinishing on my couch and loveseat. My furniture was older (>12 years Flex steel) but certainly worth a try at rejuvenation. (Particularly after pricing new furniture.) Matt was prompt to answer my inquiry by phone, at coming to my home to give me a quotation for his service, professional in disassembly and reassembly of my furniture, and truthfully advised me about the service he could provide to me. Well worth the price for the end result! Color and finish is wonderful! The leather has a good feel and I was prepared for the potential of an odor the new finish. There was NO ODOR! A very pleasant surprise! I truly feel as if I have a new couch and loveseat! Looking forward to enjoying it for a few more years. I would recommend Matt of Fibrenew East Louisville and his team without reservation.

Anna - Lanesville, IN

Called Fibrenew for a burn on a back seat I was completely upset, spoke with Mike he put me at ease. Set up an appointment ASAP fixed my seat and no one can tell where the spot is/was. MIKE blended the color perfect I have already given him another in need as well as a write up in our community news letter (over3500 residents). Very happy with my results Mike, will send others your way. Thank you!

Darlene - Bonita Springs, FL

Fantastic service asked mike for a rush job at 11:30pm he had the job done by noon the next day and it literally looks like new. Thanks Mike! I will be recommending you to all my friends.

Frank L. - Saskatoon, SK

My reclining sofa had a major fabric failure on one of the seat backs. Henry responded promptly to my email inquiry, gave me a fair estimate based on the photos I sent him. He came up removed the back, took it to the shop and returned it all for the quoted price. His workmanship is outstanding, frankly better than the original.

Karl W H. - Dawsonville, GA

After looking on the Internet for leather repair shops! I contacted Bill at Fibrenew/Cherry Hill. I sent him pictures of the two bolsters to be repaired on my 2010 Acura TSX. He responded promptly with a quote., and we scheduled the appointment. Bill arrived promptly. He explained how he was repairing the seats, and proceeded to complete the work. He is knowledgeable, professional, and friendly. Definitely recommend his service!

Maria - Vineland, NJ

Josh did a fantastic job! I didn't realize it was possible to make a rip on a car seat virtually disappear. The color match was spot on. I plan on calling him to do some more work for me.

Randa Van D. - Pella, IA

Warren came to our house to repair a rather large hole in our leather sofa that I thought may not be repairable at all due to how large the hole had become. Warren knew that this couch was expensive at the time we purchased it and said he would do his best to save it. It was a project that I believe he would typically say was too far gone. After spending quite a bit of time working with his leather repair piece and his mixing of colors, he began the process. It was like watching an artist work his magic. Upon completion, the area of the couch Warren repaired was blended in so well unless you are right on top of it you would never know a repair was made. With all this said, if you need any type of leather repair, I would highly recommend  Fibrenew and Warren to do the work. His price was extremely reasonable and saved us thousands since we did not have to replace our sofa. Warren was very personable and professional and takes pride in his work and his business. Thanks again!!

Jeff B. - Fishers, IN

Amazing job! Phil Lacke fixed my torn car seat when no else could! Other companies said the leather pattern was no longer available, the color would be impossible to match, etc. Phil was very professional and made my seat look like new. It is perfect! You should be proud Phil represents your company here in NW Columbus, Ohio. Thank you Phil!

Marilyn B. - Dublin, Ohio

Ivar did an excellent job with our leather couch cushion. The leather had to be replaced and he dyed the new piece exactly. Looks great! Saved me from buying a new couch. We bought the couch many years ago and it was doing great with the exception of one spot. I plan to call him again if we have other fixes to make.

Tiffany - Palatine, IL

You could not possibly find anyone more polite and accommodating. Robbie worked on my couch. It was broken in two places within the framework. It was amazing to watch him work. He really knows his craft. My couch is strong and sturdy again. I am extremely please with his work.

Kimberly A. - Ontario

Jeff and Kim of Fibrenew Conroe did a fantastic job of replacing/repairing the arms and seat cushions of 10 conference  room chairs.  From the initial review of the job; selecting the material to match the top portion of the chairs (their suggestion to save us money); the bid process and completing the job within the quoted time frame, they were professional, friendly and efficient.

CJ H. - The Woodlands, TX

I had Peter & Patricia come and clean my cream coloured loveseat that had gotten stained from dye transfer.  It was very bad so they had to strip the dye and re-dye. They matched the colour perfectly. You could not tell where they had dyed it. I was very happy with their friendly and professional service.

Donna - BC

We had a small accident that I tried to fix myself- which only made the situation worse.  Jennifer was not only able to fix my unfortunate fix- but she was able to fix the initial issue and match the leather perfectly! We are thrilled at the result.  She is professional and definitely does her best to get great results!

Melanie - West View, PA

My car had a puncture in the front passenger seat leather. Lloyd of Fibrenew Bridgewater came to my home and did an excellent job in repairing the hole and matching the colors perfectly. I highly recommend him for any leather repair.

Lance B. - East Brunswick, NJ

I have used Fibrenew several times for different repairs, never disappointed. Great workmanship and attention to detail. Very professional.

Paul P. Brooklin, ON

Excellent professional service, that is what we have experienced with Josh's services. Our first experience in having leather restored and are very pleased with the results.  Our first sight of the chairs, sofa and foot rest when they were returned was "it looks like new". I have no doubt that his future will be very successful with that level of quality.

Dean S. - Monroe, IA

Following the unbelievable cleaning, repair, and dying where needed our Ekornes Stressless Recliner looks like the day we brought it home ten years ago. Our Fibrenew professional, Jim, knew the furniture piece, had experience working with the piece as well as Ekornes, if needed. Without reservation we  have already recommended Jim to people we know, especially those with leather recliners from Ekornes. Excellent service, highly professional, and most responsive.

James M. - Franklin, WI

Julie did a fantastic job on repair and redye of my drivers seat in my 350Z. She doesn't rush through the job like most people do these days just to get paid. She worked until she had a perfect match in the color and the seat looks brand new. I'm a perfectionist and would not endorse her if the job had been a rushed and botched one. Will definitely use her again if needed. Thanks so much Julie!

Terry H. - Candler, NC

I had a hole in my leather couch and send Olen a picture of it. He responded really quick with a quote of the repair. After working on it for 4 hours it looks incredible. The color is a perfect match. Olen is very professional. I am very happy with the result.

Henry H. - Chandler, AZ

The service Frank did for my 2004 Lexus sc430, hardtop convertible look like A 2018. The damage I had on my leather seats were revitalized with a single treatment. I recommend Frank for your car and mine. FYI. The last 430sc was 2010.

James C. - Mckeesport, PA

2001 BMW 330Ci Convertible - Brian walked me thru the process and gave me a estimate over the phone, I dropped my car off at his place, he kept it for 2 days doing a deep clean of all the leather than repair and recolor of all the leather and plastic. The work was fantastic and within his estimate. Brian kept me informed thru the whole process with pictures thru text message. Absolutely going to recommend Fibrenew to all. Thanks so much Brian!

Gloria B. - Raleigh, NC

I had just brought my new car home from the dealership, and it was a long drive, since I purchased out of state.  It was at the end of a business trip, so I had placed my leather briefcase/satchel on the passenger seat next to me, where it sat for the drive home and then overnight. In the morning when I took it out of my car, I found that the satchel's leather dye had leached into my new cream-colored leather seats in large areas. I tried briefly to remove the stain with several types of leather cleaners, but nothing worked. I thought for certain that I had permanently stained and ruined the seats. I called the car dealership, and they had no help to offer, just suggesting that I go to the auto parts store and try an off-the shelf cleaner. I called Bucky and in very short order he returned the seats to PERFECT new condition. Very grateful to Bucky for his excellent work and more than reasonable pricing.

Bob - South Chesterfield, VA

High-quality superb work. I had Fibrenew change the color on my leather motorcycle back rest and seat. It turned out perfect like new and the exact color that I wanted. Fast service and excellent quality. I had high expectations and they delivered.

Anthony - Mapleton, IL

I had a very worn leather couch cushion that had several small tears.  I did not know what to expect regarding leather repair but I'm a firm believer that Lloyd worked a miracle.  The couch cushion is marvelous. (actually did two).  I highly recommend, before thinking about furniture shopping,  you call Lloyd!

Linda R. - North Brunswick, NJ

Hays of Fibrenew Worcester did a fantastic job repairing and re-dying the leather side bolster on my driver's seat. It virtually looks brand new. The color match and surface finish (satin) are perfect. He also re-dyed some worn areas in another vehicle the same day without having to schedule a new appointment. And the results are flawless. We're totally impressed and very pleased with the service provided. Thank you!

Ken P. - Upton, MA

We are so pleased with the repair of a small tear on our boat seat. It looks like new. Lloyd was dedicated to getting a perfect match in the color of the leather and a pleasure to work with. 100 percent satisfied!

Carol - Middletown, NJ

I have had troubles getting new stains or of my car and Eddie came out to my home and removed ALL the stains and made my car look brand new again. He made me feel very comfortable and at ease. He clearly knew what he was doing and did a FANTASTIC job. He was quick and very thorough. Besides the fact that he was so kind and nice, he made my car look and feel new! He truly worked miracles and I could go on for hours on how kind and enjoyable Eddie was. Would recommend Eddie and Fibrenew to anyone and everyone I know. If I ever need any repairs or restores done again you bet your bottom dollar I'm calling Eddie.

Ashley M. - Moore, Ok

I am an interior designer. I thought I'd have to reupholster my leather stools. Steve Gayes came to the house, did his "magic" and the stools like like they're brand new!  He also filled in the scratches and restored my leather sofa cushions. I am very picky being that I'm a designer. Steve did a phenomenal job on all my leather pieces. I will refer him to all my clients needing leather/vinyl repair work. He is truly a craftsman!

Mary Pauls Creative Interiors - Libertyville, IL

Chad explained every step in removing a large stain from my leather couch and educated me on what to do to prevent a similar situation from recurring. Other issues that he and Taylor observed were repaired without additional charges. You can't go wrong with this company!

Jackie - Calgary, AB

Lloyd came highly recommended and showed up on time and friendly. He not only repaired my treatment table but saved me money and time. I have several treatment tables for patients and cannot afford to be without. I highly recommend him for any and all repairs necessary. GREAT JOB AND THANK YOU!

Dr. David F. - Basking Ridge, NJ

Bill of Fibrenew Cherry Hill renewed my 1993 corvette driver seat. It had a bolster tear and small tear on base of seat. Both issues are gone. Somehow he matched the new dye to 25 tear old seat. Totally happy with the work. I would recommend bill to anyone. Thanks Bill.

Tom D. - Magnolia, NJ

When we contacted Fibrenew and provided photos of the damage, they evaluate in a professional manner and stated he would get us the best repairs for the lowest price. He offered several several options and picked up sectional and delivered it back after the repair was complete. Gary also took some of the remaining material and repaired some wear issues. The repairs can under the estimate and were done very professionally. I would highly recommend Fibrenew for any repairs in leather.

Michael H. - Saint Marys, GA

Had Sy Santos come out and fix some cracks I had on my dash board. I have to say I can't believe the work he can do, it looks amazing and like nothing was even wrong with it! Way cheaper then buying new, he was on time, fast, and a really nice guy! Would recommend to everyone! Thanks Sy!

Jake L. - West Point, UT

When I made the decision to have Bob do the repairs for my 1990 Caddy, arm rest and front seat, I was a little skeptical at what I was told he was going to do with it. When I picked the car up I was amazed at how wonderful it had turned out. It was perfect!! Thank you Bob.

Bill S. - St Paul, MN

We contacted Terry to do some leather repair for a customer of ours at the dealership.  He ended up corresponding with the customer directly, and setting a time to meet with her to repair the leather in her vehicle.  I saw before and after pictures, and was amazed at the work. Terry and Fibrenew will be my GO TO now for all future leather work.  Thanks for the great work and for being professional.
Steve
Lewey
Internet Sales Manager
Wright Automotive, Hillsboro, IL
Steve L. - Hillsboro, IL
We had a beautiful, caramel-colored leather chair that we assumed was ruined because of the damage done to the head rest  as a result of perspiration and body oil. Fibrenew's man Warren came out, gave us an estimate, and took away the ruined part of the chair. Approximately two weeks later he returned it to us, and we can only describe the results as miraculous. He matched the color and the texture of the leather perfectly. It is beautiful work and well worth the expense and the wait. I recommend  Fibrenew in Indianapolis enthusiastically and without reservation! They saved our chair!

Jim M. - Fishers, IN

We have a leather couch that our cat had damaged with her claws. A friend of a friend mentioned that they had their leather couch repaired and were pleased with the results. I was given the contact information for this company.  They were prompt in their response. I was pleased with how quickly they responded and with the quality of repair.

Reniece J. - Aurora, CO

Sue Kassian came to my house this morning to repair three couches. I am delighted with the way my couches look. She was prompt, professional and very efficient. My twenty five year old couch looks brand new. I would recommend this company to anyone looking to repair their leather sofa. Great work!

Shannon G. - Edmonton, AB