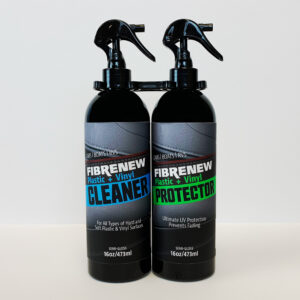 Fibrenew's professional-grade Plastic & Vinyl Cleaner and Protector is the ultimate in plastic and vinyl care. It's designed to be used on car, boat and RV interiors to help keep surfaces looking like new.
Now with UV protection and an oh-so-refreshing 'clean rain' scent!
Easy to apply with the provided trigger sprayer
Non-greasy feel and look after application
Step 1: use Fibrenew's Plastic and Vinyl Cleaner to rid the surface of dirt, oil and other contaminants. This properly prepares the surface for the next step
Step 2: apply Fibrenew's Plastic & Vinyl Protector to help protect the surface with UV blocking, limits fading, brings out a brighter color and acts as a protective shield from spills and staining 

With ongoing use, the result is a more vibrant looking and smooth feeling surface that helps prolong the life of your plastic and vinyl 

Recommended repeat use every 4-6 weeks
Non-toxic! Child & pet-friendly!
Made in North America
Plastic & Vinyl Cleaning & Protection How-To Video Using Fibrenew's Plastic & Vinyl Care Kit
Purchase a Fibrenew Care Kit Today!
1) Contact a local Fibrenew partner. City or zip code search here
2) Purchase securely online here. (Shipping to US & Canada only)