Fall 2020: Seven Quick Updates from The Fibrenew Fran Dev Team
To all the Franchise Coaches, Consultants, Brokers, and Development Experts we work with; thank you for your continued support of our brand.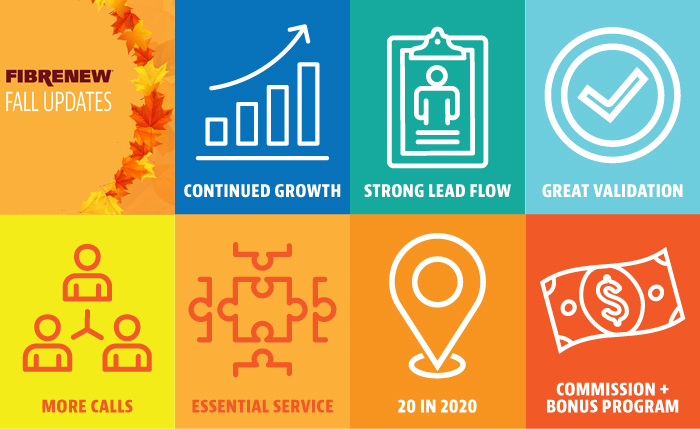 Below are seven quick updates on what's happening with Fibrenew Franchise development so far in 2020: 
1) 2020 is seeing continued, steady growth!
So far this year, we have trained 24 Franchise Partners with another 8 booked for training later this fall (and counting). We're on pace to welcome 30+ new Franchise Partners in 2020.
2) Our lead flow is incredibly strong!
The Fran Dv team is incredibly busy these days!  Thank you for continuing to present Fibrenew to your candidates, we truly appreciate it and promise to always look after them with timely communication, dignity, and respect
3) Validation has never been better! 
We have heard from many candidates that their validation calls with our Franchisees have been off-the-charts positive on many fronts
4) Conference calls, virtual ride days, President's calls
To meet the current volume of leads, we have adjusted our discovery process to include conference calls every 2 weeks, virtual ride days to efficiently show candidates our process, and have started scheduling President's calls so that candidates can talk directly with our leadership team
5) Fibrenew is always an essential service
No matter the economic or societal climate, Fibrenew Franchisees are called upon from clients in medical, automotive, hospitality, commercial, marine, residential, and aviation to help keep their businesses going. We're always here to help, and proud to serve our local communities
6) Ready to be part of a challenge? The 20 in 2020 List:
At the beginning of this year, we made a list of 20 select markets we're focused on awarding. These are prime locations with open territory and tons of potential. See the list here
7) Remember: $100,000 Commission & Bonus Program: 
Help us place 3 of your candidates in 2020 and you'll receive an extra $10,000 cash bonus! That's $30,000 per sale, plus $10,000 bonus when the third deal closes! Read full details and get started here
Thank you for reading and let's talk soon!
– Fibrenew Franchise Team