Thank you for showing Fibrenew to your candidates. With deep roots that span over three decades, we now have 300 Franchise Locations and 375 Technicians across the USA, Canada, Mexico, Chile, New Zealand, and Saudi Arabia who operate thriving businesses.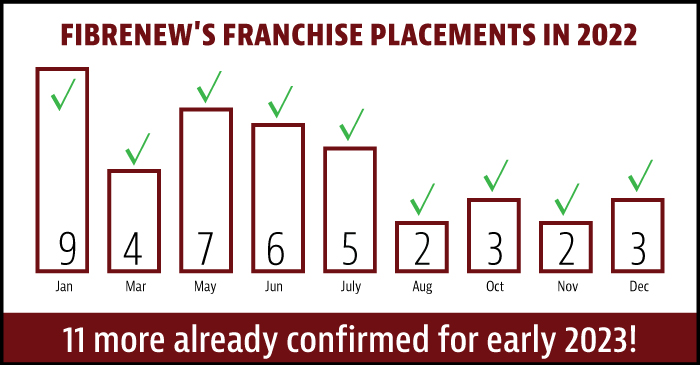 Check out this year's Deal Alerts
Download:
---
IDEAL OWNER & TECHNICIAN GUIDELINES
• Comfortable educating their community about this business
• Territory developers, business builders
• Health: use of manual dexterity daily, getting low to the ground, bending & lifting
• No long term medical issues that prevent them from doing requirements of the job
• Enjoys working with their hands
• Trainable and coachable
• Driver's license
• Can not be color blind (we provide test during first step of Discovery Process)
---
REFERRAL FEE – NEW SINGLE UNIT SALE
• $30,000.00 USD / successful New placements in United States
• $30,000.00 CAD / successful New placements in Canada
REFERRAL FEE – RESALE
• $24,000 USD / successful Resale in USA (paid by selling franchisee)
• $24,000 CAD / successful Resale in Canada (paid by selling franchisee)
---
BUSINESS BASICS
Industry: Leather & Plastic Restoration
Year started franchising: 1987
Year business started: 1985
Franchise units open: 300
Number company owned units: 0
Investment range: $93,125 – $111,695
Franchise fee: $47,000 + $42,000 Start Up Fee
Required liquid capital: $15,000 – $25,000
Required net worth: $100,000
Royalty: US – $795 | Canada – $790 or $860 + taxes
Available in Canada: Yes – check availability (via email)
SBA Registry: Yes
Vet Fran: Yes 10% off franchise fee = $4,700.00
Minority Fran / In-House Financing: No
State Registrations: Available in all States
Country
Territory Size
Franchise Fee
Product Requirement
USA
Up to 300,000 people
$795
$2,500
Canada
0-299,999
(no greater than 100 miles)
$790
$1,900
Canada
300,000+
(no greater than 100 miles)
$860
$2,500
*Royalty payment waived first 6 months, commences month 7. Increasing 5% annually for contract duration.
---
BUSINESS FEATURES
Fibrenew is a market leader in the restoration of leather, plastic and vinyl. We provide exceptional products and precise techniques that save our customers money over the cost of replacement items and help reduce what ends up in landfills.
We are a home-based, mobile franchise service that caters to the aviation, automotive, commercial, marine, medical and residential markets.
Leather, plastic and vinyl are everywhere!
Diversification = Multiple Revenue Streams
With so many potential revenue streams across multiple markets along with a high demand for our services, our company and franchisees have grown and thrived through every rise and fall of the economy since 1987.
That really speaks to the fact that there is always a need for our services.
BUSINESS CHARACTERISTICS
• No 'brick & mortar'. Work is done 'on-site' which eliminates overhead
• Simple & efficient home / 'rolling' mobile office
• Scalable business (grow to include family or technicians or single owner)
• Franchise owners set their own working hours
• Creates more personal time and freedom
• No financial reporting / No red tape – the more franchisees make, the more they keep
---
BUSINESS MODEL
• Area Developer with a General Manager and/or Technicians Business
• Builder Single owner-operator Semi-Absentee
• Generally Home-based
• Can expand into "brick and mortar" business sites if they choose
---
FUNCTION OF OWNER
• Area Developer with Technicians or Single owner
• Operator 65-25-10 Rule: 26 hrs. technical work, 10 hrs. sales, 4 hrs. admin
• Confident with "consultative/relationship selling"
• B2B and B2C
---
IS THIS RIGHT FOR ME?
Click here to see the complete survey results.
You don't need prior experience to succeed with Fibrenew. If you are comfortable consultative selling, enjoy working with your hands and can distinguish color adequately, you're halfway there.
We provide the rest through a thorough training program that includes hands-on experience with professional and experienced support staff.
Fibrenew franchisees come from all walks of life.
The diversity of backgrounds and past careers is widely varied.
---
EARNING CLAIM
Is being your own boss, in the truest sense, including no financial reporting important to you?
Fibrenew's flat-rate royalty system will be of interest.
The more franchisees make, the more they keep!
Financial information is learned directly from our franchisees during the Discovery Process.
---
FINANCIAL STRENGTH OF FRANCHISOR & MANAGEMENT STRENGTH
Excellent.
Our Core Team members combined have over 140 years of experience.
---
TERRITORIAL PROTECTION
Yes, exclusive territories
---
DESCRIPTION OF TERRITORY
Up to 300,000 population, no greater than 100 driving miles (USA or Canada), defined by zip or postal codes
---
COMPETITIVE ADVANTAGE OF PRODUCT / SERVICE
• Continued Research & Development of Product & Tools
• New proprietary "Color Eye" color assistance technology and device.
• Online Field Management software
• Support in Operations and Marketing
• Highly specialized techniques and procedures
• Over 200 proprietary items
• All coatings meet or exceed FAA burn testing criteria (independent 3rd party testing) Water-based, low VOCs (which conform to EPA standards)
• SDS for each of our products
• Leather coatings meet and/or exceed new automotive leather upholstery durability standards Candidates will hear over and over again how great our support team is at problem-solving
---
TRAINING
3 Phases of Training (Pre-training, Technical Training and Field Training)
---
CONCERNS THAT MAY SURFACE
Clients may ask, "How do you make "real" money doing this?"
Fibrenew does not take a % of franchisee sales and there is no % ad fund. Franchise fee is paid once. Renewal fee is minimal, currently $500.
Franchisees can earn 70-80% profit per job.
---
SALE & DISCOVERY PROCESS
1. Introductory Phone call & Interview
2. Presentation (1 hrs. + Q & A)
3. Validation (2 weeks)
a) Validation calls with our Franchise Partners (minimum of 7 calls)
b) Review the franchise Disclosure Document (FDD) and Franchise Agreement (FA) & sign the FDD receipt page
c) Begin Territory Exploration
d) Complete a Proforma
4. Ride Day with an accredited Franchise Partner (1 day) & President's call
5. Award Day (2 days after ride day) & begin onboarding & pre-training
Onboarding & Pre-Training
---

EARN $100,000 IN COMMISSIONS
Help us close 3 of your candidates in 2022 and you will make $100,000!
3 X $30,000 commission per new sale + $10,000 bonus upon closing of 3rd candidate
THE DETAILS
• USA consultants paid in USD
• Canadian consultants paid in CAD
• Per individual consultant only. Does not apply to deals with entire brokerages or companies
• Paid as a separate bonus upon three successful new franchise sales from leads registered in our system in-between Dec 1/2021 and Dec 31/2022
• For new Fibrenew territory sales only
• Does not apply to resales
Let's do some deals together!