Playing off each other's strengths, this couple teams up as Fibrenew franchisees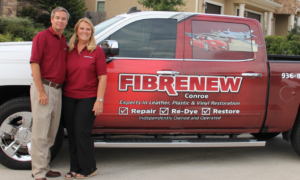 By: Jill Abrahamsen of Franchise Connect Magazine
Jeff Gebhart entered retirement with a long list of projects that he thought would keep him busy for years and years to come. He completed the list in record time and was left wondering what he would do next.
At a crossroads, Jeff realized that he needed more than household projects to fill his days. "I knew I wanted something new, but I wasn't sure exactly what that looked like," says the retired petroleum engineer.
In his search for his next step, he discovered Fibrenew, a leather, plastic, and vinyl restoration franchise. "I really liked it because it was a simple and manageable business I could run without any employees if I wished," he says.
FAMILY-LIKE CULTURE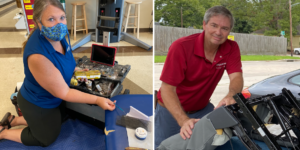 Jeff also liked the idea that he and his wife, Kim, could team up and manage the business together. It took him a little while to convince Kim, but once she met with the corporate team, she was sold. "I never planned on running a business with my husband, but after flying out to the headquarters in Calgary and learning more, I realized it was a great fit for our lifestyle," says Kim. "The Fibrenew team is so welcoming. We were treated like family from day one."
From the quick start-up to the ongoing training and continued support, the Gebhart's have been extremely impressed with the franchise system. "Through several hurricanes, a pandemic, and anytime we have had questions, the corporate team has always been ready to help," says Jeff.
The couple is also impressed with the potential for business. Although they serve residential clients, business customers are the ones they go after for larger jobs and repeat business. "The possibilities are endless. From restaurants to car dealerships, marinas and even medical offices, our services are needed by all types of businesses. The best part is that they all lead to recurring revenue," says Jeff. "There is always a demand for our services."
FRANCHISEE BENEFITS
CORPORATE CULTURE: The Gebharts enjoy the family-like environment that runs throughout the franchise system.
RECURRING REVENUE: B2B clients offer bigger jobs and repeat business.
DIVERSE WORK: "I'm never bored," says Jim. "Every day is different in this business.
LIFESTYLE BUSINESS: The Gebharts enjoy an ideal work-life balance.
SUPPORT: "The corporate team has always been ready to help," says Jeff.
NICHE BUSINESS: Fibrenew offers an in-demand, specialty service.
ONGOING TRAINING: "The Fibrenew team is always innovating and teaching us better and more efficient ways of doing things. I always learn something new," says Kim.
WORKING TOGETHER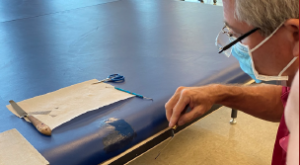 Franchisees since 2016, the couple work like a team, playing off each other's strengths. "Each day is a little different, depending on the job," Jeff says. "Sometimes, Kim will stay in the office and take care of paperwork while I'm out on the field. Other days, we'll work together, or divide and conquer."
ADDING ON
Pleased with their decision to invest in Fibrenew, the couple added a second territory in 2018. "This business suits our lifestyle. We have total control over our work-life balance," says Jeff. "We couldn't be happier."
Fibrenew has numerous franchise opportunities available across the USA and Canada. Find out more here, or reach out to our helpful Franchise Development Team here.
Comments: