THE OPPORTUNITY
Fibrenew is a market leader in the restoration of leather, plastic and vinyl. We are a home-based, mobile franchise service that caters to the aviation, automotive, commercial, marine, medical and residential markets.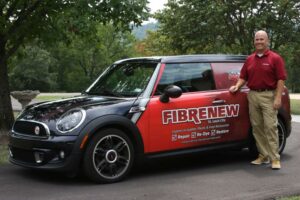 There is leather, plastic and vinyl everywhere that becomes damaged through normal wear and tear. In homes, offices, vehicles, boats, airplanes, hospitals, gyms, restaurants, hotels and much more. With all these potential revenue streams and high demand for our services across so many markets, our company and franchisees have grown and thrived through every rise and fall of the economy. That really speaks to the fact that there is always a need for our services.
ROBUST BUSINESS MODEL
Since 1987, we have built and refined a robust business system. This includes the research and development of a proprietary product line, highly specialized techniques as well as rock-solid support, operations and marketing systems. The strength of our business model, the quality of our products and services and our enthusiasm for what we do all contribute to the success of more than 250 Fibrenew franchises around the world.
FIBRENEW OFFERS
High-demand, niche market business with multiple revenue streams
Low overhead operation with few or no employees to manage
Flexible lifestyle and work schedule – you set your own hours
Flat-rate royalty system with no financial reporting, no red tape
Two weeks hands-on training and a lifetime of continued support
Mentorship program, expert field support and business coaching
Personalized website with web and social media marketing support
Professional print and email marketing support
Fully loaded iPad, including Fibrenew App and custom business tools
Proprietary product line, manufactured in-house with nearly 200 items
IDEAL OWNER / OPERATOR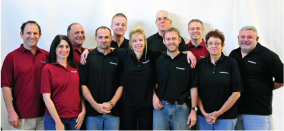 Can not be color blind
Enjoys working with their hands
Confidence with relationship & networking sales
Physically fit as lifting furniture may be required
LEATHER, PLASTIC & VINYL EVERYWHERE!
Aircraft
Ambulances
Auto Body Shops
Bars/Pubs
Boat Dealers
Cafés
Car Dealers
Car Rental Agencies
Chiropractors
Dentists
Farm Equipment
Fleet Vehicles
Furniture Stores
Government Offices
Gyms
Hair Salons
Hospitals
Hotels
Insurance Companies
Interior Designers
Limo Companies
Medical Clinics
Message Therapists
Military Vehicles
Motorcycle Dealers
Moving Companies
Public Transportation
Restaurants
RV Dealers
Schools
Taxis
Theatres
Trucking Companies
Vet Clinics
Warranty Companies
…much, much more
This information is not intended as an offer to sell, or the solicitation of an offer to buy, a franchise. It is for information purposes only. Currently, the following states regulate the offer and sale of franchises: California, Hawaii, Illinois, Indiana, Maryland, Michigan, Minnesota, New York, North Dakota, Oregon, Rhode Island, South Dakota, Virginia, Washington, and Wisconsin. If you are a resident of or want to locate a franchise in one of these states, we will not offer you a franchise unless and until we have complied with applicable pre-sale registration and disclosure requirements in your state. OUR WEBSITE HAS NOT BEEN REVIEWED OR APPROVED BY THE CALIFORNIA DEPARTMENT OF BUSINESS OVERSIGHT, ANY COMPLAINTS CONCERNING THE CONTENT OF THIS WEBSITE MAY BE DIRECTED TO THE CALIFORNIA DEPARTMENT OF BUSINESS OVERSIGHT AT www.corp.ca.gov THIS ADVERTISEMENT IS NOT AN OFFERING. AN OFFERING CAN ONLY BE MADE BY A PROSPECTUS FILED FIRST WITH THE DEPARTMENT OF LAW OF THE STATE OF NEW YORK. SUCH FILING DOES NOT CONSTITUTE APPROVAL BY THE DEPARTMENT OF LAW. Fibrenew's Minnesota State franchise registration number is: MN File No. 5282. Fibrenew USA Ltd. PO Box 117, Black Diamond, AB T0L 0H0 Canada 403.278.7818