Marine Seating: Restoring Damaged Vinyl Instead of Replacing It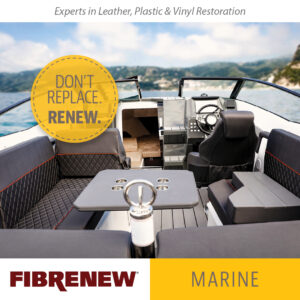 Jeff and Kim Gebhart, who own a Fibrenew franchise just north of Houston, had about a dozen marinas and boat dealers that they worked with for many years. They would average calls from those clients two to five times a month, whenever a boat needed on-site repair of leather, plastic, vinyl, fabric or upholstery.
That volume of business skyrocketed to almost a boat every day, and sometimes three boats a day in one location, starting in the spring of 2020. "We did nothing but boats in April and May of 2020," Jeff Gebhart says. "It was incredible!"
Michael Carrigan, who owns the Fibrenew North Naples franchise in Florida, says that he saw a 50 percent jump in calls from marine businesses around the same time — and that even today, the demand remains high. As dealerships continue to struggle with supply-chain issues on parts and a lack of new- and used-boat inventory, more and more dealers are continuing to turn to on-demand repair services like the kind he offers.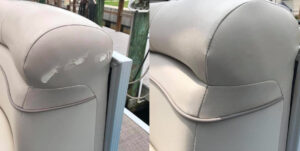 "A lot of times, it's much more cost-effective," Carrigan says. "Just one of the panels that I'm going to work on right now, if they could get it replaced, it's probably going to be close to $400, if not more. If 90 percent of the panel is good and there's a nick on the edge that I can take care of, and if the owner is aware that we can do this at a fraction of the cost, then usually they're into that."
Moving to a business mentality of fixing what's broken versus ordering a new part to replace it is becoming commonplace for everything from vinyl panels to engine parts, according to businesses that provide on-demand repair services for boats. It doesn't matter whether the boats are power or sail, large or small, fresh or salt water. Increasingly, dealerships and marinas that don't have certain kinds of repair expertise on-site are keeping local service providers busier than usual with routine and emergency needs alike.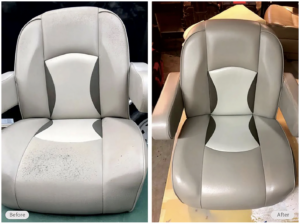 Carrigan says the past couple of years have also taught a lot of dealerships about the various services that companies like Fibrenew can offer. Those dealers, now that they understand what's possible, are adding quite a lot to the work orders, sometimes on the spot.
"I do a few [dealerships] here and there when they call me, but I have one that's my bread and butter. They call me all the time," he says. "As I'm here doing this emergency, they're like, 'We have another boat in the back that we want you to look at.' "
Gebhart says he's seeing a similar kind of uptick in business from individual boaters who, like the dealers and marina operators, are realizing that they can sometimes repair or restore a damaged item instead of getting into the long supply-chain line for a replacement.
"We've seen an uptick in new business from individuals," Gebhart says. "We get that a lot. There will be a customer who didn't even realize our business existed. They say they would've called us years ago. A lot of people don't think about repairing those things; they know they can be recovered at an upholstery shop, but just repairing things, people don't usually think about that."
Gebhart is also getting calls from dealers who, when they can get new inventory, want to repair any minor damage that occurred during shipping. In years past, those same dealers may have waited for the manufacturer to resolve the issue, but nowadays, getting the product into the customer's hands after an already-long wait is taking priority. "We fix it before the customer sees it," Gebhart says. "That way it essentially never happened. Their new boat is in perfect condition."
To find a local Fibrenew Expert near you, search by zipcode here.