Help Your Community With A Fibrenew Franchise
Making a Difference One Item at a Time
As an entrepreneur, you understand the importance of making a positive impact on your community. What if you could invest in a franchise that not only helps you to earn a living, but also allows you to contribute to the well-being of your neighborhood? It's time to think about Fibrenew—a franchise opportunity that goes beyond profit by actively helping the communities we serve. With a Fibrenew franchise, you can make a difference one item at a time, all while building a thriving business.
Fibrenew is in the business of restoring and repairing leather, plastic, and vinyl items across a diverse range of sectors. From residential homes to commercial buildings, aviation to automotive, and even medical facilities, the demand for Fibrenew's services is ever-present. Our franchisees benefit from a wealth of opportunities in different industries, ensuring their skills and expertise are always needed.
Whether it's repairing a cherished family heirloom or restoring the interior of a business jet, Fibrenew plays a crucial role in keeping items functional, attractive, and sustainable. This commitment to restoration aligns perfectly with our values of community service and environmental responsibility.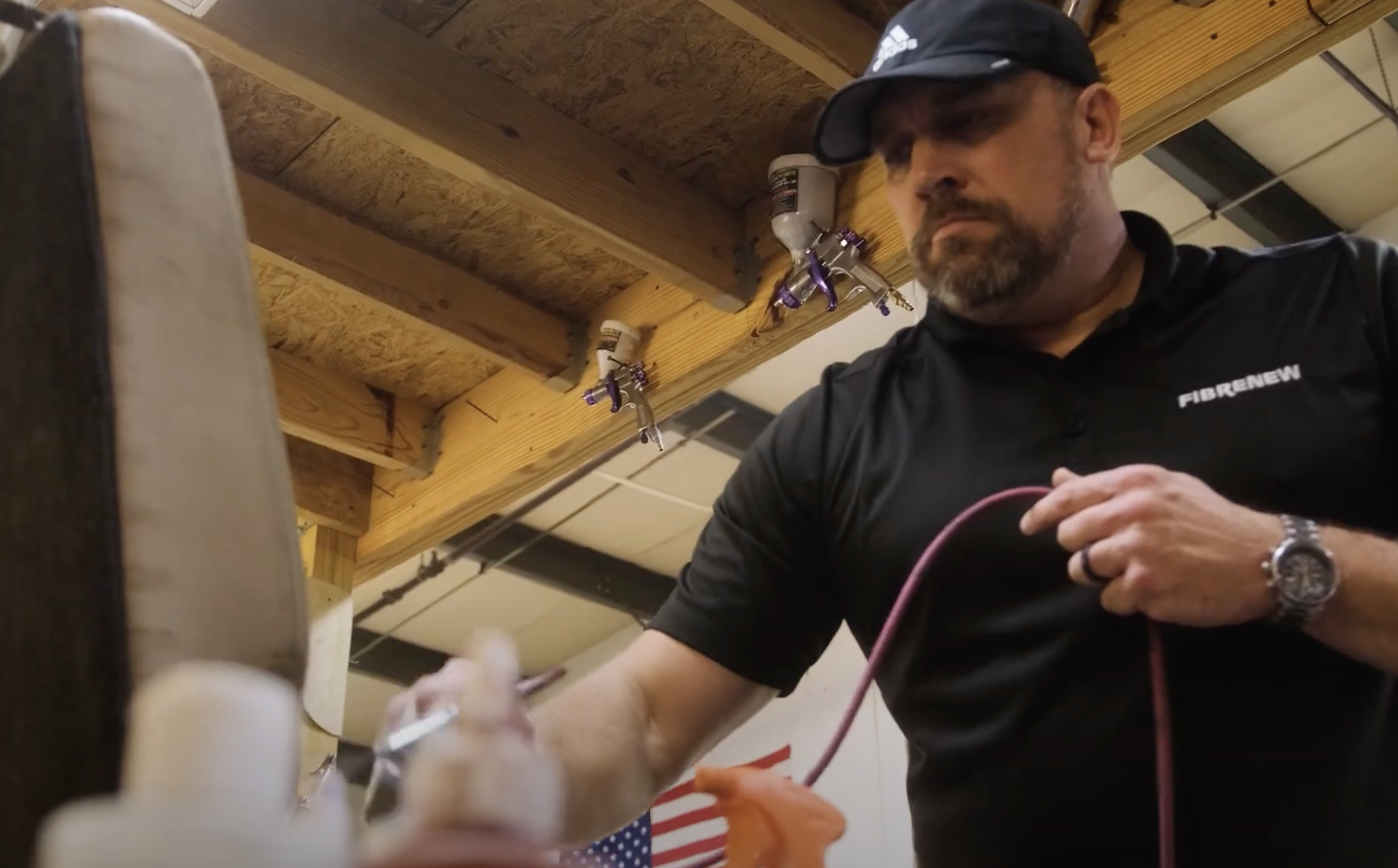 Saving the Environment
In a world grappling with environmental challenges, sustainability has become a serious concern. One of the significant ways Fibrenew helps the communities we serve is by providing a green alternative to traditional furniture disposal. Instead of tossing worn-out furniture and items into landfills, Fibrenew offers restoration services, breathing new life into old possessions.
By choosing Fibrenew, franchisees can feel good about doing their part in preserving the planet. Every repair and restoration project undertaken by Fibrenew contributes to reducing waste and minimizing the environmental impact. It's a powerful way for entrepreneurs to run a business while actively being part of the solution to environmental issues.
"Being an eco-friendly company makes us a recession-resistant company," says Jesse Johnstone, President of Fibrenew. "When times are a little bit lean, people want to hang on to pieces and keep them in play rather than replace them. And when times are riding high and the economy is strong, people want to keep their items looking good. So we really serve both ends, no matter what's going on in the economy."
Saving Our Clients' Money
The financial strain of replacing damaged or worn-out items can be overwhelming for many individuals and businesses. This is where Fibrenew franchisees step in, providing a more affordable option for those who can't afford full replacements. Furniture in particular can be very expensive, and not everyone can easily replace their beloved pieces.
With Fibrenew's restoration services, franchisees offer a cost-effective alternative, allowing clients to keep their favorite items in use for longer. By helping clients save money on replacements, Fibrenew franchisees earn the trust and gratitude of their customers, fostering lasting relationships and repeat business.
Communities Rely on Fibrenew
Over the years, Fibrenew has built a strong reputation among clients across various communities. Fibrenew's commitment to quality, sustainability, and affordability has earned us the trust of countless customers. As a franchisee, you will have the advantage of tapping into this well-established reputation.
Serving communities is an honor that Fibrenew takes very seriously. Franchisees have the opportunity to become valued members of their local communities, known for providing green, affordable restoration and repair services that enhance the lives of residents and businesses alike.
Our method of restoring items is unlike anything else on the market, and no other brand comes close to the results that Fibrenew is able to achieve. We have built up an incredible reputation over the last 35+ years, and that's why our franchise partners have such a diverse stream of industries to go after. The market for our services is not only constantly in-demand, but it's also wide open.
Invest in a Fibrenew Franchise Today
Are you ready to make a difference in your community while building a business? Investing in a Fibrenew franchise might be the perfect opportunity for you. By choosing Fibrenew, you can become part of a network that actively helps the environment, saves clients' money, and contributes to the well-being of communities.
To learn more about the franchise opportunity, visit our research pages here, where you'll find comprehensive information about the business model, training, and support. If you're eager to take the next step toward starting your own Fibrenew franchise and making a positive impact, fill out our inquiry form here to start a conversation with our dedicated franchise team.
Comments: