Fibrenew "Team Manitoba" Welcomes Brandon's Janine and Drayson Tousignant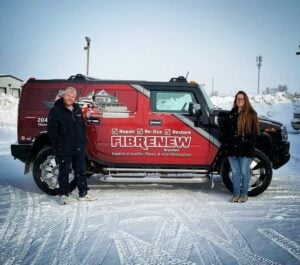 "They" say a rolling stone collects no moss. "They" must have been referring to Fibrenew Brandon's new owners, Janine and Drayson Tousignant. The Tousignants are no strangers to owning their own business — they've had a roofing company for years — but they are recent franchisees to the world of Fibrenew, the industry leader in mobile leather, plastic and vinyl restoration and repair.
Just a few short months ago the duo added the franchise to their business portfolio and to describe the growth as an explosion is putting it mildly. The Tousignants have already hired a technician to assist with the burgeoning mobile franchise's service calls.

After their comprehensive training in the Calgary education facility was complete, Janine recalls, "Day one, we got business. It came from online! We felt we needed to practice more, but we were never going to turn people away and we've just kept going ever since."
The growth rate of Fibrenew Brandon since they purchased the franchise was somewhat of a surprise, but most certainly welcome. "I expected to do a lot of sales calls," Janine explains, "but it's just been coming in on its own! We just keep honing our skills and move on to the next job!"
The jobs she refers to are diverse: a lot of repair and redyes on marine craft, contracts with RV dealerships, insurance claim work from previous natural disasters, occasional service checks, some automobile repairs, and many residential projects. Janine laughs as she describes her very first job. "It was a $15,000 couch! It was covered with light scratches. It took an entire day to do, but it looked great when it was finished!"
There are perks to purchasing an existing franchise — for example, Janine says they recently had a client whose relative was a previous owner — but the best feeling comes from those who say, "Oh! I didn't know you could do this sort of thing!" Drayson agrees, and adds, "Our continued marketing will bring more clients in, but so many people already know of the brand."

Fibrenew Brandon is quickly picking up new contracts and taking over new industries, and the Tousignants look forward to expanding even further. "There is so much we haven't been to yet!" says Janine. "There are a lot of restaurants in Brandon and we haven't even touched them. We also want to pick up contracts with hospitals and physical therapy offices … there is so much for us to go for."
The future is bright for these rolling stones. Fibrenew Brandon plans to train more technicians on the exceptional quality of service the franchise guarantees and the patented technology provided by Fibrenew head office. Once they have the support in place, Janine will focus head-on on sales and management, taking the entire Fibrenew Brandon team to the next level.
To take over a bustling territory and enter the franchise world of a global leader in leather, plastic and vinyl repair and restoration takes business smarts (check), support from headquarters (check) and even comrades to rely on with questions or references (check). In fact, The Tousignants often communicate with Fibrenew Winnipeg's owner, Jason Neufeld, with suggested clients or general questions.
"Team Manitoba, for sure!" says Drayson.
For leather, plastic and vinyl repair in Brandon, contact Janine and Drayon at: www.fibrenew.com/brandon/ or 204-717-0906