3 Reasons To Invest In A Fibrenew Franchise
Why Invest in a Fibrenew Franchise?
Owning your own business begins with a dream – a dream of providing for yourself, being your own boss, and providing a valuable service to your community. If you have an entrepreneurial spirit, you understand how good it can feel to put your roots down and invest in a business opportunity. At Fibrenew, we are a multi-national franchise in the leather, plastic, and vinyl restoration industry. For more than three decades now, we've continued to grow and expand our franchise network through all the ups and downs of the marketplace – and we're proud to have designed our franchise to be as accessible and fulfilling as possible to every entrepreneur.
Our team is made of a diverse and eclectic group of craftspeople – everything from former auto mechanics, to carpenters, ex-military personnel, firefighters, nurses, and the list goes on. The thing we call have in common is a drive to own a business. After years of working for others, our franchise partners have found how liberating it is to be their own boss, set their own schedule and earning potential, and manage their client relationships directly. If you're thinking about starting a business, investing in Fibrenew and becoming a franchise partner could be the opportunity you've been searching for.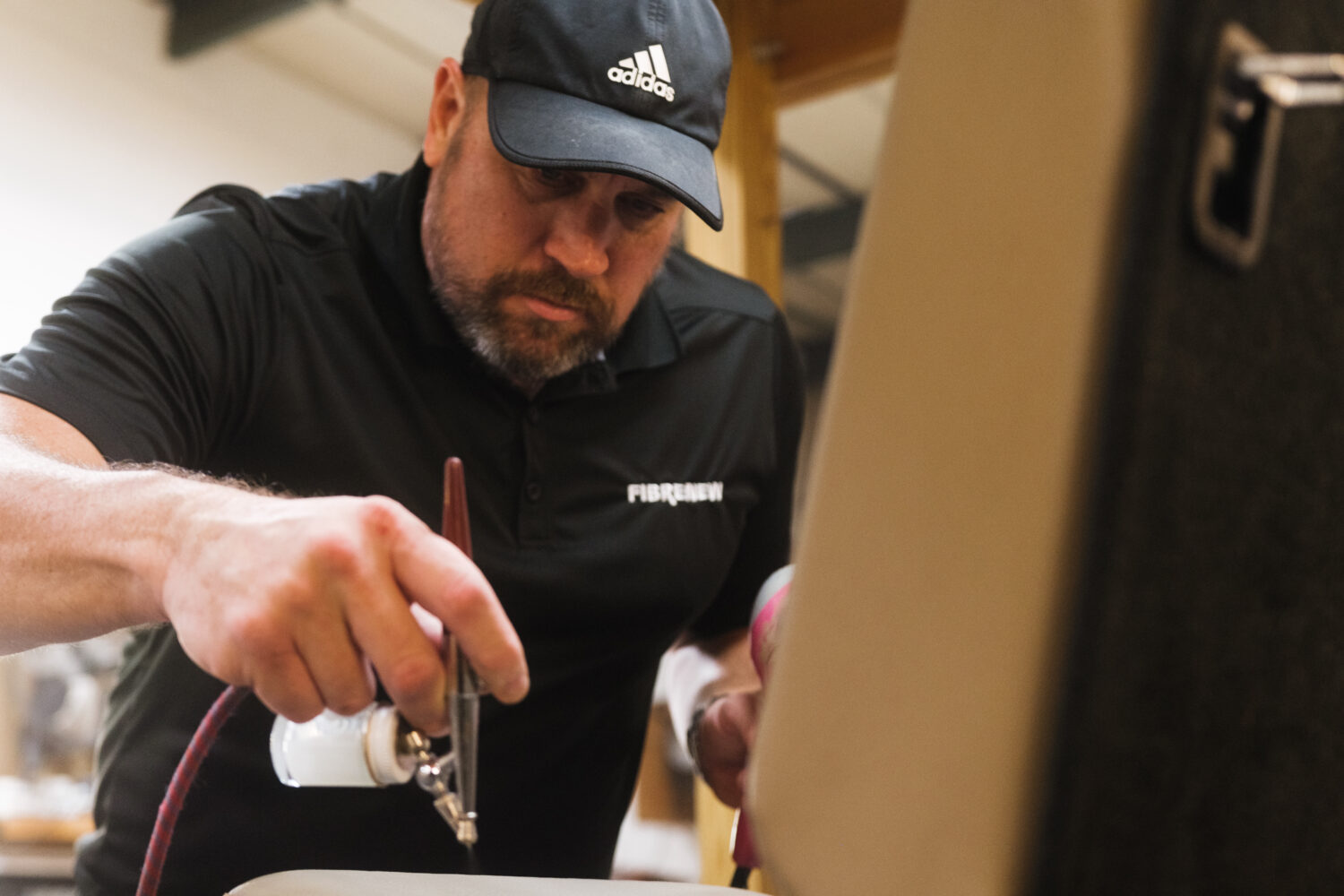 Demand is Everywhere
One thing that makes our business so unique is that the demand for our service is practically everywhere. As experts in the repair and restoration of leather, plastic, and vinyl, every home and business has surfaces that one day we could help repair and restore – not only is your favorite armchair upholstered in leather, so are dentist office chairs, commercial airplane seats. At Fibrenew, our customer base is practically endless. Our business takes us everywhere, from private boats, to schools, to nursing homes, city apartments, and more.
As a business owner, this means that you'll always have a valuable service to provide. In fact, this is why Fibrenew has continued to expand no matter the state of the economy at any given time. With over 300 locations in six countries, our record of continued growth over the years speaks to the durability of our brand, and the need for our services. On top of that, as technology continues to develop, and more and more services are outsourced to AI and robots, we also take comfort in knowing that our services are simply too specific and unique to be replaced by technological innovations or off-the-shelf products. We like to think of our business as "future-proof." Not only is the demand for Fibrenew everywhere, it's consistent, with no sign of changing.
Affordable Franchise Opportunity
Every business comes with its costs, but we're proud to have designed our business model to be as financially accessible and affordable as possible. While our initial fees and startup costs vary depending on the region, compared to other home service franchise opportunities, we're simply more affordable.
Our franchise is designed to be as mobile and nimble as possible. You won't have to spend any money on operating and maintaining a storefront. Fibrenew can be run from your van, truck, or SUV. In certain situations, our franchise partners even use a bicycle!
Affordability comes in many different forms. We want everyone that's interested to be welcome to the team, and we don't require any previous experience in the repair or restoration industry. The only requirement is that you're able to distinguish between colors. Our training regimen is comprehensive and extensive, and we're confident in our ability to make anyone into an expert of the craft. If you have the drive to excel, you're halfway there.
Maximize Success with Franchise Support
As a multi-national franchise with decades of experience under our belt, we've honed our business model and developed our customer base from community to community. In fact, we now have over three times the market share over our competitors in any marketplace. Every franchise partner gets to benefit from our years of experience and our vast network of resources. But we also know that sometimes support is needed more directly, and so we've designed our support system to be as thorough and helpful as possible. We have on-demand phone and video options, as well as text, email and a Fibrenew support app. We work hard to cultivate a team spirit among our franchise partners, and it's very common for franchise owners to develop lasting peer-to-peer relationships. At Fibrenew, you'll always know we have your back.
Learn More About Fibrenew Franchise
Interested in joining the Fibrenew franchise family? With a franchise network that extends across six countries, a valuable service that's in-demand practically everywhere, and a business model designed with accessibility and affordability in mind, Fibrenew could be the business venture you've been looking for. To learn more, you can begin by visiting our research pages here. Owning your own business can be the adventure of a lifetime. If you think you're ready to begin your franchise journey with us, don't hesitate, reach out! We'd love to hear from you. Fill out our form here, and we'll be in touch!
Comments: