Texan Makes His Move & Purchases Existing Fibrenew Franchise
When Elliot Berk took over the Fibrenew Northeast San Antonio franchise, he was prepared to jump in full steam ahead. "It was nice to have built-in business already, but …" he pauses and laughs, "you have to be prepared to play catch up. My advice for people taking over an existing franchise: the first few months you're going to spend a lot of hours catching up. But the more prepared you are at the start the better off you'll be in the long run."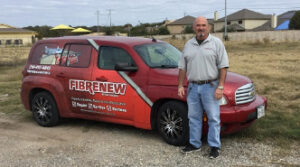 It was inevitable that Berk would become an business owner. He worked years for an oil company, loading and discharging barges. The six-days-a-week, 12-hours-a-day shifts were pretty tough on the Berk family. He also has a diverse background in the hospitality industry, so was looking for a career shift that would allow him more freedom for family time as well as more customer service and one-on-one interaction.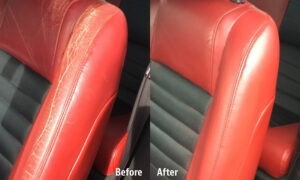 So an online search led Berk to the Fibrenew website, where he was intrigued with the possibility of owning his own leather, plastic and vinyl restoration company. Shortly after filling out some forms, Berk found himself on a ride-along with now fellow franchisee, Craig Burton of Fibrenew Metro Austin. "We were discussing the possibilities to be had with Fibrenew, the demographics, incomes, stuff like that. That was a big seller." As it turns out, Fibrenew Northeast San Antonio was for sale at the time, so Berk made his move.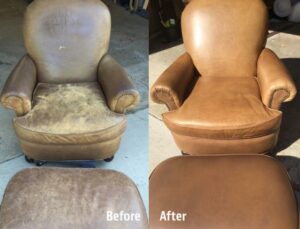 The transition also means moving cities: Berk's wife is still living in Corpus Christi, where he commutes to each weekend, but they will soon be completing the move to Schertz. "San Antonio is the fifth largest city in the U.S. It's growing leaps and bounds," Berk remarks of the potential his franchise has. With a large residential market, he's also breaking into the restaurant and RV industries. "Now that I've been doing this for a while, I am actually getting a taste of where I can go with it."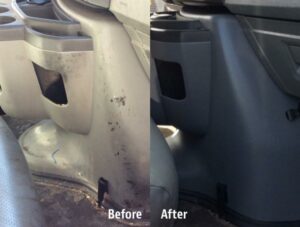 It's been a lot of change for the Berks, but it's all positive. "Everyone I talk to at Fibrenew is just as excited about this as I am," Berk says. "Every time I call with a question, I get an answer — someone's always there." In fact, when reflecting on his training at Fibrenew's head office in Calgary, Berk says he was impressed with the overall attitude of the entire Fibrenew team. "The enthusiasm everyone has … the belief everyone has for what we are doing, it's unbelievable. I try to expend that enthusiasm at my level also."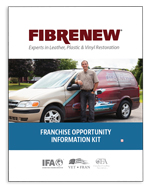 Are you looking for a new career where you can be your own boss and take charge of your financial future? Fill out the form below to download a PDF Information Package and learn more.
Our promise: no high pressure sales calls, just the info you want.
Fibrenew respects your privacy. We may contact you with further info about our franchise opportunity but we will not sell or distribute your personal info to a 3rd party.