Self-Starter Mark Chasteen Sees Fibrenew Smyrna Grow Successfully in Early Years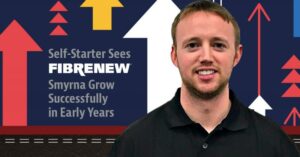 Investing in your own business takes a whole lot of elbow grease, equal amounts of determination, and a hard-working team to coach, educate and support you along the way. New franchisees of Fibrenew, the leading leather, plastic and vinyl restoration experts, learn even before signing the ownership papers of the head office professionals who've created a world-class training program, complete with follow-up education opportunities and widespread advertising and business coaching.
Mark Chasteen, the vibrant 28-year-old owner of Fibrenew Smyrna in south Nashville, dove head first into his training when he purchased his franchise a year and a half ago. An added bonus? Two neighboring franchisees began around the same time — Mat Meade of Fibrenew Nashville South and JT Thompson of Fibrenew Nashville Metro. The three entrepreneurs formed a partnership-slash-friendship, of which Chasteen refers today as advantageous. "We leaned on each other in the beginning, trying to find out what worked and such. Now we can call each other if we need help, and we even attend trade shows together." The three Nashville-area business owners are even in the planning stage of hiring a shared administrative position to handle their growing workloads and keep them organized.
When Chasteen looks back to his beginning, he remembers spending a lot of time organizing his business plans and supplies. And as soon as he opened his door, his leather, plastic and vinyl restoration business got rolling, "People just started calling!" he laughs. "I was saying 'Yes!' to everything, and figuring it out afterward. I'm a people person, so once I started taking calls and getting in the door, I just got talking to my clients and it went from there."
People person, yes. He's also very skilled with his hands, even referring to himself as "crafty" — a major reason why investing in Fibrenew Smyrna was a great fit. "I really wanted to excel at something I could do with my hands," he explains. "That's what I like about Fibrenew. It's hands-on, there's no real competition, and I can do this year round and be busy." Chasteen has a service-minded philosophy when it comes to business. His past includes legal studies, emergency services and firefighting, and he has easily translated those essential skills into his expanding leather, plastic and vinyl business.

Fibrenew Smyrna's clients include a well-balanced mix of automotive, residential and marine industries. Chasteen aims to grow his Fibrenew portfolio centred on RV work, as well as expand his aircraft clientele and hone in on the lucrative medical market.
Is Chasteen fazed by the challenges that come with entrepreneurship and the technical skill required to excel as a leather, plastic and vinyl restoration expert? Not at all. In fact, he welcomes the challenges. For example, in his early days he had a great partnership with a couple of local upholsterers. As it happened, when their workload grew he was hearing delays on his projects of up to five weeks. Knowing his clients' turnaround expectations were much quicker than that, Chasteen took it upon himself to learn to upholster a variety of projects. "I can sew panels in automobiles, on furniture, in marine craft," he grins.

Chasteen is a handyman with a strong service background, and demonstrates his business savvy with each client he has. As the leader behind Fibrenew Smyrna, residents of Southeast Nashville are assured their leather, plastic and vinyl restoration needs are in great hands!