Scott Neal Finds His Perfect Fit with Fibrenew
IN HIS SEARCH FOR A FRANCHISE, SCOTT NEAL CHECKED OFF ALL THE BOXES ON HIS WISH LIST WITH FIBRENEW
After a long career as a sales executive, Scott Neal grew tired of corporate America. "I desperately wanted a lifestyle change and something that I could feel passionate about," says Neal.
Starting a business from scratch wasn't an option for Neal. "I didn't want to take on that level of risk," he says. A friend's franchise investment prompted Neal to look at franchise opportunities. "I knew I wanted to have a solid support team behind me," he says.
Support, plus all the other items on his franchise wish list were met with Fibrenew. The Canadian-based company offers on-site repair of leather and vinyl upholstery.
Since he launched his West Central New Jersey location in 2018, Neal has been more than pleased. "It's been a great lifestyle change. I have more time for myself and I really enjoy the work. No two days are ever the same," he adds.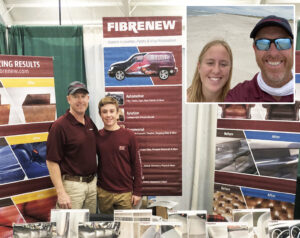 FAMILY BUSINESS
Neal often enlists his children to help run the business. His son Tyler gets involved in repairs and also enjoys helping at tradeshows. Neal and daughter Bailey find fun places to take breaks when they work together.
SUPPORT THROUGH COVID
The support that sold Neal initially was pivotal throughout the pandemic. "The corporate team was amazing and kept us moving forward with increased communications and innovations to the business," he says. The company waived fees temporarily and banded together with regular "huddle calls."
Seminars that were planned for later in the year were moved to a virtual platform. "The seminars took everyone's minds off the crisis and made good use of our downtime," he says.
With more than 285 locations, franchise owners have a great resource in each other. "We are always sharing ideas for business and techniques…something you just wouldn't do with competitors if you were in business by yourself.
CUSTOMER BASE
About one-third of Neal's business is residential and the rest is B2B, which brings in recurring revenue. Here are some potential clients:
RV Dealerships
Car Dealers
Marinas
Restaurants
Medical Offices
Furniture Stores
Warranty Companies
Builders/Contractors
WHY FIBRENEW?
For Scott Neal, there was a lot to like about Fibrenew. Here are the main reasons he chose to invest in the brand.
Corporate culture: Neal loves the sense of family and collaborative environment.
Recurring revenue: B2b clients offer repeat business.
Mobile business: Neal gets a ton of leads from just driving around. "My van is like a mobile billboard," he says.
Diverse work: "Every day is different in this business. I'm never bored." says Neal.
Lifestyle business: After a structured corporate career, Neal appreciates a flexible schedule.
Support: "I always get help when I need it. The support team never leaves me hanging at a job site," says Neal.
Great service: With proprietary products, Fibrenew offers an in-demand, niche service.
Fibrenew has numerous franchise opportunities available across the USA, Canada, Mexico and Internationally.