Ready to Ditch the 9-5 Grind?
We've all been there. Long days of frustration at a job we don't want. Expense reports, time sheets, holiday request forms, pointless meetings, mundane tasks, email chains, dictated overtime, threat of being outsourced, more, more, more…ever stop and ask yourself, 'does it have to be this way?'
With Fibrenew, you can own and operate a green business that makes a difference and provides a much-needed service to your community. You control your own schedule, set your own hours and can actually take pride in what you do – not to mention build a business that could carry a legacy.
What is Fibrenew?
Have you ever noticed faded leather furniture or a rip on a car seat and wondered if it can be repaired? It can and that's what we do. We restore and repair Leather, Plastic and Vinyl wherever it is found. Whether on a couch in a home, a seat in a car, a floor in an RV, exam tables in a medical clinic, benches in a boat etc., we can restore the piece for a fraction of the cost of replacement.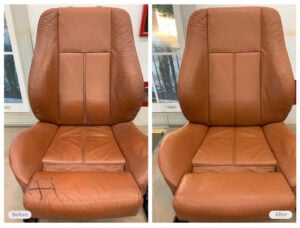 There are very few businesses like ours that are so diversified across so many markets. We cater to the automotive, residential, marine, aviation, hospitality markets and more. The list goes on and on. That means that we really never see seasonal and market fluctuations for the need of our services. We are always in demand.
Plus, our services save tons of damaged leather, plastic and vinyl goods from ending up in landfills. It's win-win.
Is This a Job Offer?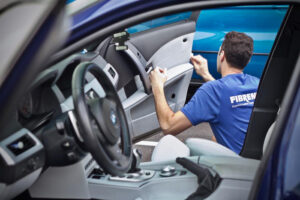 It's actually an opportunity for you to invest in your own niche service business. You'll work for yourself but not by yourself. We give our business partners the products, training and support they need to build and operate their own independent businesses.
No big brother factor here. All of our franchises are independent businesses with the keys to their own adventure.
How Do I Run The Business?

It's simple and efficient. It's a mobile business that you will primarily operate from a vehicle. No big overhead in having a shop space, no employees to manage and no utility bills.
You'll go from home to home and business to business throughout the day helping your customers. Fresh air, sunshine, meeting new people…it's never boring…it's freedom…it's unique…it could be for you.
Is This Fake News?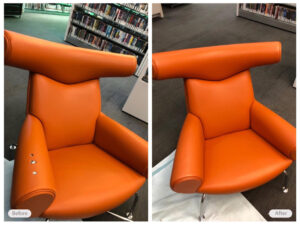 Nah, anything but. We got our start back in 1987 and now have over 250 independent franchises in operation today. Check out a map of our current locations throughout the USA and Canada. We're looking to expand into backyards everywhere across the USA and Canada and into the UK and Europe.
What's Next?
Follow us on the usual socials or check out videos, photos and articles below. When you're ready to talk, we'll be happy to speak with you.
Contact: Matt Woodcock
Fibrenew Franchise Development
Direct: 505.908.9476
Email: matt@fibrenew.com
Connect: Linked In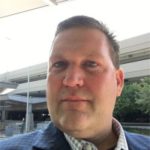 Comments:
Related posts:
Tags:
alcohol based, anilin aniline, automobile, Benefits of cleaning leather, Benefits of cleaning vinyl, boat, car, clean, cleaning, clean leather, commercial, couch, couch destruction, couch repair, cracked leather, dark spots, DIY, dried out leather, Fibrenew, fix, fixing vinyl, franchise, fully-finished leather, furniture repair, hairspray, home re-model, how to clean leather, leather, leather chairs, leather furniture, leather hunting, leather restoration, leather sofas, leather sources, leather types, markers, motorcycle, oil, oil damage, olive oil, pigmented, plane, prevent damage, refurbish, repair, restoration, sun damage, used leather, vinyl, water damage,