Podcast: Team Approach: Nashville Area Franchisees Do It Right (Episode 4 of 6 in the Fibrenew Business Models Miniseries)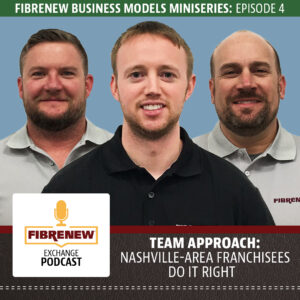 Thank you for joining us for installment 4 of 6 in a miniseries focused on showcasing the various types of business models that exist within Fibrenew.
Nashville area franchise owners, JT Thompson, Mat Meade, and Mark Chasteen are not only Fibrenew friends and neighbors, they are true business partners. When all three of them were getting to a point where they were spending too much time in the business, instead of working on the business, they all knew it was time to hire an admin. So, they banded together and hired a shared admin who now quarterbacks each of their businesses handling inbound phone calls, emails, and texts, creating quotes, handling scheduling, invoicing, and much more. It took a load off their shoulders and helped make way for them to generate more business each week.
In this conversation, you'll hear how JT, Mat, and Mark have structured everything with their shared admin, how the technical logistics work, how they pay her, and also just how valuable and vital she's become to their businesses. We hope you enjoy listening in as there are many great insights to be had, cheers!
To hear other Fibrenew Exchange Podcasts, visit: fibrenew.com/exchange
For information on Fibrenew Franchising, visit: fibrenew.com/franchising