(Podcast) Resale Selling Experience (Part 1 of 2)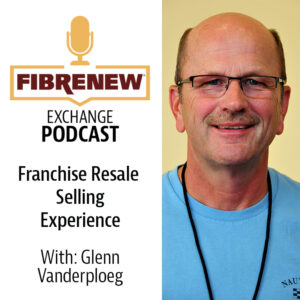 Welcome to part 1 of a 2 part series on the topic of business succession with Fibrenew. On this installment, we talked with former Fibrenew Franchise Partner, Glenn Vanderploeg, and had him describe the good feeling he had upon selling not 1, but 2 Fibrenew territories that he owned and operated for 12 years.
You'll hear about Glenn's experience with finding new owners, how he worked with our Franchise Development Team to do that, how long the process took, how he planned it all out and what he's doing now that he's a blissfully retired man.
If you have any questions about the resale process, we'd be happy to have a chat with you. Franchise Consultant, Jamie Myles is your point of contact and she'll be happy to talk => jamie@fibrenew.com or 800.345.2951 x 102
Be sure to check out part 2 where we hear from the other side of the succession fence. Jay and Kelsey Stewart are franchisees who bought an existing territory and they describe what that experience was like. We hope you enjoy this podcast, cheers!
Comments: