PODCAST: Husband & Wife Power Team: Todd and Joanie Penhollow (Episode 2 of 6 in the Fibrenew Business Models Miniseries)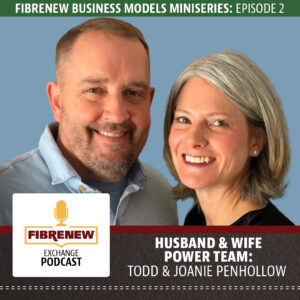 Thank you for joining us for installment 2 of 6 in a miniseries focused on showcasing the various types of business models that exist within Fibrenew.
Todd and Joanie Penhollow of Fibrenew Central Oregon are a shining example of how a husband and wife team can and should work within Fibrenew's franchise system. In this conversation, you'll hear how they work together every day, either working on jobs as a team or splitting duties and doubling up on revenue-generating activities. You'll hear how it took Joanie a few years before coming on board with Todd full-time in the business as well as how much they truly enjoy working together every day.
Todd and Joanie are an inspiration in how they run their business as a partnership and we hope you enjoy listening in, cheers!
PS: check out this article from Todd and Joanie and their Five Ways to Make a Spousal Business Venture Successful
To hear other Fibrenew Exchange Podcasts, visit: fibrenew.com/exchange
For information on Fibrenew Franchising, visit: fibrenew.com/franchising
Comments: