(Podcast) Franchisee Joe Day and How Activity Breeds Activity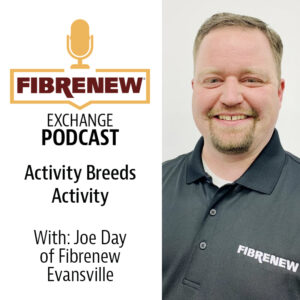 In this episode, we sat down with Joe Day of Fibrenew Evansville in Evansville, Indiana. At the time of this recording, Joe was just shy of the one-year mark of operation of his Fibrenew business. He's now booking 5 digits worth of revenue each month and has a schedule that's booked out two weeks in advance.
Joe explains what year one was like, he steps us through all the activities he's done to grow his client list and what's in store for his business just around the corner.
We hope you enjoy this conversation and if you have questions for Joe, look him up on Facebook at Fibrenew Evansville and shoot him a message. Cheers!
PS: be sure to check out the full library of Fibrenew Exchange podcasts here, or subscribe on Apple Podcasts or Spotify