PODCAST: Owner + Technician + Admin Model in Fibrenew Vancouver (Episode 3 of 6 in the Fibrenew Business Models Miniseries)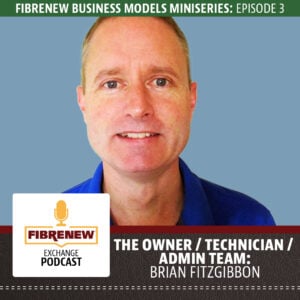 Brian Fitzgibbon owns and operates Fibrenew Vancouver. He purchased the business in 2010 and for eight years ran the franchise as an owner / operator – taking care of everything in the operation. Doing the repair work, fielding all inbound inquiries, marketing and sales, handling the scheduling, billing, bookkeeping and more. He reached a point to which wearing all those hats was not sustainable for the long haul. So he made a switch and hired an admin to quarterback the organization and day-to-day logistics of running the business. Fibrenew Vancouver was transformed the moment Erin Jackson came on board. She helped pave the way for Brian to do more work, which increased his revenue, stayed more organized, was able to take proper vacations, and have more family time.
In this conversation, you'll hear how Brian and Erin have structured everything and about Erin's changing role in the business today which continues to open up more opportunities. We hope you enjoy listening in, cheers!
To hear other Fibrenew Exchange Podcasts, visit: fibrenew.com/exchange
For information on Fibrenew Franchising, visit: fibrenew.com/franchising
Comments: