(Podcast) No More Ulcers & Stress Headaches!
You might think that a natural transition from the hustle and bustle of corporate America's IT, communications and sales world into the role of owning a mobile service franchise business specializing in leather, plastic and vinyl restoration does not exist, but JT Thompson proves that assumption wrong.
Thompson is the proud owner / operator of Fibrenew Nashville Metro, a business that is thriving and expanding because of his due diligence, commitment to craftsmanship and good old fashioned hard work.
"[Twenty years in middle management] was fine," he says. "It was my 'job.' But as the adage goes, 'If you do for a living what you enjoy you'll never work a day in your life,' I had to make a big decision." So, after his corporate position was phased out how did Thompson take control of his future?
Listen To The 22 Minute Podcast Interview with JT Thompson:

Before Owning Fibrenew Nashville Metro, JT Thompson Had Two Advantages:

First, he understood himself and his talents well. "I love working with my hands. Old world craftsmanship is a passion of mine," he explains. In fact, he first came across the Fibrenew brand as he was working on an old BMW with leather seats in need of attention. A quick Google search in his area resulted in no formative leads, but he did come across one name many times — Fibrenew, a company with established franchises across the globe that specialize in leather, plastic and vinyl restoration and repair. "I thought, 'Wow! There's nothing like that in the Nashville area.' And knowing the car enthusiast market the way I do, I understood there was something to be made with that." That's how he made the initial decision to approach to Fibrenew head office.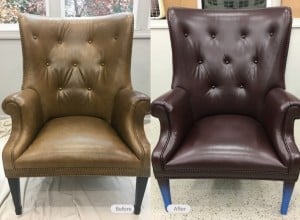 Second, while Thompson has an entrepreneurial background (in addition to his lengthy corporate career he also owned his own telecommunications consulting firm), he understood the benefits of owning a well-established, superior-run franchise such as Fibrenew. For more than 30 years Fibrenew has perfected its leather, plastic and vinyl restoration and repair business model, developed patented products and technology, educated hundreds of entrepreneurs and established not only a technical support system but a reliable, peer-driven "cheer squad."
"I already understood the blood, sweat and tears that go into owning your own business," he says, "but with Fibrenew it's lot more turnkey. It still requires your hard work, but there are many advantages to franchising."
JT Thompson of Fibrenew Nashville Metro Identifies the Benefits of a Fibrenew Franchise

The mobile service of Fibrenew has a specialized product line and repair technologies already in place to set your franchise of repair, restoration and renewal of leather, plastic, vinyl, fabric and upholstery apart from others
Fibrenew franchisees become educated using a system that works. You do not have to "teach yourself' how to succeed. Just talk to someone who has undergone the training
The reputation and name brand of Fibrenew is well established, recognized and valued around the globe. (For fun, do a Google search in your area …)
The Fibrenew head office takes the marketing of your franchise seriously. Thompson notes: "The internet marketing, SEO, ad placements — this is a full time job if you're going to do it right. And the Fibrenew team took it off my plate."
The support from both the head office and other franchisees is invaluable. Says Thompson, "I haven't been on my own since I came on board. Fibrenew is a company of entrepreneurs, but it's a familial group. It's unique to this franchise."
This is Where Fibrenew Nashville Metro Stands Today


Before Thompson became the owner of Fibrenew Nashville Metro, he saw a market for car enthusiasts such as himself. Within days of becoming the chief, he was fielding calls from commercial furniture vendors, warranty companies, other automotive clients, home furniture inquiries, and (thanks to his wife who is a pharmaceutical rep) the largely unserviced field of medical offices. "I am in assessment phase right now," he grins. "I'm not saying no to anything, but I am trying to determine what I enjoy and what's lucrative."

Thompson committed to a major life transition, and he couldn't be more pleased with the direction his future (and his family's) is headed. "I've identified I'll need an additional technician sooner rather than later! I'm already working on the job description."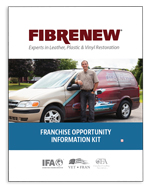 Are you looking for a new career where you can be your own boss and take charge of your financial future? Fill out the form below to download a PDF Information Package and learn more.
Our promise: no high pressure sales calls, just the info you want.

Secure form. Your info is safe. Fields marked * are required, thanks!
Fibrenew respects your privacy. We may contact you with further info about our franchise opportunity but we will not sell or distribute your personal info to a 3rd party.
Comments: