Needing a Career Change a After Life Changing Mountain Bike Accident: Evan Kelly Found His Groove with Fibrenew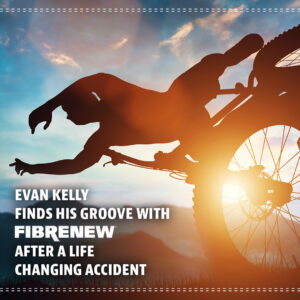 Evan Kelly of Fibrenew Boulder Golden is a self-described outdoor enthusiast. He found out about Fibrenew while he was recovering from a life-changing mountain bike accident. He had been in the automotive towing industry for 8 years and he needed something new, something more family-friendly, but still something rewarding and hands-on in nature. The Fibrenew opportunity, with its growth potential, freedom to schedule his own time, and green renewal aspects, really appealed to him.
Doing the repair work is the most gratifying for Evan, and like many, the color matching is the most fascinating. When we spoke with him for this article, he was working on a 1980 Camaro Pace Car and was re-dying the driver's seat. We could feel his smile through the phone as he was working.
Evan spends most of his early mornings doing paperwork and administrative work, and spends his afternoons on restoration projects and making sales calls. Evan has targeted the residential, automotive, and medical industries as places he wants to focus his efforts to start. He is working on partnering with a full-service car wash to offer car seat cleaning and repairs of car interiors.
Evan has been with Fibrenew since the spring of 2015 and has a definite vision for his 5 and 10-year plans. Both are based on growing his business and adding on technicians to help with the added workload. With his self-motivated attitude and 'get-your-hands-dirty' type work ethic, we'll be sure to see his Franchise reach all his personal and professional goals as planned.
Are you looking for a new career where you can be your own boss and take charge of your financial future? Fill out the form below and learn more.
Our promise: no high-pressure sales calls, just the info you want.
Fibrenew respects your privacy. We may contact you with further info about our franchise opportunity but we will not sell or distribute your personal info to a 3rd party. 
Comments: