Milestone Moment: 300 Fibrenew Locations Around the Globe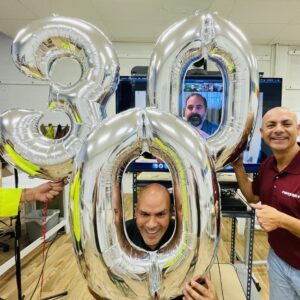 Milestone moment here at Fibrenew! With the recent graduation of the August training class, we are proud to announce that we now have over 300 franchise locations in operation around the globe!
Congrats to the newest members of the Fibrenew family: Jorge Figueroa and Carlos Henao of Fibrenew Osceola, FL, and Marc Lawrence of Laurel Highlands, PA! We're so happy to have you on board and know that raging success with your new businesses awaits you!
As to reaching this milestone…part of our ethos at Fibrenew is to stay humble, but if we may take a moment to say HECK YEAH, BABY 😀 ⭐ 🤩 What an incredible feeling to know that 301 entrepreneurs call Fibrenew their own. That in itself is humbling.
We'll have more eloquent words to share on this milestone in the coming days. For now, we have to take a moment to say a sincere thank you to all those included in our train of wagons. Our amazing franchise partners who have put their trust in us. Our dedicated head office team who keeps the machine well-oiled. The talented franchise consultants who represent the brand, and of course our customers who allow us the opportunity to make them smile every day. From the bottom of our hearts, and with mountains of gratitude, thank you!
Comments: