Local entrepreneur ushers in new era for Fibrenew Avalon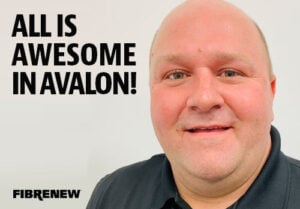 Neil Hoskins is the proud new owner of established leather repair, plastic and vinyl restoration franchise.
AVALON PENINSULA, NL — March 2020 — When Neil Hoskins suffered a major shoulder injury after spending more than a decade working at a local car dealership, he could have spent his time frustrated by his fate. No one would have faulted him.
But, he decided to forge ahead on a different path — he decided to pursue something that allowed him to continue working with his hands, but not overdo it. And something that allowed him to tap into an entrepreneurial spirit that had always been there, waiting for the right opportunity to bud.
So, when he had the chance to acquire the local Fibrenew, a multi-national restoration and repair franchise, he knew he couldn't pass it up.

"First of all, running this business gets me back into the workforce in a really meaningful way," Hoskins said. "I would like to grow it enough so I get to the point where I can manage the business, bring on team members and stay busy running it."
This year, Hoskins became a new member of the Fibrenew family with the launch of their franchise serving the Newfounfland Capital District, joining a network of more than 250 franchises across North America owned and operated by owners who bring Fibrenew's proprietary restoration and repair services to homes, offices, medical clinics, cars, boats, and restaurants around their regions.
Fibrenew of Avalon serves the Avalon Peninsula and surrounding communities. The company specializes in leather, plastic, vinyl and fabric restoration and repairs, saving consumers, businesses, and organizations money while bringing everything from an old sofa to the interior of a muscle car back to like-new condition.
When he was finalizing his decision to purchase the Fibrenew territory, one thing really stood out to him: How important it was for the franchise to make sure his wife was part of the decision.
"I love the fact that Fibrenew wants to ensure that your whole family is on board with the purchase," he said. "If you have a business and the other half isn't on board, it's going to be very difficult."
Fibrenew, founded in 1985, prides itself on being a flexible model that provides franchise owners the tools they need to grow their territory while offering them a business opportunity that helps them build a legacy and support their families. The franchise offers a straightforward franchise payment where franchisees flat monthly royalty instead of the typical percentage of earnings for franchise systems.
The franchise is a time-tested model with a growing number of national accounts that turn to Fibrenew for restoration and repairs, including Zurich Shield, Concentra, Flexsteel, Two Men and a Truck, Punch Bowl Social and many other brands.
"Neil's perseverance in the face of adversity is truly inspiring — I'm confident he will be a great fit for Fibrenew," said Jesse Johnstone, President of Fibrenew. "He's been a hardworking, loyal and grounded professional his whole life and he has a highly supportive family cheering him along every step of the way. We're excited to have him join our franchise community."
Visit fibrenew.com/avalon to learn more about Hoskin's new restoration and repair business. Call 709-685-2509 or email avalon@fibrenew.com to schedule an appointment.