Leather furniture cleaning and repair product guide
When it comes to repairing and caring for leather furniture, there are hundreds of options.  Furniture stores and online retailers offer up products that do everything from cleaning to dying leather.  However, you should proceed with extreme caution when you use these DIY products on your furniture.  I've heard and seen the effects of horror stories where these products ruined people's leather furniture, so here are a few pointers on what to look out for.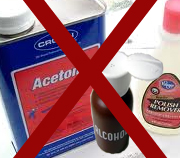 1. Don't use any products that contain alcohol or acetone.  Alcohol seeps into and damages the protective surface of furniture leather.  Acetone will remove the dye and color from leather.
2. Be sure to use products designed for upholstery.  Leather used for shoes, jackets and clothing is very different than that used in furniture.
3. Only use products designed for the type of leather you have.  Most furniture is made of aniline, semi-aniline or fully-finished leather.  Because of the differences in finish, it is very important to use only products designed for the leather you have.
4. Dying leather is a highly specialized art.  Professionals receive extensive training on color matching and dying, and it's not at all likely that any DIY dye kit will produce very good dying results.  So, be very careful with these products – test them on a part of the furniture that no one will ever see before you use it on the visible part of the piece.
5. Stay away from products that say they are for multiple surfaces, even if one of those surfaces is leather.  Most of the time these products contain elements that will damage leather.  It is best to stick with products made specifically for leather.
[Gallery not found]
Also, there are lots of people out there who have heard old wives' tales about household products to use on leather.  Some of these can be helpful, but there are many that do not work and will ruin your leather furniture.  One example is using olive oil to fix minor dings and scratches on leather.  People also try using finger nail polish remover, shoe polish and window cleaner, among other things, to work on damaged leather.  All of these options can cause major damage to your leather down the road.
Any questions?  Have any experiences with leather products to share?  Post them in the comments!
Comments:
Related posts:
Tags:
alcohol based, Benefits of cleaning leather, Benefits of cleaning vinyl, boat, car, clean, cleaning, cleaning products, clean leather, commercial, couch, couch destruction, couch repair, cracked leather, dark spots, DIY, dried out leather, faded leather, Fibrenew, fix, fully-finished leather, hairspray, home re-model, how to clean leather, leather, leather chairs, leather furniture, leather products, leather restoration, leather sofas, leather sources, leather types, markers, motorcycle, oil, oil damage, olive oil, plane, plastic, prevent damage, refurbish, repair, restoration, sagging, sun damage, types of leather, used furniture, used leather, vinyl, water damage,