How to fix water damaged leather car seats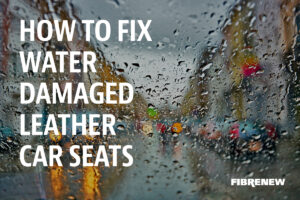 Many of us have done it —left our car windows open or our tops down in the rain. The good news is – a little bit of water, if cleaned up quickly, isn't likely to hurt your leather.
In fact, most car leather has a protective layer that will help prevent immediate damage.  This coating is designed to give you enough time to clean up a small drink spill or rain before it soaks into your leather.  So, if you quickly go outside to roll your windows up after the start of a rainstorm and wipe your seats off, you should be fine.  But, if you let it sit for very long, the water can make your leather seats a little stiff.  The same can happen to leather when you spill liquid on it and don't clean it up quickly.
How to fix stiff leather from water damage
Massaging – or 'milling' the leather is the best way to soften it up if it's become stiff from water damage.  Unless the damage is severe, it should soften up after you knead it for a few minutes.
How to clean up liquid spills in the car
For small water spills, wipe up all excess water and let your car seat dry naturally. If you spill a liquid on it that is not water, use a damp towel with distilled water to wipe up the mess, wiping away all excess liquid and letting the seat dry naturally.
What to do if your car gets flooded
When water has flooded your car and your leather seats, a whole new problem arises – the contaminants in the flood water can damage the seat's interior and leave a foul odor. This usually means the seat's cushioning needs to be replaced.  That can be a large expense.  However, if the seat doesn't smell bad after you allow it to dry out, chances are good that you can get a leather professional to repair the damaged leather for a reasonable price.
Post any additional questions in the comments, and we'd be happy to answer them for you!
Comments: