How to fix and prevent water damage to leather furniture upholstery
Water damage due to spills is not, typically, a major cause for concern with leather.  A little water won't hurt leather at all, and most leather products have a protective layer that gives you enough time to clean up water spills before leather soaks it up.  When spills and small amounts of water do damage leather, it usually just makes the leather stiff. (Think about leather work gloves that always get stiff after a day of gardening.)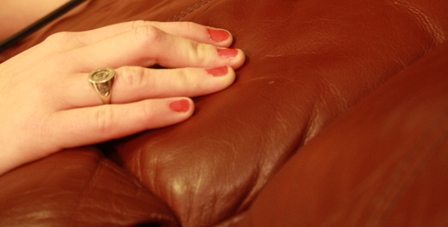 However, flooded leather furniture is another issue.  Most of the time, the problem isn't the water itself, but the contaminants and minerals in it.  The contaminants damage the frame and foam in the furniture, usually has an odor and making for a costly repair.  But, if only part of your furniture was flooded or if it was flooded with clean water, it might be a relatively easy professional fix.
A couple simple precautions:
1. When using water to wipe up other spills on your couch, consider using distilled water because minerals and rust in some waters can damage leather.
2. If you do spill water on your couch, wipe up the excess and let it dry naturally.
3. Clean and protect your couch regularly to make it more resistant to water damage.  Here's how: blog post.
Fix water-damaged leather:
The best way to soften up leather stiffened from water damage is to massage it. Think back to those work gloves.  When you put them on in the morning, they're all stiff from the last day's work, but once you move around in them for a little while, they get soft again.
If your leather is damaged by flooding, you can usually tell if it is going to be an expensive repair by whether or not it has a bad odor.  If it does, then the foam and/ or frame probably need to be replaced, which can get pretty pricy.  This is usually only worth the expense for furniture that was pretty expensive to begin with.  If the couch doesn't smell bad, but it does look bad, you can probably get a professional to re-dye that part for a reasonable price.
Comments:
Related posts:
Tags:
alcohol based, anilin aniline, automobile, Benefits of cleaning leather, Benefits of cleaning vinyl, boat, car, clean, cleaning, clean leather, commercial, couch, couch destruction, couch repair, cracked leather, dark spots, DIY, dried out leather, Fibrenew, fix, fixing vinyl, franchise, fully-finished leather, furniture repair, hairspray, home re-model, how to clean leather, leather, leather chairs, leather furniture, leather hunting, leather restoration, leather sofas, leather sources, leather types, markers, motorcycle, oil, oil damage, olive oil, pigmented, plane, prevent damage, refurbish, repair, restoration, sun damage, used leather, vinyl, water damage,