How Steve Geddes purchased a Fibrenew location through a resale and spun it into a top-ranking franchise powerhouse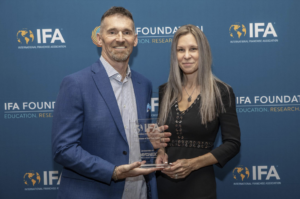 The Rewards of Resale. By Rahaf Farawi for the CFA
After spending several years representing commercial furniture companies and running his installation and staging company, Steve Geddes's franchise curiosity was piqued when he stumbled upon a story about Fibrenew. Without hesitation, he quickly researched the brand's restoration and repair services.
From furniture to car interiors, boats, and even airplane seats, the mobile service company uses various techniques and materials to repair and restore damage caused to leather, plastic, and vinyl materials by wear and tear, accidents, and aging. Given his background and love for furniture, Geddes thought this might be a good fit for him.
Intrigued, he reached out to the company to ask about potential franchise opportunities. Going back and forth, he decided to ask about options in B.C.'s Okanagan region, where his wife is from. "I threw out, 'Hey, is there anything available in Kelowna?'" Coincidentally, there was a franchisee there looking to sell his territory.
"So, we started going down that route. We had a five-year plan to perhaps move back to the Okanagan, closer to my wife's family," he says.
Within a year, Geddes had purchased the franchise and moved to Kelowna, ready to dive headfirst into his new business venture. Initially, he had planned to work alongside his son, with the goal of eventually passing the business down to him. However, COVID-19 forced a change of plans, and Geddes found himself running the franchise on his own.
Despite the unexpected change, Geddes was determined to make the most of the opportunity. "Let's grow it and see how big we can get it," he recalls of his mindset at the time. With his extensive background in furniture sales, installation, and staging, he saw the potential to expand Fibrenew's services beyond just mobile services, into upholstery and other furniture-related add-ons. And he wasn't content with just maintaining the existing customer base; he wanted to grow the business as much as possible.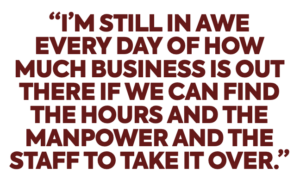 Resale revamp vs. brand-new build
Initially, there were opportunities to buy a new Fibrenew territory elsewhere, but Geddes recognized the pros and cons of buying an existing territory rather than starting from scratch. "The beauty of an existing territory is you have a book of business you're buying, or you've got existing customers, and you don't have to start from ground zero or no sales." However, it also means working in an existing framework and changing systems and practices that may have been left by the previous franchisee.
"The price to buy that business is going to be more than an open franchise … you have to weigh those two odds: how comfortable are you growing from zero? Or do you want to have some cash flow right away?"
While training with other Fibrenew franchisees, Geddes noticed that many were overwhelmed with landing in a territory where they had no connections in a limited market. "[There's a] great opportunity to train and practice, a great opportunity to sell, but no business," he says. "[While] we bought a franchise that did have some business, had some good customers, that was just underdeveloped and under-nurtured."
Geddes's approach to buying an existing franchise was well thought out. To help guide his efforts, he created a comprehensive business plan that delved deep into the market and identified potential revenue streams and markets he could expand into. This plan included a financial spreadsheet with several years of future projections, as well as operational, sales, and marketing strategies. "I still go back to that and refer to it quite often to see if I'm doing what I thought I would be doing from day one."
To successfully negotiate the purchase of the franchise, Geddes invested significant time and effort in discussions with the previous franchisee. According to him, the previous franchisee was upfront, and he advises prospective franchisees to have as many of these initial conversations as possible.
He also took the time to understand his customers. Before moving to Kelowna, Geddes visited a few times to test the waters. "I walked into existing customers and asked, 'Hey, what's your Fibrenew relationship,' and customers were forthcoming."
Although the head office provides great training and resources, Geddes believes it's on him to get customers and grow the brand in his market. "The onus is on the franchisee to get out there and network."
Most importantly, Geddes recognized the importance of thoroughly understanding the ins and outs of Fibrenew's services. He spent the first six months immersing himself in the role of a technician and using the company's tools daily. This "hands-on" approach allowed him to gain a solid understanding of the business and its operations.
Staffing changes and challenges
Geddes also has a unique approach to hiring technicians, seeking out individuals who possess transferable skills and exceptional attention to detail. He recognizes that previous experience doesn't showcase a potential hire's full range of skills and looks beyond traditional qualifications to find the right people for Fibrenew. For example, Geddes has found that automotive detailers and painters often excel as technicians due to their keen eye for detail and ability to understand colour, which is crucial in their work. The result is a highly skilled team dedicated to providing exceptional service to clients.
While hiring is a large time and monetary expense for business owners, Geddes believes that staff can be a source of revenue generation instead of just perceived as a labour cost. He says that owners changing that mindset helps businesses grow. "I always look at it as an opportunity."
But staffing challenges don't just end at hiring top talent. Geddes is guided by advice he received from a mentor years ago: "When you hire somebody, it's never forever." To retain staff, Geddes is committed to fostering a "family environment" for his team, so they want to stay longer. One example of this is when his staff repairs furniture for a business, he often requests gift cards from the same business as supplementary payment. These gift cards are then distributed amongst his team as a reward for their hard work, providing both recognition and an opportunity to enjoy the services of the businesses they helped. This mutually beneficial approach allows Geddes to give back to his team while also supporting local businesses. From spas to restaurants, his staff looks forward to receiving monthly gift cards to a range of businesses. "Little things like that are keeping staff around a little bit longer," notes Geddes. "It's a win-win for everybody."
After three successful years in the franchise business, Geddes was recently named the 2023 Franchisee of the Year at the annual International Franchise Association conference in Las Vegas, Nevada. While he remains fully committed to his business, he now seeks to delegate management responsibilities to a trusted team. In turn, this gives him more time to do what he loves: "My passion is scaling businesses, is growing companies, is growing brands and market share." He's currently working with Fibrenew's head office on coaching and mentoring franchisees across North America who want to grow and diversify their business.
"I've yet to find the ceiling in any of our markets," says Geddes. "I'm still in awe every day of how much business is out there if we can find the hours and the manpower and the staff to take it over."
For more on Steve and Fibrenew Kelowna, visit: fibrenew.com/kelowna/
For more about Fibrenew franchising, visit: fibrenew.com/franchising/
To see current Fibrenew Franchise Territory resales, visit: fibrenew.com/franchising/current-franchise-territory-resales/
Comments: