"Here We Grow!": Fibrenew Salt Lake Central Says Consistency is Key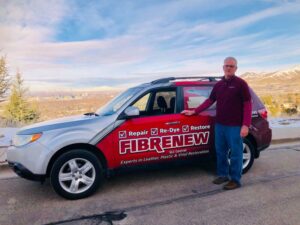 Fibrenew Salt Lake Central, the mobile leather, plastic and vinyl restoration franchise owned and operated by Tom Stewart, is a popular new element within the community. "People have flagged me down like the cops!" he laughs. "They take pictures of my car!"
While the Fibrenew vehicle sure is a hit, Stewart understands the success of his business rests on more than just four wheels. It comes from delivering concise results for the clients seeking repairs or restoration of everything from RV seats, patio furniture, sofas and medical furniture. This pursuit of perfection is intrinsic, but Stewart also credits the Fibrenew training given to all franchisees as a positive experience where he was encouraged to dig deep and hone the skills necessary to become a true industry leader. "The training was thorough, and I really enjoyed it," he says. "Especially the Color Eye technology — I rely on it all the time!"

Fibrenew is the leading global franchise of experts in all things leather, plastic and vinyl. The company has unmatched patented technology that franchisees are able to harness to achieve outstanding results in their businesses. Fibrenew's head office also has a professional support team who provides cutting-edge marketing strategies that allow each territory around the globe to expand and capture their specified market, leading to not only more profits but greater recognition of the Fibrenew brand.

Stewart has been busy with Fibrenew Salt Lake Central in the automotive, medical, residential and restaurant industries. As vast as his skill set is, he looks forward to solidifying more long-term contracts with repeat work (which includes warranty and insurance). Stewart takes charge of his mobile leather, plastic and vinyl restoration and repair business by including valuable expertise on his clients' requests. "I had one customer who requested I recolor their sofa. I explained how a cleaning and protection of it would be beneficial too, and ended up doing their chair and a bunch of cushions as well. They were happy and I really enjoyed the work."

While he laughs that his vehicle is a popular subject for local Instagrammers and hobby photographers, he admits it's great for bringing in business. "That, and the ad words campaign [by Fibrenew head office] and referrals from neighbouring franchisees." The Fibrenew "family" of head office and other entrepreneurs with their own mobile leather, plastic and vinyl companies are supportive with online message boards and videos, and the simple, yet powerful, phone call.
Stewart's Fibrenew Salt Lake Central franchise is young, but oh so mighty. He eagerly accepts unique and challenging projects — such as re-dying a racing track suit —and looks forward to expanding his vinyl window and siding services in the months to come.
The consistent results that come from a Fibrenew expert is what brings the customers back, and the education and products provided by the professionals at home office is a key feature of the franchise's success. Congratulations Tom Stewart on your foray into success.
For leather, plastic and vinyl repair in Salt Lake City, please contact Tom Stewart at: www.fibrenew.com/slcentral or 385.270.7045