Hands-on Independence Key to Fibrenew Heritage Corridor's Success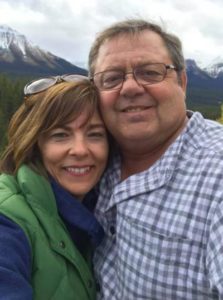 Fibrenew Heritage Corridor is a busy leather, plastic, and vinyl repair and restoration business located approximately 80 miles southwest of Chicago in Midwestern Illinois. Owners Darrell and Denise Fleming enjoy the freedom they have achieved with becoming their own bosses and investing in the successful franchise. The mobile aspect of the company was a major selling point for them. "I like that it's 100 percent home-based and I don't have to operate out of a storefront," Darrell explains. "It's also very fulfilling to fix, repair and build things."
Fleming has worked with his hands previously as an auto mechanic, even teaching the skill at a technical institute. "I am into cars!" He laughs. He's also experienced with building and industrial maintenance, and says, "My entire background being in maintenance really plays well into the Fibrenew concept."
Fibrenew is the market leader of restoring and repairing leather, plastic, and vinyl. The home-based mobile franchise services a variety of industries, including automotive, marina, medical, commercial and residential clients. The products and techniques are patented, and every franchise partner is armed with the training, knowledge, and support of home office. All that's left for franchisees to do is succeed with hard work and determination.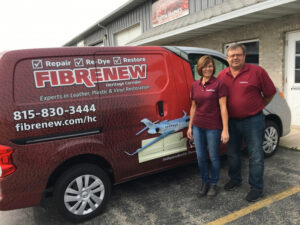 "The independence from Fibrenew is just great," Fleming notes, adding with a laugh, "If I'm mad at the boss I can cuss him out!" Owning his own mobile leather, plastic and vinyl repair service is rewarding for Fleming, who understands 100 percent of his company's growth stems from his own hard work and customer service.
To fund his new business venture, Fleming started a C corporation and used his 401k to avoid securing a bank loan. Because he is also a veteran, Fibrenew extended its 10 percent discount on the franchise fee, which helped lower the startup costs.
"The training process was very thorough," he notes. This included both in-person training at Fibrenew headquarters in Calgary, Alberta, and a ride along with another franchisee owner. This first-hand look at the day to day business allowed Fleming to understand how days are structured and how one franchisee's interests, such as marine, influences the clientele base. "I spoke to probably ten or 12 franchisees before I bought mine!" he says. "From all over the country. I have no regrets investing in a Fibrenew franchise at all."
Though still relatively new in running his own business, Fleming has a key piece of advice to other new franchisees. "Make those sales calls!" he exclaims. "Always make those calls so you don't fall into a quiet spot. Even if you're so busy doing your repairs, don't stop the calls."
Fibrenew Heritage Corridor has a variety of regular auto dealers as clients, and Fleming is excited to be breaking into the marine industry as well. He's been helping furniture dealers with repairs and warranty work and recognizes the repeat jobs as indicative of the quality of his work. In the near future, Fleming aspires to have enough business to hire a technician who can perform the same high quality of work and break into the lucrative medical industry.