From Lemons to Leather: Fibrenew Welcomes Family Man Hank Weinstein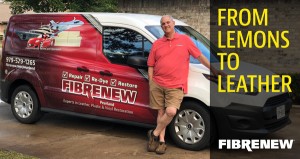 For forty years, Hank Weinstein excelled as a top level manager in the food service distribution industry, moving throughout Texas managing multimillion dollar companies and leading hundreds of employees. It was a fine career for him and his family (Hank is the proud father of six daughters), and satisfying enough. But Weinstein is not one to settle for "enough" — he always had a desire to leave the corporate world and apply his skills towards an enterprise that would give him greater fulfillment. He'd reached as high as he could possibly go in his career, but was not ready to dial in his retirement.

Thinking he'd purchase a fast food/casual brick and mortar franchise, Weinstein serendipitously came upon Fibrenew, the leader of leather, plastic and vinyl restoration and repair, after unintentionally filling out an application for exploration — an occurrence he couldn't be more happy with. "The more and more I talked with the franchise development coordinator, Bob Johnston, the more positive our talks became," he laughs. "What got me even more interested in Fibrenew was how Bob got my wife involved." Weinstein explains that after decades of moving around and busting his butt for large corporations, having a family-centric franchise to his name made better sense as the exploration progressed. Having Johnson include Tammy, Weinstein's wife of 22 years, in these discussions was a big component of his transition to Fibrenew.
That, and meeting other Fibrenew entrepreneurs. Weinstein did a ride along with Craig Burton of Fibrenew Metro Austin and really got the day-to-day feel of how to tackle a territory, handle the administration and apply the patented hands-on techniques Fibrenew customers appreciate. "I rode along to see how he did it all. We did a few jobs together, and he had me on the spray guns, and I was texturizing … and I thought, 'Hey, I really like this!'"
The transition from general manager of a large food service corporation to entrepreneur with his own leather, plastic and vinyl restoration and repair business is not as big as a stretch as an outsider might assume. You've got sales to manage, employees to juggle, inventory to account for, customer service to perfect, and financial goals to meet. Weinstein states: "I have been there, done that. I have not left any rock unturned!"

On the learning curve new entrepreneurs experience when launching a successful brand, Weinstein is unfazed. One of his favorite parts of his former career was "Taking lemons and making sweet lemonade." He grins as he explains, "I'm not nervous. I've run multimillion dollar companies and put up with a lot of interesting stuff. I do not look for failure. I am disciplined and I am accountable."
Fibrenew Pearland services a bustling territory that includes Santa Fe, Alvin and part of the coastline along the Gulf of Texas. "With Fibrenew, there are no roadblocks. I've got restaurants, hospitals, veterinarians, car dealerships … I can't wait to do business. Just get in the car and go."
Weinstein reflects on his wife — "I tell her every day I am a lucky man!" — his family — "I'm real proud. They can do anything they set their minds to." — and his new career — "I'm living the dream! I own a company!"
Comments: