US Air Force Veteran Finds New Business Opportunity with Fibrenew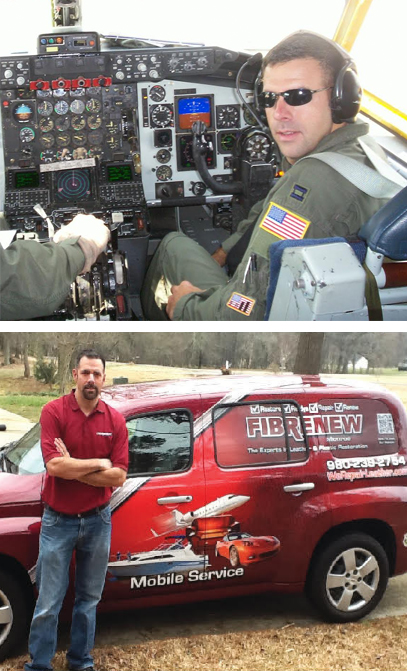 After twenty years as a pilot and crew chief with the US Air Force, David Underwood decided it was time for him to retire and for he and his wife to move back to North Carolina to be closer to family.
They looked at a few different franchise opportunities but ultimately decided upon Fibrenew. The Fibrenew franchise provided them the flexibility of their schedule and the veteran incentive program, combined with the ride along experience helped finalize their decision. David is excited to be working with his hands and not in a cubicle!
David's Dad, Craig, also joined him for the initial 2 weeks of training. When the franchise gets busy enough, Craig will help out as an additional technician. Craig attending training is just part of David's long term goal for his franchise. David's wife, Sara is now part of the business as well. It's a true family affair at Fibrenew Monroe!
During training David was really interested in the vinyl siding and plastics repair and looks forward to working within that industry along with Fibrenew's core services in leather restoration.
David is excited to be part of the Fibrenew family. He says with the great support from other franchisees and from the Fibrenew training and field support from Head Office support team, he'll have his business built up in no time.
David Underwood can be reached at:
www.fibrenew.com/monroe
980-239-2754