US Air Force Veteran Finds New Business Opportunity with Fibrenew
After twenty years as a pilot and crew chief with the US Air Force, David Underwood decided it was time for him to retire and for he and his wife to move back to North Carolina to be closer to family.
They looked at a few different franchise opportunities but ultimately decided upon Fibrenew. The Fibrenew franchise provided them the flexibility of their schedule and the veteran incentive program, combined with the ride along experience helped finalize their decision. David is excited to be working with his hands and not in a cubicle!
David's Dad, Craig, also joined him for the initial 2 weeks of training. When the franchise gets busy enough, Craig will help out as an additional technician. Craig attending training is just part of David's long term goal for his franchise. He would like to see the franchise grow to include a couple technicians, thriving and busy and then sell it and retire.
During training David was really interested in the vinyl siding and plastics repair and looks forward to working within that industry along with Fibrenew's core services in leather restoration.
David is excited to be part of the Fibrenew family. He says with the great support from other franchisees and from the Fibrenew training and field support from Head Office staff Dan, Jeff, Paul and Kelly, he'll have his business built up in no time.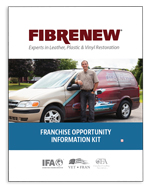 Are you looking for a new career where you can be your own boss and take charge of your financial future? Fill out the form below to download a PDF Information Package and learn more.
Our promise: no high pressure sales calls, just the info you want.
Fibrenew respects your privacy. We may contact you with further info about our franchise opportunity but we will not sell or distribute your personal info to a 3rd party. 
Related posts:
Tags:
alcohol based, Benefits of cleaning leather, Benefits of cleaning vinyl, boat, car, clean, cleaning, cleaning products, clean leather, commercial, couch, couch destruction, couch repair, cracked leather, dark spots, DIY, dried out leather, faded leather, Fibrenew, fix, fully-finished leather, hairspray, home re-model, how to clean leather, leather, leather chairs, leather furniture, leather products, leather restoration, leather sofas, leather sources, leather types, markers, motorcycle, oil, oil damage, olive oil, plane, plastic, prevent damage, refurbish, repair, restoration, sagging, sun damage, types of leather, used furniture, used leather, vinyl, water damage,