Freedom & Flexibility: From helicopter pilot to Fibrenew franchisee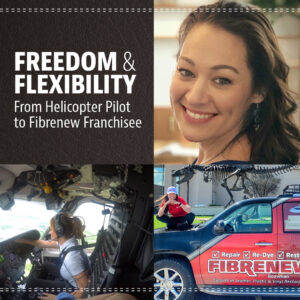 By: Jill Abrahamsen of Franchise Consultant Magazine
Genevieve Alexander is the first to admit that she gets bored easily. Given that fact, it makes sense that she chose a career as a helicopter pilot. It was perfect for her for some time, but considering the fact that her husband, Drew, is also a helicopter pilot, the couple's work-life balance was not balanced at all. "I needed a serious lifestyle change," she says.
So Genevieve looked to franchising for her next step. On her list of "must-haves" was financial freedom and a flexible schedule.
When Genevieve first heard about Fibrenew, she says she wasn't really excited about the concept. "Leather, plastic, and vinyl restoration didn't sound very sexy," she says. But as she dug deeper, she discovered a lot about Fibrenew that she really liked. "I loved the fact that I could scale the business at my own pace," she says. She also liked the possibilities for different types of jobs and clients. "No two days are ever the same. I love that part," she says.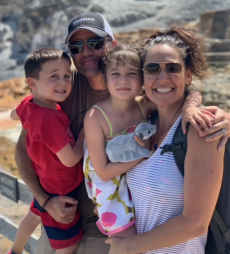 What ultimately sold Genevieve was the corporate team. "It was very obvious to me that they really care," she says. "They are always coming up with new ways to improve things and help franchisees succeed." One of the company's newer initiatives is a podcast that allows Fibrenew's more than 260 franchisees to share their experiences, tips, and best practices. "It really helps give me ideas for the business. There are so many applications for this service. The possibilities are endless," she says.
TAKING THE LEAP
A risk-taker by nature, Genevieve was true to form and opened for business in April 2020, at the onset of a worldwide pandemic. "Sometimes, you just have to go for it," she says.
Because of social distance restrictions, Genevieve was able to start her business slowly, out of her house, working by herself, or with the help of Drew. "My husband is very supportive. I call him my 'VP of Miscellaneous Stuff.' He even helps with jobs sometimes on his days off," she says. Genevieve has her sights set on scaling her franchise by adding more trucks and staff. "I plan to grow this business big time," she says.
"No two days are ever the same."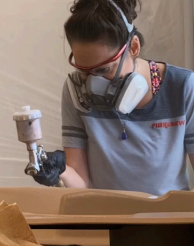 Besides the fact that she's usually decked out in Fibrenew swag, no two days are ever the same for franchisee Genevieve Alexander. The former helicopter pilot says she wouldn't have it any other way. The leather, plastic, and vinyl restoration franchise has given her an interesting, in-demand business with financial freedom and a desirable work-life balance. Some days, Genevieve works out of her home and customers drop off smaller jobs like stools, chairs, and cushions. Other days, she hits the road in her Bozeman, MT territory, working on-site for a range of commercial clients including car and RV dealerships, restaurants, and marinas. When she's not working in the field or home, Alexander works on the business out of a rented office space. Alexander says Fibrenew is a perfect fit for her because she's a hands-on person. "This is definitely not a lazy person's type of business. You do have to get out there and work," she says.
For more about Genevieve, visit her website at fibrenew.com/bozeman or see her work on Facebook.