Franchisee Interview: Mark Chasteen And Fibrenew Smyrna
Mark Chasteen, Fireman and Franchise Owner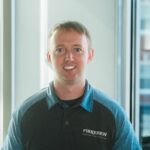 When you invest in a business, you want to be sure there is demand for the product or service, and that you'll enjoy going to work as well. In this interview, Mark Chasteen of Fibrenew Smyrna discusses his experience franchising with Fibrenew and operating his own business in Tennessee.
How did you get involved with Fibrenew?
I've worked in emergency services my whole life, and I'm currently a firefighter. But with that job, I typically only work nine or 10 days a month. Most firemen have a second job. So I was working with a consultant to find something to do, and landed on Fibrenew. It offered a lot of flexibility that could work with my firefighting schedule. I like the ability to set my own schedule and be my own boss, so I went with it.
What was it about Fibrenew that made you choose business ownership?
The head office is a huge confidence-booster. They're very friendly and will answer all the questions you have very promptly. They have a good support team. They make all their own products. Unlike some other businesses, you can tell right away the head office is all in on the franchise.
Did you have any relevant prior experience, like restoring plastics or leather?
No. I worked in a hotrod shop growing up, so I was very familiar with taking things apart and putting things together. I was a handy person, but I didn't have any experience as far as understanding the color wheel and paint work.
But that didn't matter. Fibrenew has laid out a really good training platform, both online and in-person, that allows you to learn and grow. Once you do the initial training, they give you ongoing support. So even if you're not really confident to start with, they're still there to help you once you're out in the field.
What kind of items do you work on?
There is a mix, depending on what you want to do. I've done a lot of commercial work with dealerships, warranty companies, and furniture companies, because that's the kind of work I like to do. I also work with several RV dealerships and builders to work on anything from broken tiles to damaged tubs.
What's the coolest job you've ever worked on?
I've worked on high-end cars for several NFL players, a gentleman whose father started Dollar General, a lot of big names. It's cool to meet those people and see what they're about.
What qualities are necessary to being a Fibrenew franchise owner?
You've got to have a great personality, be trustworthy, and make a good impression, because customers need to feel comfortable with you in your home. You also need patience and creativity, because some repairs don't go as well as others. If you're very linear-thinking, it may not be the greatest fit for you. But if you're an imaginative person, then you can do well with this business.
Why is now a good time to invest in Fibrenew?
There's always a demand for repairing leather, vinyl, and plastic. Those materials are never going away, and people are always building furniture, cars, and restaurants, so there is always going to be work, whereas a lot of jobs are going remote or going to AI or something like that. Robots are not going to repair a tear in your sofa or car seat. We're still a very hands-on job, and there's security in that. More people now want to recycle and repair, rather than replace their furniture as well, so we're also pushing the right way to being a very sustainable company.
Ready to Learn More about Fibrenew Franchise?
To learn more about Fibrenew franchise, visit our Fibrenew research pages here. Take the next step to becoming a Fibrenew franchise owner, and fill out our inquiry form here. A member of our franchise team will be in touch with a complimentary copy of our Franchise Information Report, containing more information about the Fibrenew franchise opportunity. Our franchise team will also be in contact to answer any questions you may have. We look forward to hearing from you!
Comments: