Former IT Support Specialist Turned Mobile Leather Repair Man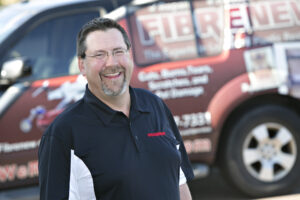 Since 2011, David Hunter of Fibrenew West Metro Denver has been building his Franchise on a foundation of hard work and exceptional customer service.
Before starting his Fibrenew Franchise, David worked in IT, managing desktop support. That is a far cry from the restoration project on a 5' tall elephant he recently completed for a client. The diversity of what he does in his Fibrenew business is something he really enjoys – everyday is something new.

He typically starts his days at his home shop and then goes where the day takes him. Some days it's completing hands-on repair work in the field and other days he tackles sales calls, networking and administrative tasks. Freedom and flexibility were two key components that brought David to the Fibrenew Franchise opportunity, and they are still important to him now.
David recently hired on a technician to help with a particularly large project, 275 pieces to be exact, for the Ritz Carleton Hotel in Denver. He plans to one day have a couple permanent technicians working with him, but he still expects to see another year or two of steady growth before he gets to that point.
David says a willingness to devote time and a commitment are needed to get a new business off the ground. After 4 years into the venture, he feels the investment he made in his Fibrenew Franchise business has been well worth it.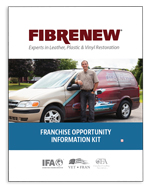 Are you looking for a new career where you can be your own boss and take charge of your financial future? Fill out the form below to download a PDF Information Package and learn more.
Our promise: no high pressure sales calls, just the info you want.
Fibrenew respects your privacy. We may contact you with further info about our franchise opportunity but we will not sell or distribute your personal info to a 3rd party.