Fibrenew Santiago, Chile Now Open for Business
Hector Pereira Introduces South America to the Wonderful World of Fibrenew
"I have a few different thoughts about business," Hector Pereira states matter-of-factly. And he's right. His career is highlighted with challenges and achievements, such as luxury product manager for L'Oreal, marketing manager for a national distributor, and sales manager for Westinghouse. Throughout his career, he's developed a keen sense of branding, budgeting, sales expansion, and client relationship building — aspects of his business knowledge he's counting on for Fibrenew's success in Santiago.
Fibrenew is a leather, plastic and vinyl repair and restoration company that uses patented products to provide results that no other company can achieve. In Chile, there isn't really a comparable alternative, so Pereira is excited to introduce this unique brand to his country.
While he always had in mind the idea of running his own business, Pereira wasn't necessarily focused on a franchise. But during his exploration process, he came to realize the benefits Fibrenew provides for franchisees. He knew he didn't want to buy a store in a mall and be locked into set hours. Pereira wanted to interact one-on-one with his customers and discuss why his product and services are better and different. "Fibrenew offers me all the knowledge I need to tell my customers," he says. "Now I just need to put everything out there because it's so different than anything here in Chile."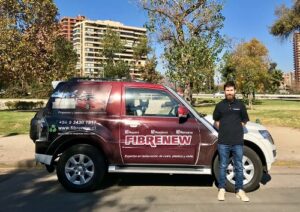 Eco-awareness is top of Chilean minds these days. Pereira looks forward to educating his clients about Fibrenew's services from an environmental perspective. "You know, tell them we have products to fix things rather than throw it out and get a new one. It helps with your money and the environment at the same time – everybody wins."
Pereira recently completed the Fibrenew training in Calgary, Alberta, Canada and says one of the highlights of the experience was working with the tools and products. He also remarked on the Fibrenew team: 'A great group. I know I have all of them as backups. I liked working with these people." Fibrenew provides franchisees with an exceptional support network, so even from South America Pereira can rely on the company's knowledge and product experts for all his questions. He's also worked along other Fibrenew owners to see different ways of performing business.
In December Pereria left his position with Westinghouse to grab hold of the Fibrenew opportunity. HIs flagship franchise is based out of the northeast corner of Santiago. The densely-populated city provides vast opportunity for his business to grow. "There are about 2.2 million people in that area. There's large families, schools, colleges, car dealerships, stores, etc. I can focus on," he says.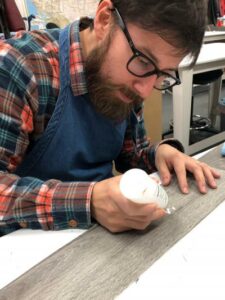 Pereira is using his contacts made throughout his career and through his social circle to establish a customer base. His first priority will be the automotive sector. "Santiago's a modern city with fancy cars — BMW, Mercedes, Lexus, everything. I feel the automotive industry will be big for my business."
For Hector Pereira, life is good. He lives with his wife Natalia and their dog, and spend their free time playing sports and visiting family. "I saw so much potential in Fibrenew when I first learned about it," he says. "There are challenges, such as language. But if I focus on the customers and give them good service, it's going to be a great success."
Fibrenew welcomes Hector to the team and very much looks forward to growing the brand in Chile with him.