Fibrenew repair and restoration business expands to Fort Collins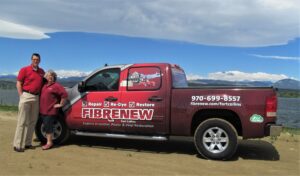 Local entrepreneur Mark Patterson expands the established leather repair, plastic and vinyl restoration franchise in the Fort Collins region
FORT COLLINS, CO — October 2019 — After spending more than two decades working as a leader for a public utility company covering a number of states, Mark Patterson is embarking on a new professional path in the Fort Collins, Colorado area. He is following his business ownership dreams.
This month, Mark Patterson of Berthoud, CO, publicly launches Fibrenew Fort Collins, joining a network of more than 250 franchises across North America owned and operated by franchisees who bring Fibrenew's proprietary restoration and repair services to homes, offices, medical clinics, cars, boats, and restaurants around their area.

"Throughout my career, I have done everything from sweeping floors to ordering inventory to human resources and managing a very large business. The time is now right for me to branch out as a business owner," Patterson said. "My wife, Janie, is with me every step of the way with this launch. She supports me and sees a lot of benefits with the Fibrenew model. Being in the corporate world for so long, I went through a number of different bosses. There was sometimes uncertainty, but now it feels so good to take control of my own destiny."

Fibrenew Fort Collins services the city and region, including Greeley, portions of Longmont, Loveland, Windsor, Berthoud and other surrounding communities. The company specializes in leather, plastic, vinyl and fabric restoration and repairs, saving consumers, businesses, and organizations money while bringing everything from an old sofa to the interior of a muscle car back to like-new condition.
"We feel Mark is a fantastic fit for our franchise family," said Jesse Johnstone, President of Fibrenew. "He highlights what makes our franchise so strong: He is dedicated to providing fantastic restorations and repairs to his community, while growing the business every step of the way."
Visit Fibrenew.com/Fort-Collins to learn more about Patterson's new restoration and repair business. Call 970-699-8557 or email fortcollins@fibrenew.com to schedule an appointment.
Comments: