Fibrenew repair and restoration business expands to Detroit's northern suburbs
Local entrepreneur Brian Enck, brings established leather repair, plastic and vinyl restoration franchise to the region
STERLING HEIGHTS — October 2019 — Brian Enck spent his professional life as an automotive and aircraft product engineer, working for major global manufacturers. Now, he has set his sights on his own entrepreneurial dreams.
This month, Enck publicly launches his new Fibrenew franchise serving the northern suburbs of Detroit, joining a network of more than 250 franchises across North America owned and operated by franchisees who bring Fibrenew's proprietary restoration and repair services to homes, offices, medical clinics, cars, boats, and restaurants around their area.
Fibrenew Sterling Heights will serve Sterling Heights along with Clinton Township, Harrison Township, Mount Clemens, Selfridge, Shelby Township and portions of Utica. The company specializes in leather, plastic, vinyl and fabric restoration and repairs, saving consumers, businesses, and organizations money while bringing everything from an old sofa to the interior of a muscle car back to like-new condition.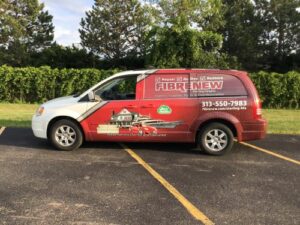 "I have always wanted to be in business for myself but was always a little hesitant to dip my toes in the water," Brian said. "After searching for a franchise that fit my skill set and personality, I chose Fibrenew. This is a fantastic niche and nobody else is doing it. I also like that it is completely mobile."
But what sealed the deal for Brian were the things other franchisees said about the business.
"Fibrenew has a lot of wonderful franchisee testimonials and that was crucial in making my decision to become an owner with their system."
"Brian has a very strong engineering background with a lot of major corporations. We feel he is the perfect fit for our franchise family in this next phase of his professional life," said Jesse Johnstone, President of Fibrenew. "Brian embodies what makes our franchise so strong — our owners are dedicated people serving their communities and also the ones they love."
Visit Fibrenew.com/SterlingHeights to learn more about Enck's new restoration and repair business. Call (313) 550-7984 or email sterling-hts@fibrenew.com to schedule an appointment.
Comments: