Fibrenew repair and restoration business expands in Southern California
Local entrepreneur, Chad Kamerud expands the established leather repair, plastic and vinyl restoration franchise in the Long Beach region
LAKEWOOD, CA — October 2019 — After spending 25 years in the hospitality and restaurant industry, Chad Kamerud is embarking on a new professional path. He is following his business ownership dreams.
This month, Kamerud publicly launches Fibrenew Long Beach South, joining a network of more than 250 franchises across North America owned and operated by franchisees who bring Fibrenew's proprietary restoration and repair services to homes, offices, medical clinics, cars, boats, and restaurants around their area.
Fibrenew Long Beach South services Alamitos Heights, Belmont Heights, Belmont Shore, portions of Lakewood and Long Beach, Los Altos, and Signal Hill. The company specializes in leather, plastic, vinyl and fabric restoration and repairs, saving consumers, businesses, and organizations money while bringing everything from an old sofa to the interior of a muscle car back to like-new condition.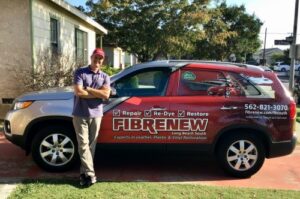 "When my wife and I moved to Southern California last year, I realized that I wanted to transition from what I had done for so long; I wanted to control my own destiny," Chad said. "I did some research on available franchise opportunities and was really impressed with Fibrenew. It is a time-tested mobile concept with a fantastic reputation and a group of supportive franchise owners around the nation. After doing my due diligence, this concept was the best fit for me."
Kamerud said he is particularly intrigued by Fibrnew's flat-fee royalty structure and his earning potential. He also was looking for hands-on franchise concept — he built his own house in the early 2000s and a service-based brand like Fibrenew appealed to him.
"Chad knows customer service extremely well with his background in hospitality. We feel he is the perfect fit for our franchise family in this next phase of his professional life," said Jesse Johnstone, President of Fibrenew.
Visit Fibrenew.com/LBSouth to learn more about Kamerud's new restoration and repair business. Call 562-821-3070 or email lbsouth@fibrenew.com to schedule an appointment.
Comments: