Fibrenew Ranks On The Entrepreneur Franchise 500
Fibrenew and the Entrepreneur Franchise 500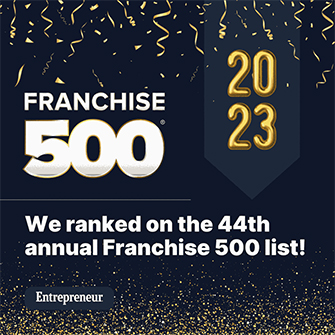 The Entrepreneur Franchise 500 is widely considered to be the most popular annual ranking in the franchise world, and every year franchises eagerly await the list's publication. As the world recovers from the pandemic, businesses have returned to new and unfamiliar economic terrain, making this year's rankings especially valuable.
The Franchise 500's rankings reflect an extensive and thorough weighing of every franchise's strengths based on over 150 data points – such as growth rate, open and operating units, and social media presence. This year, there were a record number of applicants in an already highly competitive race.
At Fibrenew, we couldn't be more pleased with the results. Fibrenew has secured a ranking of 195, the highest ranked leather & vinyl repair franchise on the Franchise 500 list. With this year's results, Fibrenew has climbed over 100 spots since the previous year, with no signs of slowing down. We clearly are the #1 choice for any entrepreneur interested in the leather and vinyl restoration industry.
The Premier Leather, Plastic and Vinyl Restoration Franchise
Since its founding in 1985, Fibrenew has grown to become one of the leading franchises for leather, plastic, and vinyl restoration around the globe, now with over 300 locations in six countries. We have more than 230 franchises in the U.S. alone, and we continue to expand every year.
Fibrenew's repair specialists are experts in restoring a broad range of products – everything from residential furniture to commercial aviation interiors, marine plastics and vinyls, upholstery, and much more. Whether it be a cherished family heirloom or the leather interiors of a commercial airliner, enlisting the help of Fibrenew renovation craftsmen prolongs the life of your product, saving you time and money that would otherwise go towards a replacement.
Every Fibrenew franchise performs an essential service in its community, which is one reason why it's become a leading company in the industry. With over three decades of experience in the industry, Fibrenew has honed its business model and become a leader in the field.
As an entrepreneur, you could become a part of our rapidly expanding franchise family today.
Fibrenew provides extensive training and support in all manners of the business, from craftsmanship to business operations and growth.  You'll always have the support of experienced and knowledgeable trainers, franchisees, and all the resources of a multinational company at your back.
Learn More about Fibrenew Franchise Today!
Fibrenew provides essential services and quality restorations to our customers, who appreciate the care we take with each item. We're eager to expand our franchise network and help you realize your entrepreneurial dreams. To join the Fibrenew team, you can begin a conversation with the company today by filling out a franchise inquiry form here. It is important to Fibrenew that you have the opportunity to go through our discovery process, learn about Fibrenew, and understand our business model before being invited to join the Fibrenew family.
Comments: