Fibrenew Named a Top 50 Franchise for Women by Franchise Business Review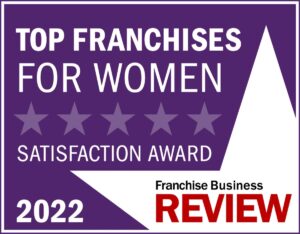 Fibrenew was identified by Franchise Business Review as being one of only 50 franchises to qualify as a 2022 Top Franchise for Women.
Fibrenew, the world's largest Leather, Plastic and Vinyl restoration franchise, was recently named a Top Franchise for Women by Franchise Business Review in its report on the Top Franchises for Women for 2022. With 290+ locations in six countries, a solid foundation and history that dates back to 1985, an expertly crafted proprietary product line and exclusive color matching technology, Fibrenew is well-equipped to succeed through the rise and fall of the world economy in the months and years to come.
Franchise Business Review (FBR), a franchise research firm that performs independent surveys of franchisee satisfaction, provides the only rankings of franchises based solely on actual franchisee satisfaction and performance. Franchise Business Review publishes its rankings of top franchises in its annual Guide to Today's Top Franchises, as well as in quarterly reports throughout the year that rank the top franchises in specific sectors.
Fibrenew was among 267 franchise brands, representing over 8,000 female franchise owners, that participated in Franchise Business Review's research on the Top Franchises for Women. Fibrenew's franchisees were surveyed on 33 benchmark questions about their experience and satisfaction regarding critical areas of their franchise systems, including leadership, training & support, financial opportunity, and work/life balance.
"Franchising provides many options to women seeking business ownership on a full- or part-time basis," says Michelle Rowan, President and COO of Franchise Business Review. "There are thousands of different franchise opportunities available, so it's important to examine feedback from other female franchise owners on how well the franchise meets their expectations in terms of support, work/life balance, financial opportunity, and other key areas of business ownership before making the leap. When you look at the brands on this year's list of the Top Franchises for Women, a whopping 88% of women said they enjoy owning and operating their own business, making them all excellent options for women looking to make the transition to owning and operating their own business."
Fibrenew's survey data also showed the following satisfaction levels from Franchise Partners:
84% with Training and Support
87% with Products and Services
85% with Innovation
86% with Team Culture
87% with Level of Trust
90% with Level of Respect
89% with Level of Honesty & Integrity
86% with Overall Enjoyment 
90% of Franchisees Recommend the Business to Others
"It goes without saying that we were very happy to receive this acknowledgement from Franchise Business Review's report this year" says Fibrenew's President, Jesse Johnstone. "We were even happier and equally humbled to hear the positive feedback directly from our women franchise owners. Fibrenew's core values are rooted in providing an opportunity for all entrepreneurs, supporting them in growing a solid business and offering a flexible lifestyle that allows for a family-first schedule. The entire team at Fibrenew Corporate is so glad to hear that those core values are being felt and appreciated throughout our franchise system – and especially amongst our dozens of women owners." 
About Fibrenew
Fibrenew is a leading mobile service franchise that specializes in the repair, restoration, and renewal of leather, plastic, vinyl, fabric, and upholstery. With a rich history that dates back to 1985, Fibrenew manufactures a highly-specialized proprietary product line and has pioneered the repair techniques and exclusive color matching technology used by its technicians every day.
With 290+ franchise locations and 350+ technicians across the USA, Canada, Mexico, Chile, New Zealand and Saudi Arabia, the company's eco-friendly restoration services save customers time and money by offering an alternative to replacing their damaged couches and chairs, car and marine components, commercial furniture and more. For more information about Fibrenew franchise opportunities, visit www.fibrenew.com/franchising
Comments: