Fibrenew Named #1 Green and Eco-Friendly Franchise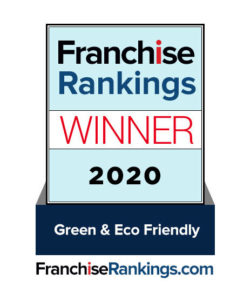 Fibrenew has been recognized as a top eco-friendly concept, according to independent findings published by FranchiseRankings.com.
The list, highlights top franchise organizations that offer aspiring business owners the support of a franchise and the heart of a sustainable model. Fibrenew is ranked No. 1.
More than 250 franchise owners across North America and in several other countries worldwide, provide a mobile service, offering Fibrenew's proprietary restoration and repair services to homes, offices, medical clinics, cars, boats, and restaurants around their regions. Instead of throwing away aging furniture or equipment, Fibrenew restores and repairs items for its customers.
Fibrenew, founded in 1985, prides itself on being a flexible and sustainable model that provides franchise owners the tools they need to grow their territory while offering them a business opportunity that helps them build a legacy, support their families, and be a part of a greater good.
"We are inherently a green company — it is in our DNA and we are eco-friendly by nature because of the services we offer," said Jesse Johnstone, President of Fibrenew. "Our business model is focused on restoring and conserving goods and we love that fact about us. It's great to have this kind of validation from Franchise Rankings."
If you are in need of leather, plastic and vinyl restoration in your home, car, boat, RV or business, reach out a local Fibrenew Franchise and ask for a quote.
If you are looking to start a green business with freedom, control and the potential to build your own lifestyle, contact Fibrenew's Franchise Development Team today.