Fibrenew Has Always Fit Around Her Family's Schedule: Owner-Operator, Ann Benes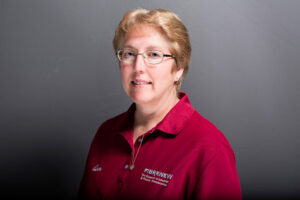 As a 20-year Fibrenew franchise owner, sole owner-operator, Ann Benes has enjoyed a great work-life balance
In the more than 20 years as a Fibrenew franchise business owner, Ann Benes has never had to sacrifice her family for her career. She says it has been the perfect lifestyle business for raising her five children. She initially chose the leather, plastic and vinyl restoration franchise for its creative aspect and its flexible model. She also wanted something different than her and her husband's main business — farming. "I really wanted something non-farm related," she says.
Her Fibrenew business located in Lincoln, Nebraska has allowed her the flexibility to make an income to support and raise her family. "It has given me tremendous flexibility to work on my own terms. I have been able to juggle life and work seamlessly. I have never missed my kids sports or activities and have always been able to put family first. And now, as a grandmother, she continues to enjoy attending her grandchildren's events while still running the business. "With Fibrenew, I've always been able to work around the important things."
Corporate Culture
Since Benes started at Fibrenew, the company has grown and evolved, but always kept its inclusive culture. "Fibrenew is like a family to me. I have great relationships with fellow franchise owners and the corporate team," she says.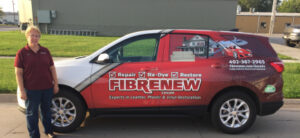 Although Benes could have easily scaled her business much more, she has kept it small so that she can manage it from home without full-time employees. She hires contractors during busier times. "I kept my business smaller by choice," she says.
But she says there is opportunity everywhere for business. "The possibilities are endless," she says. She does a lot of warranty work for furniture manufacturers and stores. "It brings in steady work," she says. Benes also exhibits at home shows (above) and regularly attends local business networking groups to raise awareness about her services. She says that simply by driving around her neighborhood, she gets calls for work. "My wrapped vehicle is like a billboard on wheels." In the early days, Benes surprised some of her customers because she is a woman, but those days are long gone.
Ann's List of Benefits About Being a Fibrenew Franchisee
CORPORATE CULTURE: In the 20 years Benes has been with Fibrenew, she says there has always been a warm, family-like culture.
RECURRING REVENUE: Benes works with furniture warranty companies that keep bringing her business.
DIVERSE WORK: No two days are ever the same.
LIFESTYLE BUSINESS: This business can be run part-time and from home.
SUPPORT: The corporate team and fellow franchisees are always willing to help and share best practices.
NICHE BUSINESS: Fibrenew offers an in-demand, specialty service.
FEEL-GOOD BUSINESS: Benes is happy that she restores items that would have ended up in landfills.
"Women are doing a lot more these days. There's nothing about this business that makes it hard for a woman," she says. In looking back at the last 20 years, Benes wouldn't have changed a thing. She loves the work and feels good that she is able to restore items that would have ended up in landfills. Her advice for any woman considering Fibrenew is: "Do it!"