PODCAST: Empire Builder: Steve Geddes of Fibrenew Kelowna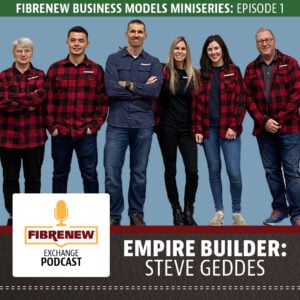 Thank you for joining us for installment 1 of 6 in a miniseries focused on showcasing the various types of business models that exist within Fibrenew.
Steve Geddes of Fibrenew Kelowna, BC is someone we consider to be an Empire Builder in Fibrenew's franchise system. At the time of this recording, Steve was in his 4th year of business and had scaled his operation to include 12 employees, 3 vans on the road, and a storefront shop. He's living proof that when you execute a plan and run your business as a business, with enthusiasm and integrity, you can reach great heights with your own Fibrenew enterprise.
Steve shares many insights in this conversation on how he's done it. We hope you enjoy listening in, cheers!
To hear other Fibrenew Exchange Podcasts, visit: fibrenew.com/exchange
For information on Fibrenew Franchising, visit: fibrenew.com/franchising
Comments:
Related posts:
Tags:
alcohol based, anilin aniline, automobile, Benefits of cleaning leather, Benefits of cleaning vinyl, boat, car, clean, cleaning, clean leather, commercial, couch, couch destruction, couch repair, cracked leather, dark spots, DIY, dried out leather, Fibrenew, fix, fixing vinyl, franchise, fully-finished leather, furniture repair, hairspray, home re-model, how to clean leather, leather, leather chairs, leather furniture, leather hunting, leather restoration, leather sofas, leather sources, leather types, markers, motorcycle, oil, oil damage, olive oil, pigmented, plane, prevent damage, refurbish, repair, restoration, sun damage, used leather, vinyl, water damage,