PODCAST & VIDEO: Empire Builder: Steve Geddes of Fibrenew Kelowna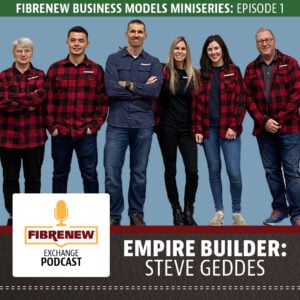 Steve Geddes of Fibrenew Kelowna, BC is someone we consider to be an Empire Builder in Fibrenew's franchise system. By the time we caught up with Steve for this article and podcast, he was just entering his 4th year of business. Inside of his first 3 years as a Fibrenew Franchisee, and had scaled his operation to include 12 employees, 3 vans on the road, and a storefront shop with 9 x the revenue the previous owner of the territory was producing. He's living proof that when you execute a plan and run your business as a business, with enthusiasm and integrity, you can reach great heights with your own Fibrenew enterprise.
Before purchasing his Fibrenew franchise, Steve had a career in selling commercial furniture. "I just love furniture and my wife Diane bugs me about my obsession with it" he laughs. Steve was a top salesperson for numerous companies that sold and manufactured office furniture as well as furniture for retirement homes. He's now refocused his passion from selling furniture to restoring it.
"When we were looking at the Fibrenew business model and studying the market before we invested in the franchise, it didn't take long to realize the near limitless potential there was for the service. We wanted to be part of that potential and grow a business that's in demand across multiple markets", Steve recalls.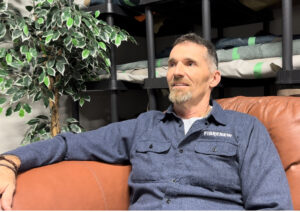 Today, he and his team restore furniture for private customers, repair damaged car interiors for dealers and collectors, keep medical beds and chairs in operation, help restaurants keep their seating in tip-top shape, and restore boat and airplane interiors as well. "Wherever there's damaged leather, plastic or vinyl, we're there to help", he comments.
Steve and Diane, along with their employees are big believers in giving back to the community and supporting the local economy. The entrepreneurial couple also own and operate a local artisan's store that provides an outlet for locally-made art to be sold. "We're big on supporting the local economy and making meaning connections with other business owners here in Kelowna". This philosophy can also be seen in the Geddes' involvement in their local Chamber of Commerce as well as various charity organizations.
To hear other Fibrenew Exchange Podcasts, visit: fibrenew.com/exchange
For information on Fibrenew Franchising, visit: fibrenew.com/franchising
Fibrenew Kelowna can be found here: fibrenew.com/kelowna
Comments: