Driven to Achieve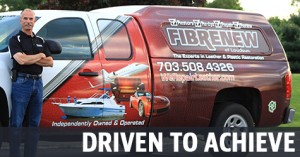 With a mobile model and flat fees, Fibrenew is differentiating itself in the franchise market
Michael and Dianna Carter, of Loudoun County, Virginia purchased their Fibrenew franchise in 2001 and have since developed strong relationships with car dealerships and thus built a successful business restoring leather, plastic and vinyl materials for the automotive industry.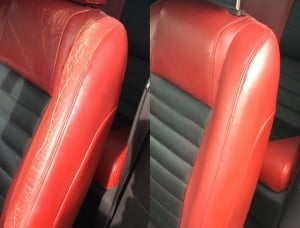 After moving out of the telecommunications sector into role of driver at UPS, Michael was keen to find the perfect self-employment opportunity. He found it with Fibrenew, a franchise that fit both his lifelong passion for cars and a desire to be able to enjoy his growing family.
"When my wife and I first considered a Fibrenew mobile franchise, we realized we could have both the financial freedom we sought and the flexibility to be available to our kids' little league schedules, riding lessons and concerts at school," says Michael.
It was the flexibility of Fibrenew's mobile business model, which allows franchisees to build a business around their schedule, that attracted Michael and his family to Fibrenew. This, along with the flat-fee, no-royalty model secured their decision to begin their new venture with the brand.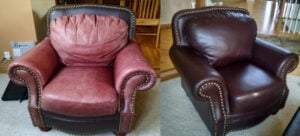 Michael recommends that anyone interested in purchasing a franchise clearly understands the financial possibilities and challenges inherent in the system of the franchise they are researching. Fibrenew, because of the flat-fee model, doesn't penalize growth; the earning potential is, therefore, unlimited and this allows the business to grow easily and in a variety of ways. For Michael, this has included adding a full-time technician this year, lending more flexibility and freedom to the family. It also includes part-time work for his 16-year-old son that fits around his school schedule.
"Fibrenew, because of the flat-fee model doesn't penalize growth; the earning potential is, therefore, unlimited and allows the business to grow easily and in a variety of ways"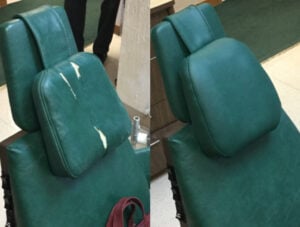 Michael's expansion now includes branching out beyond automotive into medical offices and upholstery work in the commercial and residential industries. While he's long been in love with the car industry Michael recognizes that, after a decade of establishing solid growth, there is still financial opportunity and growth in each of his territories by adopting new products and niches that Fibrenew caters for.
"Opportunity grows with us. Fibrenew allows me to build a business where I'm most comfortable, but also fully supports and provides a platform for me to push myself further," says Michael.
Michael describes Fibrenew's annual regional seminars as the best part of a varied and robust support system and says that they reinforce what it takes to be successful by keeping owners motivated and inspired to grow as big as possible. The seminars also showcase new products and techniques that keep the organization at the forefront of the market. Success stories, challenges and opportunities to network with peers are truly invaluable for Fibrenew franchisees. Michael attributes a great deal of his ongoing motivation to these gatherings with his franchise family.
Franchisees can access a robust set of training materials, develop traditional or new marketing programs, reach out for peer-to-peer support at any time and can tap into a rich resource of support through a one-of-a-kind apprenticeship program.
Fibrenew specializes in the restoration of leather and plastics, servicing the automotive, residential, aviation, marine, medical and commercial markets. If you are prepared to do what it takes to run a successful mobile restoration service business, Fibrenew wants to talk to you.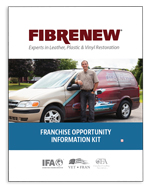 Are you looking for a new career where you can be your own boss and take charge of your financial future? Fill out the form below to download a PDF Information Package and learn more.
Our promise: no high pressure sales calls, just the info you want.
Fibrenew respects your privacy. We may contact you with further info about our franchise opportunity but we will not sell or distribute your personal info to a 3rd party. 
Comments:
Related posts:
Tags:
alcohol based, Benefits of cleaning leather, Benefits of cleaning vinyl, boat, car, clean, cleaning, cleaning products, clean leather, commercial, couch, couch destruction, couch repair, cracked leather, dark spots, DIY, dried out leather, faded leather, Fibrenew, fix, fully-finished leather, hairspray, home re-model, how to clean leather, leather, leather chairs, leather furniture, leather products, leather restoration, leather sofas, leather sources, leather types, markers, motorcycle, oil, oil damage, olive oil, plane, plastic, prevent damage, refurbish, repair, restoration, sagging, sun damage, types of leather, used furniture, used leather, vinyl, water damage,