Diversity in Franchising: Rose Bambach Discovers Her New Life with Fibrenew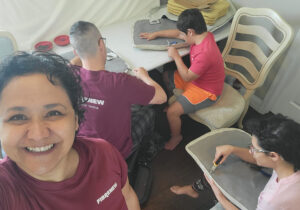 By Jill Abrahamsen of Franchise Consultant Magazine.
Fibrenew gave this former stay-at-home mom a fast track into business ownership along with a new "franchise family"
When Rose Bambach suddenly became a widow in 2014, her 15-year stint as a stay-at-home mom came to a screeching halt.
All at once, she needed flexible work that would allow her to remain available for her children plus an income that could support her family. To align with her kids' schedules, she worked different jobs at her kids' schools, but none of them quite cut it. "I was lost," she said. "I was practically starving and I had no idea what to do," she says. Then a friend suggested she look into franchising.
In Bambach's franchise search, she connected with IFPG Franchise Consultant Patrick Elsner who presented several options including Fibrenew.
AT FIRST GLANCE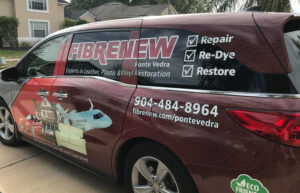 Bambach admits that the vinyl and leather repair franchise didn't seem very appealing at first glance. However, the business model checked all her boxes, including a low cost of entry and flexibility. "I was a little leery, but intrigued too. The opportunity sounded too good to be true," she says.
Even though Bambach wasn't convinced initially, Elsner could see that Fibrenew would be perfect for her. "I knew Rose would be a good fit because she was looking for a franchise with a lot of flexibility. She was raising young kids as a single mom. She also was very creative and didn't want to sit behind a desk all day," he says. Elsner says he likes to show Fibrenew to candidates because of its high margins and flexibility and also because of the great corporate culture.
Bambach opened Fibrenew of Ponte Vedra in March, 2020, and despite pandemic-related shutdowns, she hit the ground running. "At first, the thought of opening a business in a pandemic was terrifying, but the support I received reinforced that I made a great choice. Fibrenew was perfect for me," she says.
FRANCHISE FAMILY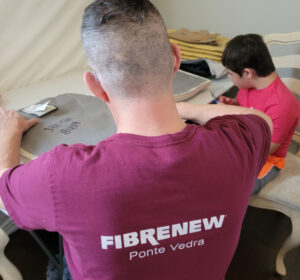 Besides having a fantastic business that works with her schedule, Bambach found something she didn't expect — a new franchise family. "Everyone is so inclusive and supportive. I always have somewhere to turn when I need help and support," she says. "From the corporate team to fellow franchisees, everyone is happy to take the time to talk and share experiences. We are all here to help each other succeed."
Bambach describes Fibrenew as a big melting pot. "Fibrenew franchisees are from so many different ethnicities and backgrounds, yet we have a common bond," she says. "There's nothing else like it. It's really something special."
In the meantime, Bambach's real family also works to help her succeed and will often pitch in. "I try to make it fun and make events out of it," she says. During her "staple-removing parties," Bambach enlists her kids and boyfriend to pull staples out of the seat cushions she regularly restores for a local medical complex. "It's a great way to get my family together and involved in the business. It gives us a chance to slow down and laugh and chat," she says. "I like being able to share my passion for this business with my kids."
Fibrenew has numerous franchise opportunities available across the USA, Canada, Mexico and Internationally.

Comments: