Dave Sanders Having Fun With Fibrenew Coastal San Diego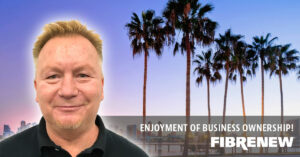 In his former life, Dave Sanders worked for a national grocer, managed more than 170 people and "listened to complaining all day long." Today, he oversees himself, makes his own schedule and charts his own future. He is the owner of Fibrenew Coastal San Diego, a mobile leather, plastic and vinyl restoration company that specializes in providing solutions to a variety of industries (residential, automotive, medical, aviation, hospitality and more) for seemingly impossible problems.
"Back in the day, I had an expensive couch that my dog ripped. The warranty company said they couldn't cover the repair and didn't know of anyone who could fix it," Sanders recalls. "When I first saw Fibrenew, I remembered that, and knew that this service is what people are looking for."

His foray into owning a business started a year and a half ago when he started looking at new career options where he could use his hands, be his own boss, and give his clients customer satisfaction. Seven or eight options later, Sanders discovered Fibrenew. He admits that in addition to his memory of owning a damaged couch and having no way to repair it, the before and after pictures of other franchisee's work attracted him to investigate further. "I knew right away it was the perfect fit! I get calls today from people saying, 'I'm so thankful I found you,'" he grins. "And today I work with seven or eight warranty companies — they love us!"
Fibrenew Coastal San Diego is a diverse company, with successful relationships with homeowners, car and RV dealerships and shopping malls. "I just signed on with a client who owns multiple restaurants, and even worked on a crane for the US Navy!" Sanders says. And, obviously, he's expanding his leather, plastic and vinyl restoration services into the marine industry.
While Sanders is his own boss and sole employee, he's never been alone in his new career. "I've leaned on the main trainers, Chad and Paul — they have been my backbone," he explains. "I can't say enough about those guys." The Fibrenew family extends to fellow franchisees, as well. In fact, Sanders is in regular contact with Alex Fachinello, owner of Fibrenew Newport, and Chad Kamerud of Fibrenew Long Beach South, providing leads and contacts and even borrowing items from each other. "It's great having team members so close to me."
To prepare for his new life, Sanders participated in Fibrenew's training program with other new franchisees. "It was outstanding," he remarks of his time spent at Fibrenew's headquarters in Calgary with franchise educators and support team. "I learned so much in just two weeks. It was incredible."
The Fibrenew Coastal San Diego client calls keep coming at a steady pace. As he prepares for his next appointment, Sanders says, "To me, this is fun. That was my goal. I wanted a job where I can make money and enjoy what I do. I love being part of the Fibrenew family."
Congratulations, Dave Sanders, for your career change and taking the reins of your future with Fibrenew Coastal San Diego!
Comments: